Sustrans says no to obligatory helmet cameras
"Helmet cameras are not the solution to the problems of safety on roads," says sustainable transport organisation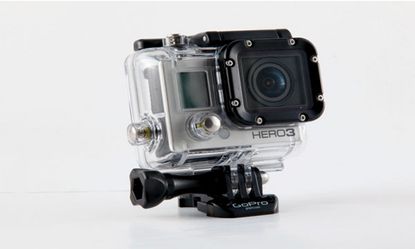 Sustrans has objected to the suggestion made by an Australian Cycling Safety organisation that riders should equip themselves with cameras at all time in case they need to provide evidence in court.
Safe Cycling Australia's director Dave Sharp made the statement after a truck driver in Queensland was convicted of breaching a new two-year pilot rule that cyclists should be left a 1.5 metre gap on roads where the speed limit is 60km/h and over.
"There are lots of people who take umbrage to our presence on the roads and a camera covers the cyclist if anything goes wrong. More cyclists are buying cameras to help enforce the law," he told Daily Mail Australia, in reference to the recent case in which Warwick Fribance was spared paying a fine of A$341 as his lawyer successfully argued that he didn't cause any harm when passing a cyclist too close in July.
He continued: "We certainly encourage cyclists to use cameras if they are road riders or sporting cyclists, they normally have the most issues with on road traffic."
When asked by Cycling Weekly for Sustrans' stance on the matter, head of policy and campaigns Claire Francis said: "Helmet cameras are not the solution to the problems of safety on roads… [though] the rise in the number of people wearing helmet cameras while riding their bikes highlights cyclists' safety fears and the very real danger on our roads."
Instead, Sustrans reiterated their hope for Parliamentary changes which would improve cycling and walking facilities in the UK: "We need to address the problems faced by everyone, pedestrians, cyclists and motorists to help make short journeys as safe as possible by bike and by foot.
"To do this we need slower speeds on our roads and dedicated funding to change our environment and our options for how we travel.
"Amendments proposed to the Infrastructure Bill, currently in the House of Lords, provide a golden opportunity for Parliament to guarantee funding for walking and cycling beyond 2016 as it has done for rail and roads."
The Telegraph's Andrew Crithclow alleged this week that cyclists with head cams "are doing more harm than good." But does
Drivers, pedestrians and fellow cyclists all filmed making bad decisions on Manchester's roads
Thank you for reading 5 articles this month* Join now for unlimited access
Enjoy your first month for just £1 / $1 / €1
*Read 5 free articles per month without a subscription
Join now for unlimited access
Try first month for just £1 / $1 / €1