TALES FROM THE BROOMWAGON: MON AND TUES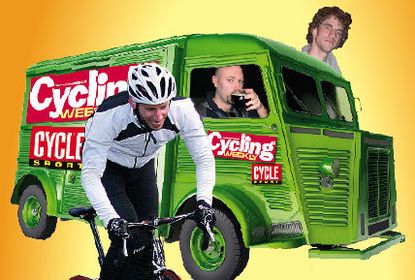 Get The Leadout Newsletter
The latest race content, interviews, features, reviews and expert buying guides, direct to your inbox!
Thank you for signing up to The Pick. You will receive a verification email shortly.
There was a problem. Please refresh the page and try again.
Day 17
Monday
Tarascon - Pau
Just what we needed. A long drive. On deadline day.
So we worked, we drove, we watched the finish on television, we went for a beer, we had a meal, and went to sleep, looking forward to the rest day.
THE LOWDOWN
Where we stayed: Hotel a l'Hotel, Pau
Rating: 2 stars - a bit like the Bates Motel but with free wifi
What we ate: Grilled sea bass at Le Restaurant St Jacques in Pau
Kilometres driven: 294km (total so far: 3,233km)
Day 18
Tuesday
Pau
Some rest day. Where do we start? How about with Michael Rasmussen's press conference in the media centre at the Parc Beaumont in Pau.
He brought his lawyer. That set the tone.
The leader of one of the biggest sporting events in the world has spent a week saying: "I won't answer any questions about doping." Today he - or more accurately his entourage - did nothing but. Fifty two minutes and there was not a single question or comment about the Tour de France. Not from the media, not from Rasmussen, not from his Rabobank team manager Theo De Rooy. Rasmussen said very little, only four or five short answers.
The lawyer, wearing stereotypical little round horn-rimmed glasses and a pale suit and pink shirt, said he was there to clarify the matter. In the end he did what all good lawyers do. He confused everything completely.
But it did emerge that this year Rasmussen is registered to race in Monaco and the two years previously, 2005 and 2006, Rasmussen was registered with the Mexican Cycling Federation. In that two-year period he was not once subjected to an out-of-competition test by the Mexican federation.
He said the Danish Cycling Federation test he missed earlier this year was due to an administrative error. And he said that he was only one day late in supplying details of his whereabouts to the UCI and that that too was an oversight for which he had received a recorded warning, following a written warning. De Rooy pointed out that there are many riders in the peloton with written and recorded warnings for missed out-of-competition tests or supplying details of their movements to the UCI late. He said that Rasmussen's strict confidentiality had been breached simply because he was wearing the yellow jersey.
Rasmussen's eyes were watery and he looked startled. Hardly surprising with the flashbulbs only a few feet away and a disbelieving press corps stacked up in front of him.
Theo De Rooy implored us all to focus on the race.
So that's alright then. Let's ignore the fact that ASO's two chief people, Patrice Clerc and Christian Prudhomme, regret Rasmussen's presence in the race.
Forget the missed test. It was just a mistake.
And the dog ate his homework.
What the Tour de France needs is a leader who is utterly transparent. A French journalist asked if Rasmussen understood why a lot of people don't believe in him. He just looked stunned but had no answer.
An American journalist from the magazine that broke the story about Whitney Richards, mountain biker Rasmussen allegedly asked to transport bovine haemaglobin from the States to Italy five years ago, asked what he made of Mr Richards' allegations.
"I don't know why he'd make something like that up," said Rasmussen.
What? He has just been defamed in possibly the most damaging way, with an allegation that he bought blood doping products and tried to get someone to transport them across international borders in a shoe box for him and all he can say is "I don't know why he'd make something like that up."?
What about a denial, or a threat to sue. The lawyer was there, after all. But in cycling writs are something that are threatened but rarely put in black and white.
It was thoroughly depressing to watch. No debate about the significance of the final mountain stage, no questions about the final time trial. Not even a quip about how Michael Rasmussen will feel when he becomes the first* Danish winner of the Tour de France.
* Bjarne Riis won in 1996 but has been removed from the official records by ASO.
THE VINO AFFAIR
One thing is for sure, Borat is no longer the biggest joke to come out of Kazakhstan.
Late afternoon news that Alexandre Vinokourov had tested positive for a blood transfusion broke. We drove the Broomwagon to the Hotel La Palamiere, where Astana were staying.
It is easy to say with the benefit of hindsight that Vinokourov's performance in the Albi time trial was not credible but that's exactly how we felt on Saturday night. It just didn't ring true.
There was already a big crowd at the hotel and within an hour there were hundreds of journalists, photographers and cameramen. Common sense said that Vinokourov had been smuggled out hours ago, before the team made the news public.
Someone placed a hand-written sign under the windscreen wiper of the Astana car. It read: "A Vendre 1 Euro" - "For Sale 1 Euro".
On another team vehicle the phantom note writer left one saying "Borat hates dopers."
A copy of L?Equipe - a newspaper that has been oddly starry-eyed about Vinokourov since the weekend - someone had scribbled out part of the headline "LE COURAGE DE VINO" to make it read "LE DOPAGE DE VINO".
Cameramen filmed all three satirical comments. You just had to laugh. Take it all too seriously and we?d have headed back to the Broomwagon and driven it back to Belgium there and then.
The thing is, Vino is incredibly popular. A lot of fans were angry with what they saw as his unfair withdrawal from last year?s Tour. His attacking riding excited people in the 2003 Tour.
But after a scarcely credible Dauphine Libere, Saturday?s time trial was the final straw for anyone who looks beneath the surface. After his crash the man could not walk. The cuts in his knees were held together by 30 stitches; stitches that were put in when his legs were bent so that they would not burst open with every pedal stroke.
Although another terrible blow for the Tour, there was a sense of relief. The testing is becoming more effective - regardless of what the likes of Floyd Landis say - and the cheats are being caught.
Astana insist they will continue but what for? The team only existed to help Vinokourov win the Tour. Sure, they still have Andrey Kashechkin but wouldn?t it be better if they just skulked away. If the riders can find alternative employment for next year, fair play to them.
The saddest thing, though, was the number of children hanging around in the hope of getting the autograph of their favourite rider.
Some hero.
A QUIET NIGHT IN PAU
It was getting late when the taxi arrived to take us into town. The driver was a nutcase. He drove incredibly fast. While being thrown about in the back I caught sight of the speedo. It said 120kph in a 70kph zone.
At one point, as we went down a narrow one-way street flanked by bollards, he took both hands off the wheel.
He had a quirky horn like the Tour de France cars had and he made us laugh by tootle-tooting it as we sped through Pau. He got the horn in Portugal, he said, and he gave it a quick blast as he screeched away.
Before he left he suggested we eat in O?Gascogne, the best restaurant in Pau.
It was the second night in a row we flatly ignored the restaurant recommendation of our colleague Gemma, who spent a year of her university course in Pau. She?d recommended L?Etna, which last night?s taxi driver described as ?shit?.
O?Gascogne was phenomenally good. The waitress was also incredibly persuasive, insisting we try a selection of foie gras with a sweet white wine from the Jurancon region for starter. The foie gras was astonishingly rich but the wine complemented it perfectly.
The main course of tournedos with wild mushroom sauce ran Bourg-en-Bresse?s chicken very close, but just as in the Tour, the chicken still reigns. Although having said that, I can stomach the Bourg-en-Bresse chicken in a way whereas I find Rasmussen unpalatable.
Desert was sublime. Rich chocolate fondant that will take some beating in the King of the Puddings competition.
We ordered a taxi to take us back to The Bates Motel.
"Where did you eat?"
Ed told him.
"Ah, that?s the gay restaurant. Where boys go to meet boys and girls go to meet girls."
THE LOWDOWN
Where we stayed: The Bates Motel aka Hotel a L?Hotel, Pau
What we ate: Foie gras, soft beef, rich chocolate fondant. Overall meal of the race so far.
Kilometres driven: 5km
Thank you for reading 20 articles this month* Join now for unlimited access
Enjoy your first month for just £1 / $1 / €1
*Read 5 free articles per month without a subscription
Join now for unlimited access
Try first month for just £1 / $1 / €1
Get The Leadout Newsletter
The latest race content, interviews, features, reviews and expert buying guides, direct to your inbox!
Sports journalist Lionel Birnie has written professionally for Sunday Times, Procycling and of course Cycling Weekly. He is also an author, publisher, and co-founder of The Cycling Podcast. His first experience covering the Tour de France came in 1999, and he has presented The Cycling Podcast with Richard Moore and Daniel Friebe since 2013. He founded Peloton Publishing in 2010 and has ghostwritten and published the autobiography of Sean Kelly, as well as a number of other sports icons.