TALES FROM THE BROOMWAGON: SATURDAY, JULY 14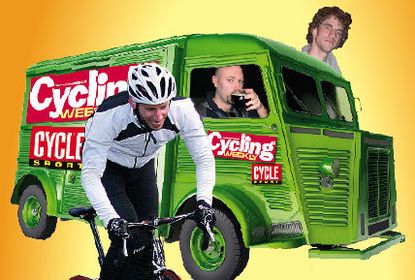 Get The Leadout Newsletter
The latest race content, interviews, features, reviews and expert buying guides, direct to your inbox!
Thank you for signing up to The Pick. You will receive a verification email shortly.
There was a problem. Please refresh the page and try again.
Day 8
Saturday: Bourg-en-Bresse - Taninges
We're ever so slightly famous. Today a trickle of people commented on the Broomwagon, or came by to say hello.
Apologies to the people who dropped by when we were asleep, but we got up very early and needed to catch up. One guy in Julian Dean tribute kiwi national champion kit saw us and said: "Hey, it's the Broomwagon."
Getting up at 5.30am is never a lot of fun but today it was worth it. We left the abysmal excuse for a campsite in Bourg-en-Bresse and hit the motorway to ensure we could get a space on the Col de la Colombiere. Last year we tried to get on the Marie-Blanque but despite getting there just after 7am we were turned back by the gendarme.
The Colombiere is a longer, wider climb, though, so we fancied our chances, until we got to the foot of the climb and saw the number of camper vans already in place. Dozens of them, taking every available track, side road and layby - their occupants sitting out in the morning sunshine looking remarkably smug.
We ploughed on up, scouring the grassy verge for a space big enough to take out seven-metre long Broomwagon.
Then we saw some camper vans coming down the climb towards us. The driver of the first one made a circular motion with his hand to tell us to turn round. No chance. We went on up.
At Reposoir we hit gold - a big field with plenty of space for our huge bus. We parked up and promptly went to sleep until it got too hot to stay indoors.
It never ceases to amaze how the French public turn out for the Tour. They go to tremendous lengths to get on the mountains, often spending the night in a tent or sleeping in the car. They pack a big picnic, gather the freebies from the publicity caravan, cheer the riders past and then, as soon as the 'Fin de Course' vehicle has passed, they go home. Hours and hours spent waiting for perhaps five minutes of entertainment.
After Pierrefonds: The Sequel, we made a return visit to another campsite we stayed at last year. When the Tour stage started at Morzine, we stayed at Taninges. It just happened to be the perfect stopover. I don't remember it being quite as well-kept as it turned out but then we are at a relatively early stage of the Tour now - last year we reached Taninges on the final Thursday when nerves and tempers were becoming frayed and the Broomwagon was falling apart.
Even with Tom Simpson, our photographer, and a candidate for the least tidy man in the world, the Broomwagon remains a relatively relaxing place.
THE LOWDOWN
Where we stayed: Camping des Thezieres, Taninges
Rating: 3 Tents
Where we ate: More steak at the Restaurant de Oelou in Taninges.
Kilometres driven: 241km (total so far 1,217km)
PREVIOUS TALES FROM THE BROOMWAGON:
Friday, July 13: Hogged by a sycophantic French television reporter wearing a blue linen jacket
Thursday, July 12: Nearly a week done already. And nothing's gone wrong
Wednesday, July 11: As days following the Tour de France in a lumbering camper van go, Wednesday was about as close to perfect as you can get.
Tuesday, July 10: Back to Pierrefonds, scene of the great missing dinner disaster
Monday, July 9: Half-wheeling, grumpy campsite staff and greasy takeaways
Sunday, July 8: The day when the Tour went to Kent, and the boys went to Ghent
Saturday, July 7: Three men in a sweaty, underpowered van following the Tour
Friday, July 6: Ignore all other imitations - this is the original Idiots In A Camper Van Tour blog
Thank you for reading 20 articles this month* Join now for unlimited access
Enjoy your first month for just £1 / $1 / €1
*Read 5 free articles per month without a subscription
Join now for unlimited access
Try first month for just £1 / $1 / €1
Get The Leadout Newsletter
The latest race content, interviews, features, reviews and expert buying guides, direct to your inbox!
Sports journalist Lionel Birnie has written professionally for Sunday Times, Procycling and of course Cycling Weekly. He is also an author, publisher, and co-founder of The Cycling Podcast. His first experience covering the Tour de France came in 1999, and he has presented The Cycling Podcast with Richard Moore and Daniel Friebe since 2013. He founded Peloton Publishing in 2010 and has ghostwritten and published the autobiography of Sean Kelly, as well as a number of other sports icons.