Team Sky bus involved in alleged 'close pass' with cyclist (video)
Cyclist Andy Rolfe posts online video of the driver of a Team Sky bus appearing to pass him very closely on a road in Wales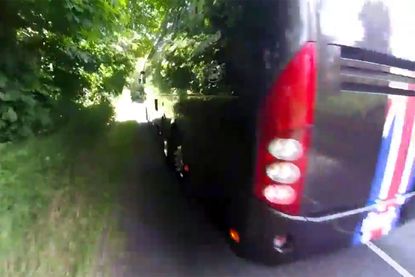 Team sky's bus almost taking me out, sorry about the language, but this needs to go viral for the safety of cyclists pic.twitter.com/nmojiJnoXf
— Andy Rolfe (@AndyRolfe65) September 8, 2016
Note: Video contains bad language
Cyclist Andy Rolfe has posted a video online of an alleged 'close pass' by the driver of a Team Sky bus in Wales.
As Rolfe is cycling down a road, the bus appears to pass him very closely just as a white tanker lorry is heading in the opposite direction. Rolfe makes his feelings known about the incident, shouting 'idiot' at the driver.
The bus is then followed later by a Team Sky car, which passes Rolfe widely.
It is likely that the bus is the one used by the British WorldTour team to transport riders and staff during the Tour of Britain, where Wednesday's stage ran from Denbigh to Builth Wells in Wales.
The video has attracted some strong reaction from other Twitter users.
"Terrible driving. Leaving NO space AND making the traffic on the other side of the road stop. Action needed." wrote Nick Peters.
"I'd have thought team sky might have been more attuned to cyclists, wouldn't you?" said @capnthommo.
"No excuse, but he probably thought you had the room. And still deserving of an apology. And he did force a fuel tanker to stop," said @jonbeetle
Team Sky issued a statement in relation to the video, saying: "What is shown in the video is unacceptable and we are sorry. We've already spoken to the driver and we'll be discussing this with him again in more detail.
"We will also be speaking to all staff and reminding them of their responsibilities.
"Encouraging people to get out and on their bikes is a huge part of what we stand for as a team.
"We are a team of cyclists and we all know how important it is for us as a team to set an example when it comes to ensuring cyclists are able to use the roads safely."
Thank you for reading 20 articles this month* Join now for unlimited access
Enjoy your first month for just £1 / $1 / €1
*Read 5 free articles per month without a subscription
Join now for unlimited access
Try first month for just £1 / $1 / €1