THE BIG INTERVIEW: PETTER NYLANDER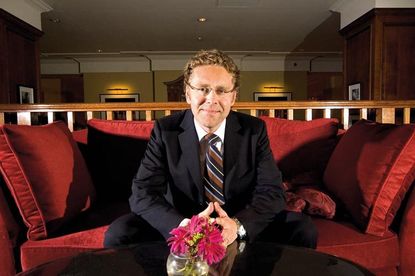 Now that we have the chance to reflect on the Tour de France?s visit to the UK, it?s worth sparing a thought for Unibet. The Belgian team should have been on the start line in Whitehall, but Tour de France organiser ASO had different ideas.
At first ASO boss Christian Prudhomme cited an obscure French law that bans advertising of non-state-owned gambling companies in France, but then he changed tack to say the team hadn?t deserved an invite.
Both arguments were contentious. Football teams have played in France with gambling companies emblazoned on their chests, and the team ? who offered to ride under the name of Canyon.com, their bike suppliers ? had done more than enough to earn their place, certainly more than Barloworld or Agritubel.
Cycling Weekly sat down with Unibet.com?s CEO Petter Nylander to find out more.
CW: Did you still have hope that you would be in the Tour de France?
Nylander: Hope is the last thing that leaves a human being, but it still looked challenging and tough. We have a contract that says we have the right and the obligation from the Union Cycliste Internationale to participate in all the ProTour races. The Tour de France is a ProTour race. So we were still talking to all stakeholders to claim our right to be part of the ProTour.
It?s a shame for lovers of the Tour de France, the spectators and, of course, the athletes who should be allowed to compete in a race in which they have qualified and they are good enough for it. It dilutes the credibility of the sport.
How do you feel about Unibet not being in the Tour?
We?re extremely frustrated. I think it?s outrageous that this nationalism and this reference to a law from 1836 in France is stopping us. We?ve been offering a compromise, saying for the sake of the careers of the cyclists that we can run without the Unibet logo on French soil, but even that initiative is not accepted.
We?ve participated in quite a few ASO races in the past, then as soon as we got the ProTour licence they totally changed around and changed their view. We?ve been having quite a good year, winning quite a few races, proving ourselves as one of the best teams in the world, and it?s outrageous that one of the best teams in the world is not allowed to participate in the Tour de France for political, domestic discrimination reasons. It?s shameful.
Can you put a figure on what it will cost Unibet to not be in the Tour?
We?re investing eight million euros this year to have a very strong cycling team. Of course this is one of the biggest sporting events of the year, it?s broadcast all over the globe, and in every media form thinkable, so there?s exposure for our brand, and the positive association with a fascinating sport. It?s an opportunity we won?t have. That quantification can also be used for claiming damages from the organisers given the fact that we have the right and the obligation to ride the Tour.
Will you be claiming for damages for not riding the Tour de France?
We were still hoping that we could reach an agreement with the organisers, but if the worst comes to the worst then we have to discuss with our legal advisers how to act against an abuse of a dominant position from ASO ? especially as we have a licence in the United Kingdom [the company is based in Wimbledon]. It?s pretty provocative that we are not allowed to start here. We have set the compromise that we will take away the logo in France, but still we?re not allowed.
It?s not the fact that they don?t accept gaming companies per se ? you have Française des Jeux, you have Lotto, and just because they are state owned and we are private, the organisers don?t allow us. That?s discrimination according to EU law.
France is a member of the EU, and the EU Commission has already raised its voice saying it?s not acceptable that they can interpret law in this manner in an international sports event.
Will this end in Unibet taking its sponsorship elsewhere?
We are a listed company and our shareholders of course want a return on investments, and if they say that football organisers are much more professional and reliable business people to work with, I think maybe we have to put our money somewhere else. We love cycling, we?ve been sponsoring cycling since 2002 with Mr Bookmaker. We?re investing a lot of money in the sport. I think we have 50 employees working in cycling. It will be very sad if we have to move our money somewhere else, to a football team or somewhere.
The biggest losers will be the cycling world. First of all our money will go away and potentially other industries will say no, cycling is very hard to work with, very unpredictable, unprofessional ? even though you have a contract, they will violate it, and you cannot trust your investment will be safe. It?s a shame for the cycling world and it?s a threat for the cycling world. Professional companies will avoid cycling teams if this prevails.
Have you spoken personally to Christian Prudhomme or Patrice Clerq?
Not me personally, but the team has, because this is actually the team?s thing, and they?ve been speaking a few times. I, as a sponsor, morally support the team in all their efforts. Of course now we?re getting concerned that we don?t get the exposure or the return on our efforts or investment. But at the end of the day, this is a conflict between the team and the organisers. It?s the team, a Swedish company ? Green Cycle AB ? that has the ProTour licence and we sponsor them as an exclusive sponsor.
You have the support of the UCI, do you have the support of the other teams?
I think all the riders think this is a sad story as well, and have sympathy for our riders. But I also think a lot of teams themselves are afraid of having a conflict with ASO, because you can be in or out on an emotional judgement, so a lot of people are afraid of the threat of being left out. It?s a very unhealthy situation.
How do you feel about Astana being allowed in the Tour?
It illustrates the entire situation. Unibet not riding the Tour is like one of the best football teams in Europe not playing in the Champions League because UEFA didn?t want them there. UEFA would never do that, no other sport would do that, so if cycling is doing that, they are working on 19th century logic, and it?s outrageous. We as sponsors should not accept organisers who dictate things. I think it?s very unhealthy for
the cycling industry and it will backfire.
Do you believe ASO is willing to find a compromise to this situation?
I hope so. But it?s hard to predict.
How many bets will you take during the Tour?
For us football is dominant and cycling is not that big as a betting sport. Football is number one. Tennis is number two, then ice skating and golf. Cycling is a great sport to follow on TV, and sport on TV is what normally attracts betting, so there will be some interesting days for our customers.
MORE CW BIG INTERVIEWS
The Big Interview: Gary Imlach
Thank you for reading 10 articles this month* Join now for unlimited access
Enjoy your first month for just £1 / $1 / €1
*Read 5 free articles per month without a subscription
Join now for unlimited access
Try first month for just £1 / $1 / €1
Editor of Cycling Weekly magazine, Simon has been working at the title since 2001. He fell in love with cycling 1989 when watching the Tour de France on Channel 4, started racing in 1995 and in 2000 he spent one season racing in Belgium. During his time at CW (and Cycle Sport magazine) he has written product reviews, fitness features, pro interviews, race coverage and news. He has covered the Tour de France more times than he can remember along with two Olympic Games and many other international and UK domestic races. He became the 130-year-old magazine's 13th editor in 2015.