THE BIG INTERVIEW: VICTORIA PENDLETON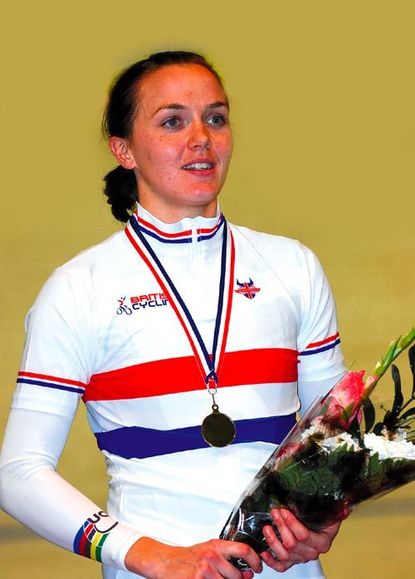 It's been almost a year since Victoria Pendleton made history by becoming the first female track cyclist to win three world titles at a single World Championships. Since those sensational four days in Majorca, Pendleton has been ignored and celebrated in equal measure.
Although she famously didn?t make the shortlist for the BBC Sports Personality of the Year award, she won just about every other accolade going. The Sunday supplements have also picked up on this attractive young British sportswoman, who?s a good bet for an Olympic medal, and she recently posed nude (although CW learned that there was some clothing airbrushed out) for the front cover of the Observer Sport Monthly.
We spoke to Pendleton just prior to her stunning performance at the Manchester track for the World Championships, where she won gold in the women's sprint and women's team sprint (with Shanaze Reade), plus a silver in the keirin.
And the beauty of it all is that this success is just part of enjoying a hobby.
CW: It has been almost a year since we last spoke to you, Victoria, yet so much has happened since then.
VP: Yes, it has been amazing. It?s been really crazy, actually. Everything has changed very much surrounding me in terms of having an agent and people ask me to do appearances and all those strange sort of things which you don?t go into track cycling to get. It?s really nice and really different.
I suppose it has opened up a whole new world?
VP: Some of the opportunities I?ve had, the people I?ve met and the places I?ve gone, I never dreamed that track cycling would take me there. Who would have ever thought that I would have got into the Royal Box at Wimbledon? It?s crazy.
So how was the Royal Box?
VP: It was amazing. It was a really rainy day and we ate a lot of food but didn?t see a lot of tennis. It gave us the chance to meet a lot of famous people. Jennifer Saunders was there and she?s one of my favourites so I thought ?Oh my god!? I just had to say to myself ?Don?t try anything funny?.
Was Cliff Richard singing?
VP: No, no, no (laughing).
How has your crash in China affected your year?
VP: At the beginning of the year, I was really ahead of schedule in my training and everything went really well up until sort of about a couple of months ago when I crashed in Beijing. I had a few injuries as a consequence of landing on my hip. It took a while for the bruising to come out, which affected my cycling, so that was a bit unfortunate. But it happens and you expect it. I haven?t had a crash in some time.
How has that affected your training over this important period?
VP: It meant that I had to back-off, take some time out and get some physio. I had to try and regain where I was. Now I feel I am getting back to where I was and, hopefully in the next couple of months, I will be moving forward well again to a position where I thought I was in November.
You could have done without that, of course?
VP: When you have an injury you are forced to have time off and it is the last thing you want to do. You think about most other jobs where an employer would say ?Yeah, go on then. Have a few days off and don?t bother coming in,? it would be easy.
But it is so hard when you know you have something as big as the Olympics coming up. It is really hard to back off. You have to have someone to tell you to do that and you abide by the rules, basically. If it was down to me, I would have trained through it and I would still have been injured.
So who are those people telling you to stop?
VP: It?s down to the coach and the managers. I?ve always had a very open policy in terms of injury so everyone knows where I am. I have regular meetings to decide what I?m doing. That?s with Shane Sutton and Jan Van Eijden and the English Institute of Sport.
How do you digest your own success?
VP: Put it this way. I went to a dinner the other week for the Sports Youth Trust and there were a few Olympians there who said: ?I had a dream when I was a child that I?d be going to the Olympics.? But it wasn?t like that for me.
I kind of view this as a hobby and I never assumed I?d go any further. I?ve never really looked too far into the future to say: ?That?s what I want to achieve?. You know, being in a sport in the Olympic Games is the pinnacle of success. Obviously, that?s my dream: to be competitive in the Olympics and, hopefully, a gold medal.
Does having the World Championships on your home track make a difference?
VP: Yes, they do carry a bit more weight for us as GB athletes. It?s a once-in-a-lifetime opportunity. Of course, we have 2012 which I will be at ? hopefully ? but you still want to savour the opportunity of having a major competition here so it is a little bit more important now.
Have you any plans for after the Olympics?
VP: No, I haven?t even thought about it. The Olympics are it as far as my goals go.
Pendleton with Joe Calzaghe (l) and Lewis Hamilton (r) at the BBC Sports Personality awards
Have you handed back your TV licence after the BBC decided to ignore you in Sports Personality of the Year?
VP: [Laughs] The thing is, going into track cycling isn?t anything to do with wanting to be famous. If I wanted to be famous, I would have gone on Big Brother or something. That would have been a lot easier than what I?ve done for 10 years of my life.
Do you think cycling was overlooked?
VP: I?m not really bothered, to be honest, but the disappointing thing was for the team. The fact that we were so unbeatable in the World Championships last year, I think it is a shame that the whole team did not get recognised for track cycling. We didn?t just win, we annihilated all other competitors that year. It?s a real shame people didn?t recognise that. It just shows that rugby union [England won Team of the Year] is more popular.
You will just have to do it again this year, then?
VP: Just watch this space!
Thank you for reading 20 articles this month* Join now for unlimited access
Enjoy your first month for just £1 / $1 / €1
*Read 5 free articles per month without a subscription
Join now for unlimited access
Try first month for just £1 / $1 / €1