THE GREAT CW POTHOLE CAMPAIGN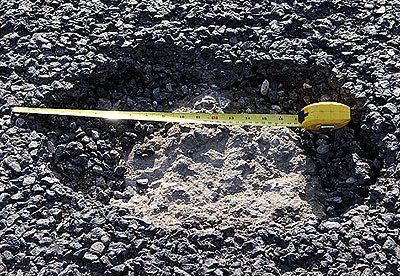 Photograph your most hated potholes and we?ll publish them. No, not those limestone wonders under Derbyshire, we mean the gaping holes in the tarmac that bend wheels, frames and break bodies. These potholes are a wonder in their own right: we wonder why is it so difficult to fill them in?
We?ll do more. We?ll award the new ?Buckled Wheel Trophy? to the local authority we judge to have the most dangerous pothole(s).
Under-funding for road maintenance is the reason why there are so many potholes and bad road surfaces. The problem can be traced back 30 or 40 years, when the economy was suffering and Britain was in hock to the International Monetary Fund.
The government slashed funding for roads, one of many measures to cut back spending.
And local authorities have been playing catch-up ever since. They blame the government for not giving them enough money, while the government points the finger at local authorities, accusing some of siphoning off the money for other business, or for being inefficient.
Once upon time, when potholes were as rare as hen?s teeth, a local authority could be expected to settle a claim for damages. But as the roads worsened and claims mounted, some local authorities devised a way of avoiding paying out.
They did this simply by drawing up a maintenance review programme. For example, this would call for roads to be checked for defects every six weeks or so, and any repairs carried out. If a pothole appeared in the intervening period, they?d then say they can?t be held responsible for any damage it caused because they didn?t know it was there, and it wasn?t there when they last looked.
With your photographs, we aim to concentrate their minds. Every local authority with a photographed hole in the road will find themselves featured in our overall classification for ?Pothole Leader?. There's a pair of Serfas Seca folding tyres up for grabs for the best/worst pothole of the week.
The overall winner will get visit by a Cycling Weekly delegation, to award them the Buckled Wheel Trophy.
Send you photographs to: Cycling Weekly, Pothole Pictures, IPC Media. Leon House, 233 High Street, Croydon, CR9 1HZ. Or email them to: cycling_pictures@ipcmedia.com.
Thank you for reading 20 articles this month* Join now for unlimited access
Enjoy your first month for just £1 / $1 / €1
*Read 5 free articles per month without a subscription
Join now for unlimited access
Try first month for just £1 / $1 / €1