The pain and the glory: Nine photos of serious suffering on a bike
Fabio Aru isn't the first person to make it very clear just how hard it is to be a professional cyclist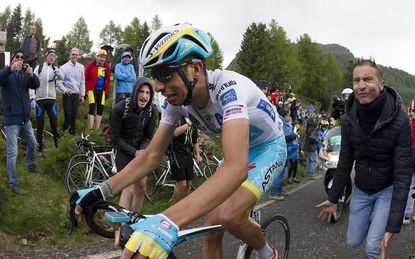 (Image credit: Watson)
It's tough out there in the world of pro cycling. Sure, you've got to be a bit of a glutton for punishment to get into the sport in the first place, but there's pain and there is pain.
Here at Cycling Weekly, after seeing Fabio Aru's emotional response to being passed by Alberto Contador on the Mortirolo, we've been racking our brains (and our photo libraries) for some of the moments when it all got too much.
1. David Millar, Stage six, Tour de France 2009
For so much of the day, it looked as if David Millar might be able to hang on for his first stage win at the Tour de France since his return from suspension.
After escaping from the peloton with what ended up as a four-man group, he attacked again in the last 30km, but the bunch would not be shaken off, and caught him as the final kilometre approached. He trailed in more than a minute back from winner Thor Hushovd.
2. Jack Bobridge, Hour Record attempt, Melbourne 2015
Here's the thing about road racing - times don't really matter. If you can get round France on two wheels quicker than anyone else, nobody is really going to care whether you did it at an average speed of 24kmph, as Firmin Lambot did in 1919, or closer to 40kmph, as is the norm these days.
If you're only going to be riding for an hour, though, you need to give it some. And if you do that, and you top 51kph, and after all that you fall 500m short of a world record - well, you're entitled to show it.
3. Nicolas Roche, Stage 17, Tour of Spain 2011
Nicolas Roche isn't shy of showing what's going on inside. This one, though, was seriously tough. On a day where Chris Froome powered his way into the overall lead at the 2011 Vuelta - raising serious questions over Bradley Wiggins's status as team leader along the way - Roche clung on gamely to finish 17th, just over a minute behind Froome. Not - as this picture shows - without a hell of a lot of effort.
4. Xavier Florencio, Stage 14, Tour de France 2007
Eight years before he broke Fabio Aru's spirit, Alberto Contador did much the same to most of the field as the Tour de France hit the Pyrenees. Michael Rasmussen, the only man who could stay with the then 24-year-old on the road to Plateau-de-Beille, would complete only two more stages before being abruptly withdrawn from the race. Xavier Florencio finished the stage 47th, nearly 13 minutes behind them. For many, the damage was a lot worse.
5. Gianluca Bortolami, Stage 15, Tour de France 1994
Ah, Mont Ventoux. You didn't think we'd miss out perhaps one of the definitive mountain of the definitive Grand Tour, did you?
But perhaps our favourite part of this picture is that, while Gianluca Bortolami grimaces his way to a highly creditable 16th place, the chillaxed fellas behind him are rocking some serious 90s style.
6. Guillaume Auger, Stage 16, Tour de France 2004
From Ventoux to the Alpe d'Huez, which in 2004 hosted the finish of a 15.5km individual time trial.
Stage winner Lance Armstrong caught two-minute man Ivan Basso with 2.8km to go; Guillaume Auger - a Frenchman riding his second and last Tour de France and already two and a quarter hours back on GC - lost more than 10 minutes.
7. Philippe Gilbert / Jelle Vanendert, Fleche-Wallonne, 2012
The Classics have caused their fair share of pain over the years, and the 2012 Fleche-Wallonne was no different. The race was won by Joaquim Rodriguez, who had finished second in 2010 and 2011. Defending champion Philippe Gilbert and fellow Belgian Jelle Vanendert, just four seconds back, came in third and fourth.
8. Andre Tchmil, Paris-Roubaix, 1994
Sometimes, though, the mud and the effort and the pain are all gloriously worth it.
A rider fond of a grimace or two, Andre Tchmil won Milan-San Remo in 1999 and the Tour of Flanders in 2000, but perhaps his first great triumph was at Paris-Roubaix in 1994, when the Hell of the North met with some of the worst weather conditions in decades.
Johan Museeuw put Tchmil under severe pressure only to suffer bike problems, before the Moldovan 'bunny hopped' a traffic island to close in on victory.
9. Fabio Aru, Stage 16, Giro d'Italia 2015
It's hard enough trying to get to the top of the Mortirolo without pressure from behind from a Spanish powerhouse angered by Astana's decision to attack after he stopped to change a wheel.
But once Alberto Contador had overtaken Fabio Aru - who had looked to be his closest GC challenger - the Italian broke down. "I could have lost 20 minutes," he said afterwards. In the end, at a little over two minutes back from Contador, he was happy to limit his losses.
Thank you for reading 20 articles this month* Join now for unlimited access
Enjoy your first month for just £1 / $1 / €1
*Read 5 free articles per month without a subscription
Join now for unlimited access
Try first month for just £1 / $1 / €1