How fast did Alberto Contador scale the Passo di Mortirolo?
The Spaniard stormed past his rivals up the Mortirolo on stage 16 of the 2015 Giro d'Italia, but has never beaten 45 minutes on the famous climb, and has a long way to go to beat Simoni, Gotti, Pantani and Tonkov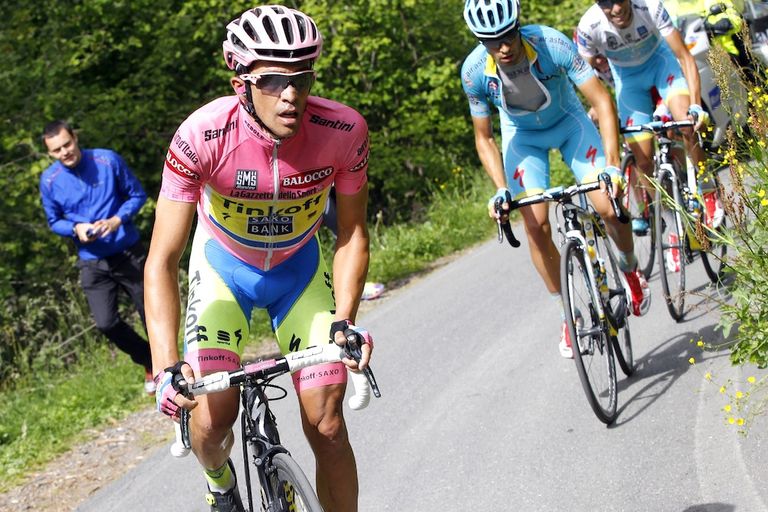 (Image credit: Watson)
In any event, since then, Simoni has been the clear stand-out man, featuring in three more of the quickest ascents with times varying between 44-32 (2006) and 47-30 (2004).
The top ten: Fastest times up the Passo di Mortirolo
41-42 Ivan Gotti / Roberto Heras / Gilberto Simoni, 1999
42-07 Ivan Gotti / Pavel Tonkov, 1996
42-40 Marco Pantani, 1994
42-45 Piotr Ugrumov / Enrico Zaina, 1996
43-03 Niklas Axelsson, 1999
43-33 Miguel Indurain, 1994
43-56 Massimo Codol / Daniele de Paoli, 1999
43-59 Laurent Jalabert, 1999
44-21 Evgeni Berzin, 1994
44-29 Abraham Olano, 1996
On the 11 or so kilometres which mark one of the most famous and feared climbs in cycling, 2015 Giro d'Italia champion-elect Alberto Contador yesterday took apart Fabio Aru, his previous closest challenger for GC glory.
>>>Alberto Contador shows why he is leading the Giro d'Italia
There is some debate as to whether 1999 saw the record broken again - some reports have Gotti and Roberto Heras scaling the peak with Gilberto Simoni in 41-42, others put the trio's time behind that of Pantani.
That record, though, lasted all of two years before being lowered to 42-07 by Ivan Gotti and Pavel Tonkov the very next time the climb featured in the Giro, before Gotti and Tonkov were part of a three-man group, alongside Wladimir Belli, that posted a decidedly pedestrian 45-13 in 1997.
Contador was part of a 2008 group which posted 46-12 - alongside Simoni again - and took almost a minute off that this year, but it doesn't look like he is going to be troubling the record books any time soon.
But however memorable his ride, the time he took to do it - 45-14 (at 15.52kph) - was not even close to some of the fastest recorded since Marco Pantani scaled the Passo di Mortirolo almost a minute quicker than Miguel Indurain in 1994.
Contador's power output is difficult to estimate, but by way of comparison, Ivan Basso's 2006 44-32 saw him rack up 411 watts on average over the distance; yesterday, Giovanni Visconti - according to his Strava file - was at a 321-watt average in hitting a time of 50-51.
As far as times go, different sources, of course, provide slightly different figures from across the years, but common consent stops the clock for 'Il Pirata' at a stunning 42-40 in 1994.