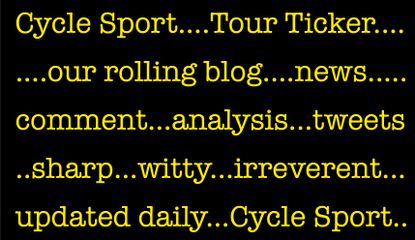 Welcome to Cycle Sport's unique Tour Ticker, our rolling blog that will be updated daily to build into a cornucopia of coverage.
Words: The Cycle Sport team
The Tour Ticker takes you to the heart of the Tour. Our expert team will be updating this rolling blog throughout the Tour.
Scroll down to read earlier updates.
You can get involved too. If you are on Twitter use the hashtag #TourTicker
Sunday, July 1
Liège to Seraing
What about the warm down? Most of the Team Sky riders climbed on to their turbo trainers, arranged around the bus, after the stage finish in Seraing, to warm down. But not all of them. Mark Cavendish and Bernhard Eisel were two who did not bother. Why not? Apparently because they didn't make a big effort at the finish, as the others did. That shouldn't be the case tomorrow in Tournai, with a bunch sprint expected. Will Cavendish join the warm-down? Watch this space.
***
Bradley Wiggins is 'minding' the green jersey for the second time in his Tour career. In 2009, Wiggins was third behind Fabian Cancellara and Alberto Contador in the opening time trial in Monaco. The following day Cancellara wore yellow, Contador took the polka-dot jersey because he had been fastest on the climb during the prologue, and Wiggins looked after green.
***
It is becoming the Tour de bébé. After Mark Cavendish tried and failed to smuggle baby Delilah into the car that followed him for his prologue time trial (he was refused by ASO, apparently on health and safety grounds), young Delilah was undeterred, and was conspicuous around the bus at the start of stage one in Liège.
Yet she was relatively low profile compared to this Rabobank rider (pictured), who warmed up for the prologue with his offspring (at least, we assume it was his) sitting on the top tube. Bernard Hinault and Sean Kelly were unavailable for comment.
***
Chris Froome revealed in his Tour diary, on his website (www.chris-froome.com), that he forgot to remove his warm-up nose plugs before the prologue. One wonders how he might have got on had his full breathing capacity been realised. As it was, he finished an impressive 11th, proving that his words on the eve of the Tour should be taken seriously. He told us that he feels "as good or even better than I was before the Vuelta" -- where, of course, he finished 2nd.
Froome said he would probably be Bradley Wiggins' "last man in the mountains, which could keep me up the GC. But I'm trying not to think about that."
The Team Sky management might also be trying not to think about that. When he removes those nose plugs, Froome could be flying.
***
LE TOUR EN ECOSSE?
As well as a Yorkshire contingent, Scotland also has some representatives in Liège to do their homework before bidding for the Tour. Because of Scotland's packed events calendar, the earliest it can happen is 2017, but plans are already well advanced for a Grand Départ in Edinburgh, with an ambitious plan for a spectacular teams' presentation and a prologue route sketched out.
The teams' presentation would be held before stands of 8,000 people on the Castle Esplanade, where the Edinburgh Military Tattoo is staged. The prologue, starting and finishing in Holyrood Park, would also have the Castle as a backdrop, and it would be among the more technical tests, with cobbles and climbs and narrow, twisting streets.
***
In the 1980s and early 1990s, the leading team in the teams classification had the option of wearing yellow caps. Briefly there was also a teams points competition and the leaders of that wore green caps. This year the leaders of the team classification will wear yellow helmets after a deal was agreed with Digital, the sponsors of the riders' race numbers. Sky are the first leaders.
***
One of Cycle Sport's favourite games is Où est Maxime Bouet, a sort of variation on Where's Wally? Well, today, the AG2R rider is in the first meaningful break of the day of the Tour, along with Yoann Gene (Europcar), Nicolas Edet (Cofidis), Anthony Delaplace (Saur-Sojasun), Michael Morkov (Saxo Bank-Tinkoff Bank) and Pablo Urtasan (Euskaltel).
***
TIP OF THE DAY: Cycle Sport's Lionel Birnie goes for Philippe Gilbert for the stage win. Yesterday he went for Fabian Cancellara in 7-07. He was close – Cancellara won in 7-13.
FURTHER READING
Richard Moore's analysis of the prologue is here.
We get all Masterchef, with Le Gourmet de France, a picture blog of all our meals en route.
Thank you for reading 10 articles this month* Join now for unlimited access
Enjoy your first month for just £1 / $1 / €1
*Read 5 free articles per month without a subscription
Join now for unlimited access
Try first month for just £1 / $1 / €1
Edward Pickering is a writer and journalist, editor of Pro Cycling and previous deputy editor of Cycle Sport. As well as contributing to Cycling Weekly, he has also written for the likes of the New York Times. His book, The Race Against Time, saw him shortlisted for Best New Writer at the British Sports Book Awards. A self-confessed 'fair weather cyclist', Pickering also enjoys running.