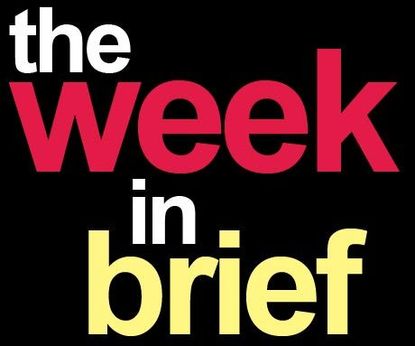 SATURDAY DECEMBER 8 TO FRIDAY DECEMBER 14, 2007
Swipe to scroll horizontally
EXCLUSIVE: 100 DRAGON RIDE PLACES FOR CW READERS
We've got 100 advance entries for the 2008 Dragon Ride cyclo-sportive reserved exclusively for Cycling Weekly web users. Official entry doesn't open until midnight on December 27/28, so if you're reading this then you've got a two week head start on the masses. Click on the link below to find out more.
Full story>>
Swipe to scroll horizontally
TOUR OF AMERICA MARK II ? STILL PIE IN THE SKY
First they wanted to hold a month-long, 4,000-mile epic. When they realised it wouldn?t get the UCI?s go-ahead the organisers of the proposed Tour of America went back to the drawing board. Now they?re back with a race that fits the grand tour format. The only snag is, the planned 2008 edition clashes with the World Championships. Like that?s going to happen.
Full story>>
Swipe to scroll horizontally
BRITS CLEAN UP IN BEIJING
Three golds, four silvers and a bronze at the World Cup in Beijing has sent expectations soaring for next summer?s Olympics. But how many medals can our track riders realistically get their hands on? We do the maths ? and look back at all the weekend?s action, race by race.
Full story>>
Swipe to scroll horizontally
COOKE AND POOLEY CHECK OUT OLYMPIC COURSE
While the trackies were doing the business, Nicole Cooke and Emma Pooley made separate trips to check out the road race course for the Olympic Games.
Full story>>
Victoria Pendleton at the Sports Journalists' Association Awards with boxer Joe Calzaghe (left) and Formula 1 driver Lewis Hamilton (right)
Swipe to scroll horizontally
PENDLETON SCOOPS SPORTSWRITERS? AWARD
Victoria Pendleton was named athlete of the year by the Sports Journalists? Association after her heroics at the World Championships in March. And she used the lunch to confirm she?ll go for four medals on home soil in Manchester ? the sprint, the Keirin, the 500m and the team sprint with Shanaze Reade.
Swipe to scroll horizontally
VINO ANNOUNCES HIS RETIREMENT
Alexandre Vinokourov?s reaction to a very lenient one-year ban was to announce his retirement. Let?s just hope it?s not an elaborate way to get around the out-of-competition testing regulations ? suspended riders can be tested, retired ones cannot ? so he can ?prepare? for a return at the Olympics.
Full story>>
Swipe to scroll horizontally
What would you do with £50 million? Luckily Sustrans know exactly what to do with it, as the organisation behind the National cycle Network netted £50 million of lottery money on Wednesday thanks to a public vote. Sustrans' Connect 2 scheme was one of four projects up for the lottery award - voting took place via ITV show The People's £50 million Lottery Giveaway.
Full story>>
Ian Field (Hargroves Cycles) won the fourth round of the National Trophy cyclo-cross series in Bradford on Sunday. David Collins (Science in Sport) maintains the series lead. Photo by Andy Jones. You can see more photos from the National Trophy in our Gallery section.
Swipe to scroll horizontally
Professional cycling appears to be finally cleaning up its act, with the UCI already doing tests for the biological passport and more and more teams are creating strict internal testing procedures. This week Team High Road ? the new name for the T-Mobile squad ? announced it would carry out internal tests with US company Agency for Cycling Ethics (ACE), which also works with the Slipstream team.
CSC will continue to be independently tested by Rasmus Damsgaard and Astana and Liquigas will also use the Danish anti-doping expert?s system.
The ten teams that are members of the Movement for Credible Cycling (AG2R, Bouygues Telecom, Cofidis, Credit Agricole, Française des Jeux, Rabobank, Skil, Gerolsteiner, High Road and Slipstream) announced they would use the ADAMS [Anti-Doping Administration and Management System] to keep their riders' whereabouts information up-to-date for out-of-competition testing and gave their full support to the UCI.
Several big teams began their first training camp of the winter and were immediately tested by the UCI. The blood and urine results will act as baseline data for the new biological passports that will monitor each rider?s values throughout the season. Only riders with a fully certified biological passport will be allowed to start the Giro d?Italia and Tour de France in 2008.
Full story>>
Thank you for reading 20 articles this month* Join now for unlimited access
Enjoy your first month for just £1 / $1 / €1
*Read 5 free articles per month without a subscription
Join now for unlimited access
Try first month for just £1 / $1 / €1