Thomas Lovkvist: Interview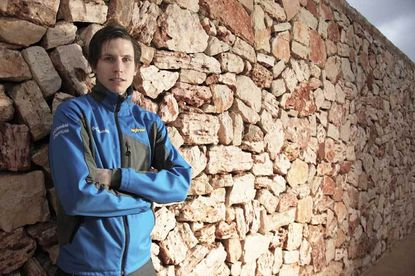 Cycle Sport caught up with Thomas Lovkvist at the Columbia Highroad training camp in Majorca this January. The full interview appeared in the April edition of Cycle Sport.
Thomas Lövkvist?s mood is a bit like the January weather in Majorca; dark and sombre but with the occasional smile showing through like the promise of sun.
?I have a cold and the wet weather isn?t helping it,? he explains as he settles his lanky frame into a chair. Majorca should have been better; ?You don?t expect this kind of weather on a training camp. I could ride in the rain at home,? he adds in frustration.
But if a head cold and unseasonal rain were in Lövkvist?s thoughts, it quickly became obvious that he had other more long-term concerns on his mind too. One was physical, a problem with his pelvis, and the other was in his head, a lack of confidence that may come from having made such an incredible start to his career that he hasn?t really delivered on.
In 2004, just one week after his 20th birthday, Lövkvist won the Circuit de la Sarthe as a new pro, prompting comparisons with the likes of Bernard Hinault and Greg Lemond who both won this tough stage race in the Pays-de-Loire, France, before they were 21. And the race wasn?t even an all-pro affair then like it is now. Thomas Lövkvist: better than Hinault and Lemond.
The young Swede won the race in style, attacking on the first stage with 170 kilometres to go, then going so hard that his breakaway companion, Christophe Moreau, waved the white flag after 20 kilometres. With a strong companion gone, and 150 kilometres left to ride, logic dictated that his move was over, but Lövkvist didn?t listen to logic and carried on alone to win the stage and sew up the entire race.
He followed up with second place in Paris-Camembert. Then he won the Swedish National Time Trial Title Championships, and took second overall in the Tour de l?Avenir after victory in the final stage.
But he turned out not to be as good as Hinault or Lemond. Despite a couple of good victories since and a lot of good placings, he?s still waiting for his career to happen.
Lövkvist agrees that progress hasn?t been as quick as it might have been, but says in his defence; ?Not everyone is an Andy Schleck, not everyone can be second in the Giro at 22, some take longer to get where they are going. But I feel I have made progress, especially in 2008 when I had 25 top-ten placings. Having said that though, I would swap all those top tens for one victory.?
You sense that Lövkvist, although understandably defensive when a journalist suggests he isn?t as good as he should be, is slightly disappointed with his progress. He is his own severest critic, but he feels that things will turn out right in the end because he?s got a good handle on what has frustrated his progress.
?I lack a bit of luck, a bit of confidence maybe, otherwise I would have won more. I?ve been in situations where I could have won but bad luck or lack of confidence came into play and prevented it. Also, I have a problem with my pelvis, it gets twisted when I am fatigued then it locks up. I?m not sure why it happens, but I know that if I can?t get help from a physiotherapist I may as well go home. What I am trying to do at this moment is understand what causes it and to prevent it,? he explains.
The evening before we spoke to Lövkvist, Cycle Sport watched a core training session in which all of the Columbia team took part. Lövkvist was one of the most attentive to the instructor, Dr Pedro Gonzalez, and one of the most diligent at performing the exercises, even asking for one-to-one guidance to get a particular move right.
Improving his core strength is crucial if Lövkvist is going to get the better of his physical problem, and he knows it, but there is even more he can take from this team.
?I am learning to understand the problem, and I am certainly in the right place for doing that because Columbia are one of the most progressive-thinking teams around. That is one of the reasons I came here. Columbia seem to have the right ideas about running a team, and I like their German mentality.
Swedes have the same way of thinking and I think we communicate well. Apart from the quality of riders in the team, good communication and all thinking the same way are some of the reasons why we are so strong. I also thought at this stage of my career I might benefit from working as a domestique for riders like Kim Kirchen and George Hincapie.?
That last sentence sums up where Lövkvist felt he was at when he joined the team. He?d made a brilliant start to his pro career. He had potential, everyone agreed, but he had lost his way slightly. Time to go back to school, with some of the most experienced riders in the bunch.
And it looks like it is working. Lövkvist was a better rider in terms of results in 2008, his first year with Columbia. Podiums in Tirreno-Adriatico and the Tour of Germany and fifth in the Tour of Switzerland were the highlights. He also did a cracking time trial on stage four of the Tour de France to take over the lead of the young rider?s classification, but then lost it on stage eight.
It was a good year, but Lövkvist is restless for more and, forever the realist, he reckons that the 2008 Tour de France flagged up another weakness he?s got to conquer.
?At the moment I struggle in three-week stage races. I am fine up to 10 days but then I always have a bad day, and although I come back physically I lose my morale and find it very difficult to re-focus on stage wins. It?s really hard mentally to go into a race hoping for the general classification then to have to re-set your goals. Right now I find that very difficult to do,? he says.
Lövkvist really does appear to have been bruised by his first few years as a pro, but how much of that is due to his first team, Française des Jeux, with whom the Swede raced from 2004 until the end of 2007?
French teams aren?t famous for their sophisticated approach to racing or, to be brutally honest, for their support of any rider who isn?t French. Lövkvist remembers looking with longing at teams like Columbia [then T-Mobile] from the outside.
?Some teams walk in the same footsteps. You know it inside and you can see it from the outside, and I could see the team spirit before I joined. Now I?m inside I know it even better. There is a good feeling in this team, we are all friends and no one hesitates to give 100 per cent for someone else. I think that there is only us and CSC (now Saxo Bank) who do that. All the French teams are the same, they race only for the best French rider,? he says.
Lövkvist is quite intense, quite serious. He thinks about every aspect of his cycling, a good example being when he was doing the core workout. He worked hard but he also asked a lot of questions during the session.
?You have to do these things properly otherwise there is no point, and I do a lot of this kind of work at home so while I?m with the trainer at the camp I want to get the moves right,? he explains.
Home is Switzerland, where he lives with his girlfriend. Lövkvist reckons he?s had a good winter, stopping after the Worlds then starting gym training in October and getting back on the bike the following month. ?I wanted a good break, which I had, and all in all I?ve had a good winter. A bit of stomach trouble over Christmas maybe, and now this cold, but everything seems to be going the right way.
I did a test before Christmas and was in front of the same test last year, so that?s good. At the moment I am trying to build slowly so I can get some peak form and keep it. My first race will be the Tour of California,? he says.
In 2009 Lövkvist wants to see more progress and some direction in his career; ?I?m still not sure where my strengths will eventually be,? he says. ?At the moment I think I am good at several things, but not excellent at any one thing. I can time trial but I?m not a time triallist. I can climb but I?m not a climber. If anything, so far I have maybe been a better time triallist but I think my climbing improved in 2008.
?This year I will work hard to turn my top 10 placings into one or two victories. I want to win a short stage race, like Tirreno-Adriatico or the Tour of Switzerland. I don?t think winning either of those races is beyond me this year.
Ultimately I would like to think that I can do well in longer stage races, but if you ask what me my big dream is, it to win Liège-Bastogne-Liège and to win a stage in the Tour de France. That is my dream but I have to see how I develop before I know whether I can achieve it. Like I said, some riders take longer than Andy Schleck to find out what they are best at and what they can win, maybe I am one of those.?
Thomas Lövkvist comes across as a deep thinker and is very analytical. Maybe too analytical. He wants to succeed, the desire burns deep in his eyes, but it?s possible he analyses things too much. Maybe his lack of confidence at crucial stages of races, which he admits has cost him better results, is simply due to thinking too hard when he should just go on gut feeling.
At the beginning of 2009 Lövkvist stands at a fork in the road. One way leads to the victories his talent suggests he?s capable of, the other will see him falling short of his potential and become a good team rider who can win the occasional week-long stage race. The direction Lövkvist takes will depend on him clearing two hurdles, one physical and the other mental. His logical Scandinavian mind will help him with the problem with his pelvis, but to cure his lack of confidence Lövkvist needs to forget about logic and just go with his instinct. It worked when he was a new pro.
Lövkvist on??.
Columbia in 2009
?It will be difficult to do better than our 80-odd victories last year, but hopefully we will have some bigger wins. Maybe it will be a different year, but not a less successful one?
How he started cycling
?I loved riding my bike, it was all I did as a kid because I was hopeless at any game involving a ball. I drifted into racing but never even watched a bike race until I was a pro. The only rider I knew was Brad McGee?
The popularity of cycling in Sweden
?We need a big star to get people?s interest, and it needs to be in races that they know like the Tour de France. I got a lot of attention while I had the white jersey in 2008. Also Gustav Larsson got attention from the Olympic Games?
The latest edition of Cycle Sport is out now. Available in all good newsagents.
Swipe to scroll horizontally
Stage reports
Stage three: Cavendish loses pink jersey after being caught behind late crash
Stage two: Petacchi denies Cavendish the stage win
Stage one: Cavendish in pink as Columbia prove their point to Garmin
Photo galleries
News
Giro could be last race for Armstrong's team
Vande Velde crashes out of Giro
Petacchi claims he didn't know of Cavendish crash
Cavendish struggles to find consolation in pink jersey
Petacchi: I've been working out how to beat Cav
I'm wearing pink on behalf of the team, says Cavendish
Wiggins ready to win Giro team time trial
Friday, May 8: Giro news round-up
Cavendish out to topple Garmin in Giro team time trial
Team time trial start times
Cycling Weekly's Giro d'Italia top ten prediction
Brits in Venice for Giro presentation
Armstrong overshadows overall favourites at Giro presentation
Armstrong confident of finding new sponsor for Astana
Armstrong working to save Astana team
Wiggins in top form for Giro
Garmin Slipstream kitted out for Giro opener
Dan Lloyd gets late Giro call-up
Armstrong's special Giro bikes unveiled
Daniel Lloyd overlooked for Giro ride
Cummings and Thomas not selected for Giro d'Italia
Cavendish tests Giro form at Tour of Romandie
David Millar confirms he's riding in 2009 Giro
Bennati to take on Cavendish in Giro 2009 sprints
2009 Giro d'Italia to start in Venice
Evans and Silence-Lotto disagree on Giro 2009 ride
Armstrong to ride 2009 Giro
Tuttosport reveals 2009 Giro d'Italia route
Dolce & Gabbana design new Giro jersey
2009 Giro d'Italia guide and features
Find the pink jersey competition
Giro d'Italia 2009: The Big Preview
British riders to have led the grand tours
CW's Giro top ten prediction
Brits in the Giro 2009
Brits in the Tours: From Robinson to Cavendish
CW Classic: the 1987 Giro d'Italia
2008 Giro d'Italia archive
Giro d'Italia 2008 coverage index - race reports, photos, results
From rule Britannia to cruel Britannia
Giro 2008: The final word on this year's race
Brits at the 2008 Giro: photo special
Five days to go, what's in store?
Giro d'Italia 2008: Rest day review (May 27)
Giro d'Italia 2008: Rest day review (May 19)
Giro d'Italia 2008 preview
Follow Cycling Weekly on Twitter>>
Thank you for reading 20 articles this month* Join now for unlimited access
Enjoy your first month for just £1 / $1 / €1
*Read 5 free articles per month without a subscription
Join now for unlimited access
Try first month for just £1 / $1 / €1