Tom Boonen speaks to CW during final countdown to Flanders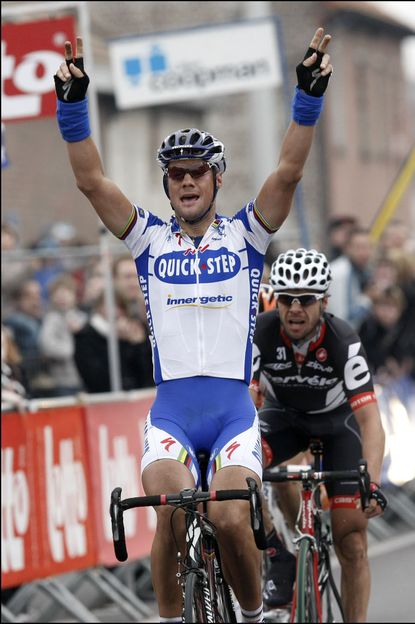 Tom Boonen (Quick Step) is the favourite for victory in the Tour of Flanders.
It is the biggest race of the season for the Flemish rider and his Quick Step team but he is quietly confident of taking a third victory after success in 2005 and 2006.
He spoke to Cycling Weekly and just two other journalists, the evening before the big race.
CW: A rider said the other day that when there?s a strong headwind at the Tour of Flanders you really need a team but when it?s calm it?s not so important: do you agree?
Tom Boonen: ?I completely agree. I think the team is always important but there were editions in previous years when it was really important because of the wind. When I won two years ago, it was thanks to my team-mates, it was also a nice sunny day and the race exploded in the final.?
?The final, though, is always up to the strongest guys themselves. You cannot wait for your team for the whole race. You have to make a decision at some point that this is where I start, and really go for it.
It?s also a mental thing. If you go over the climbs with four or five guys in the first 15 or 20 in the peloton you give a certain impression to the other riders [saying] ?ok, we are here.??
Quick Step is the team everybody expects to control the race. Is that good for you or is that extra pressure?
TB: ?To me it doesn?t change anything. Every year I?ve done Classics, it?s always been in a team that was supposed to do well, particularly now in Quick Step. There?s always been pressure. People always expect us to be there. It doesn?t change much. I?m sure some guys will get nervous but [with] the experience we have...we try to do our own thing and certainly not wait for other teams to give them the opportunity to do their things. It?s important to keep to your first plan and try to do what you think is right, and play to your own strengths.?
You always seem relaxed and in control. Do you actually get nervous?
TB: ?I get nervous but maybe I don?t show it. For me it?s more like a motivation, sure tomorrow morning I?m maybe not like the other 364 days of the year, but for sure I won?t get nervous. I don?t change. I just get motivated and I?m a better rider when I have a special feeling for certain races.?
The route itself has changed quite a bit in the approach to the climbs. How important do you think that is?
TB: ?I think personally it will make it easier for the strong riders. If you?ve got more cobbled sections and narrow roads in the approach to the Kwaremont, that?s the most difficult part of the race. In previous years it was a kind of a field sprint on wide roads, and it?s really hard to get there to the climbs in front. Now I?m thinking it?ll be a little easier because you?ve got a real hard section before the Kwaremont, and you can be a bit more relaxed because the other riders will suffer more [in the approach to the cimb].?
Bike sponsor Specialized has built you a specific bike for Roubaix. What do you think of it?
TB: ?It?s the same bike as last year, when I won, so that proves that it was good. It?s different that the frame?s a little bit longer and the wheels are a centimetre and a half further apart from each other. That makes it a little more comfortable on the cobbles. The frame has a special part, too that makes it more comfortable on the cobbles and easier to control. It?s built for the cobblestones.?
So for Flanders, what bike do you use?
TB: ?A normal one. The one I use all year round. It?s perfect for every race. For the cobblestones, the [special] bike is great. For a field sprint it wouldn?t be so good, but Roubaix you don?t need a nervous bike. So you opt for a little more comfort.?
So what would they have to do to tomorrow?s race to make you want to ride the Roubaix bike?
TB: Add more cobbles. [Laughs]. Ok they?ve added some more cobbles, but it?s only a couple of kilometres. You have the cobbles on the climbs, but the biggest effort you do is two or three minutes, or four or five on the Eichenberg or the Kwaremont. It?s all explosive. I don?t think the pave in Flanders changes the results.?
?In any case, I know what I want from a bike, and this bike is perfect for me for Flanders. I like a stiff bike that?s really nervous, and that?s ideal for Flanders where you?re jumping around the cobblestones and small hills all day. If you used a bike like the Roubaix that?s built to go smoother on the cobbles and easier, the bike is less nervous.?
You won Flanders twice and Roubaix twice. Which is more special, and why?
TB: ?My favourite is Flanders. It?s my whole country and it?s the first really big Classic I won. I know it sounds strange but Roubaix is easier to win. You have a more select group in the final. There?s always more and more guys getting dropped and then when you look around with 40 kilometres to go there?s only ten guys left. Flanders is harder to win, because it?s always possible things change on every corner.?
You must be confident about the strength of the Quick Step team this year.
TB: ?Yes. Chavanel, Devolder and Van Impe are going good and so we?ve got a team where we can play multiple cards. I?m sure we?re going to use everything we have and hopefully we can take of advantage of riders like them. It?s always hard in the finale but if you have two or three team mates left everybody looks at Quick Step. It?s a thing that we have to avoid.?
Is it frustrating that everybody else is perhaps watching you?
TB: ?It?s always easy to be on the winner?s side??
How does the result of the Tour Flanders affect the rest of the week and Paris-Roubaix?
TB: ?It?s always better to win Flanders first. It?s the most important week of the season for Quick Step and for us personally. Last year I didn?t win Flanders and so the pressure went on, and on and on until Roubaix but I don?t let it get into my mind.?
?I focus on my objectives and only want to be judged after my objectives, not before, so I don?t really a good or bad Flanders will affect the team going into Paris-Roubaix. It means you?re calmer if you win it or have a good result, so the big pressure is off, but I?m sure will be 100% motivated in both of them.?
So the double is possible?
TB: ?If you feel good it?s possible. It?s not too hard to win two races. If you?re good in Flanders you?ll be good in Roubaix. To win them both you just need to be lucky for a week.?
Is it easy to stay mentally focused?
TB: ?Yeah, of course, I?ve never had problems. You train for these race for four or five months and so it would be crazy to throw everything away in the week you?re focused. It?s not something you have to work on; it?s there automatically. The focus gets sharper as the goal gets closer.?
What are your hopes for Ghent-Wevelgem? How important is for you as a race?
TB: ?It was more important as a goal at the start of my career when I wasn?t really aiming for Flanders and Roubaix. In my experience it?s really hard to do the finale in Flanders really hard and then do good in Ghent-Wevelgem. There?s only two days in between and it also depends on the race. The two years I won (The Tour Flanders) one was after a 50km breakaway, so my legs and head weren?t really ready for a big effort on the Wednesday.?
Is Pozzato the favourite apart from everyone in the Quick Step team?
TB: ?Yeah, of course. Pippo is in the best shape of his life right now. He?s always been a really talented rider, everyone knows that, he was a professional at just 18. I rode with him for a few years in the same team. He?s a good friend of mine and I think he?s been working really hard and that you can see it now. If he?s in good shape, he?ll be in the finale. And he?s in good shape.?
What beer will you celebrate with if you win the Tour of Flanders?
TB: ?Leffe is fine but you should try the triple Westmalle.?
RELATED LINKS
Roger Hammond's bike stolen in Belgium
2009 Tour of Flanders preview
Cycling Weekly's rider profiles
Thank you for reading 20 articles this month* Join now for unlimited access
Enjoy your first month for just £1 / $1 / €1
*Read 5 free articles per month without a subscription
Join now for unlimited access
Try first month for just £1 / $1 / €1