TOUR OF SPAIN KICKS OFF THIS WEEKEND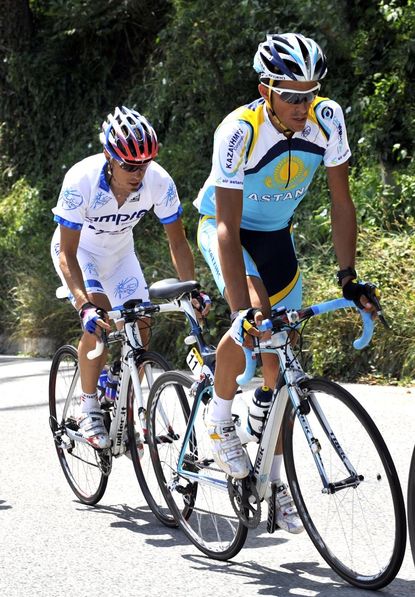 Watch out world, this Saturday the Tour of Spain starts in Granada and Alberto Contador and his Astana team are out to win their second major Tour in four months.
Should they succeed, the young Spaniard will be the first man to win the Giro, Tour and Vuelta during his career since Frenchman Bernard Hinault. It?s a noble aspiration - but unless Carlos Sastre (CSC-Saxo Bank) is really hungry for more after taking this year's Tour, it could be an extremely dull one to watch.
Already the winner of the Tour of Italy, Contador?s battles with Riccardo Ricco in the Giro this May was a thrilling showdown at the time. However, Ricco?s positive for EPO in the Tour has wrecked the retrospective view of the Giro's overall battle.
For the Vuelta, the good news is that after three months of barely racing, and having to watch another Spaniard win the Tour, Contador must be hungry for action.
With a bit of luck, someone else will come out of the woodwork to challenge Astana, as one-sided total domination in sport may be impressive for a while, but it can quickly become very tedious.
Last year?s Vuelta was a case in point. Russian Denis Menchov (Rabobank) panned the opposition after taking an early lead in the time trial at Zaragoza. The remainder of the race, barring a final weekend skirmish for the right to stand next to the Russian between Cadel Evans (Silence-Lotto), Carlos Sastre (CSC-Saxo Bank) and Samuel Sanchez (Euskaltel-Euskadi), was like watching paint dry.
This year, there?s no Sanchez, no Menchov and no Evans in the Vuetla. Instead the strongest riders on paper are all wearing Astana kit - Contador, Levi Leipheimer and Andreas Klöden. If a challenge does materialise, it should come from either Sastre or Alejandro Valverde (Caisse d'Epargne).
Hopefully the sprints will give the Vuelta some much-needed colour. Even without British sprinter Mark Cavendish (Columbia), Oscar Freire (Rabobank), Tom Boonen (Quick Step) and Daniele Bennati (Liquigas) should put on an exciting show.
VUELTA A ESPANA 2008: STAGES
Stage/Date/Start & finish/Distance
Stage 130 Aug, SatGranada - Granada (Parque Tec. Ciencias de la Salud) (TTT)7.7km
Stage 231 Aug, SunGranada - Jaén167.3km
Stage 301 Sept, MonJaén - Córdoba168.6km
Stage 402 Sept, TueCórdoba - Puertollano170.3km
Stage 503 Sept, WedCiudad Real - Ciudad Real (ITT)42.5km
Stage 604 Sept, ThuCiudad Real - Toledo150.1km
05 Sept, FriRest Day
Stage 706 Sept, SatBarbastro - Andorra (Naturlandia - La Rabassa)223.2km
Stage 807 Sept, SunAndorra (Escaldes - Engordany) - Salardú / Naut Aran / Pla de Beret151.0km
Stage 908 Sept, MonVielha / Mijaran - Sabiñánigo200.8km
Stage 1009 Sept, TueSabiñánigo - Zaragoza151.3km
Stage 1110 Sept, WedCalahorra - Burgos178.0km
Stage 1211 Sept, ThuBurgos - Suances186.4km
12 Sept, FriRest Day
Stage 1313 Sept, SunSan Vicente de la B. - Alto de L?Angliru209.5km
Stage 1414 Sept, SunOviedo - E. E. Fuentes de Invierno158.4km
Stage 1515 Sept, MonCudillero - Ponferrada202.0km
Stage 1616 Sept, TuePonferrada - Zamora186.3km
Stage 1717 Sept, WedZamora - Valladolid148.2km
Stage 1818 Sept, ThuValladolid - Las Rozas167.4km
Stage 1919 Sept, FriLas Rozas - Segovia145.5km
Stage 2020 Sept, SatLa Granja de S. I. - Alto de Navacerrada (ITT)17.1km
Stage 2121 Sept, SunS. Sebastián de los Reyes - Madrid102.2km
Total distance: 3,133.8km
Click on the map to enlarge. Map: www.lavuelta.com
Thank you for reading 20 articles this month* Join now for unlimited access
Enjoy your first month for just £1 / $1 / €1
*Read 5 free articles per month without a subscription
Join now for unlimited access
Try first month for just £1 / $1 / €1