Tributes flood in for cyclist and safety campaigner killed while riding in Mallorca
Bryan Stout died on Thursday following collision with car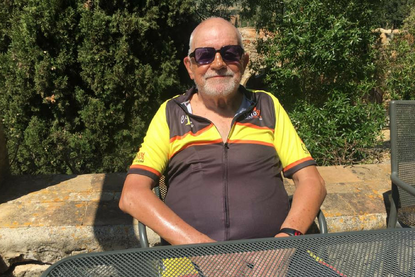 (Image credit: Facebook)
Cyclists from across London and the wider country have paid tribute to Bryan Stout, a keen cyclist and campaigner who died on Tuesday following a collision with a car while on a cycling holiday in Mallorca.
Steve Airey, the vice president of Catford Cycling Club where Stout was a member and had organised the Hell of the Ashdown sportive, was among those to pay tribute.
"This is such a tragic loss my condolences to all family and friends from myself and on behalf of the Catford CC," Airey wrote on Facebook.
"Bryan was a stalwart of the club with Catford CC written through him like a stick of rock, he held every position going in the club at some time or other and worked tirelessly to promote the club and cycling in general always turning up to help marshal events in any weather, he had a drive and passion beyond people much younger than himself."
Stout also had a keen interest in improving safety for cyclists, supporting campaign groups such as Stop Killing Cyclists and the London Cycling Campaign.
Donnachadh McCarthy, co-founder of Stop Killing Cyclists, was another of those to pay tribute.
"Bryan Stout was a stalwart supporter of Stop Killing Cyclists since we were founded," McCarthy said. "[He was] a lovely, enthusiastic, courteous and constructive campaigner for safer roads."
"A terrible loss especially for his family and friends but also to our wider cycling community. I personally shall miss his generous and encouraging support to much of my cycling and wider campaigning work."
Stout was cycling through Port d'Alcúdia, in the east of Mallorca, when he was hit by a car. The exact circumstances surrounding the incident are still being investigated by police, but local newspaper Diario de Mallorca has reported that the driver tested positive for drugs and alcohol at the scene.
Thank you for reading 20 articles this month* Join now for unlimited access
Enjoy your first month for just £1 / $1 / €1
*Read 5 free articles per month without a subscription
Join now for unlimited access
Try first month for just £1 / $1 / €1