TV chef James Martin could end up in the stew if he goes on attacking cyclists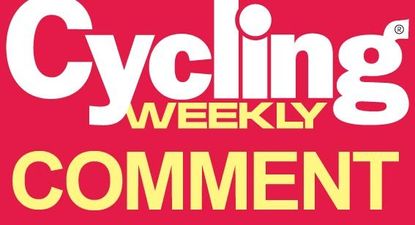 They're a tiresome bunch sometimes, these TV chefs. All that shouting and swearing at staff. Now we now have a TV chef, James Martin, venting his spleen at cyclists.
Martin better watch out, that's my advice. Such action could cost him his precious job - if a cyclist he abuses turns out to be the television executive who pays his salary. Or worse, if he should ever happen to cross a bunch of roadies.
Martin's claim, that he drove his car in such a way as to cause a group of cyclists to fall from their bikes, just because he gets annoyed at cyclists jumping red lights, raises some uncomfortable issues.
I can see why he might want to remonstrate with wrongdoers, just as cyclists will do with a driver who cuts them up. But if the cyclist fails to catch the b*****d, he doesn't, so far as I know, go looking for an innocent motorist and beat him up!
Yet that's what the coward Martin seems to have done, selected a random group of cyclists and intentionally set out to drive at them dangerously, before escaping in his motor.
That Martin feels so badly about cyclists suggests a deeper malaise the British Psychological Society might like to study. The possibility that there remains a default setting in sections of society still holding to the belief that the motor is king of the road, that cycling is working class, the poor man's transport.
Martin ought to be more careful who he abuses in future.Because altercations can have very unfortunate consequences.
I recall the fate of a driver in Liverpool who cut up a bunch of riders lawfully flowing across the road ahead of him, to make a right turn at a set of lights. He split the group by driving through the middle of them. Bad mistake.
The lights turned to red. The car stopped. All the bikies caught up and stopped - at a red light! They used to stop at red lights in those days. They got off their bikes and piled them up against the front of car. And one of the riders opened the driver's door, grabbed him by his lapels, yanked him half out, then planted a fist into his jaw which tumbled him back into his seat.
Another story. A double decker bus drove past a cyclist. The conductor leaned out from the open platform at the back and with the palm of his hand, smacked the cyclist across the back of the head. Bit further on, the bus stopped at a bus stop and the cyclist caught up.
The conductor watched as the cyclist dismounted and unfold to his full height of six foot four, before stepping lightly up the platform. The conductor received a broken jaw. The cyclist was fined for assault. I don't know if the conductor was charged.
Then there was the story of the young bored policeman driving down the East Lancashire Road. He spied a bunch of riders and pulled them over, told them that they were breaking the law by riding two-abreast. Absolute nonsense. He asked for their names and, curiously, their occupations, and this was his undoing.
The first cyclist was the transport manager of huge industrial company, whose premises stretched for several hundred yards on other side of the dual carriageway. The second rider was a junior partner in a firm of Liverpool accountants. The third was an inspector of HM Taxes. The fourth was...you get the picture.
Anyway, when the by now sheepish looking officer had completed his note taking, the transport manager asked him for his name and number. He then informed the officer that he would report the matter to his good friend, the Deputy Chief Constable of Lancashire.
The moral of the story, Mr Chef, is be careful you don't end up in the stew.
Thank you for reading 10 articles this month* Join now for unlimited access
Enjoy your first month for just £1 / $1 / €1
*Read 5 free articles per month without a subscription
Join now for unlimited access
Try first month for just £1 / $1 / €1
Keith Bingham joined the Cycling Weekly team in the summer of 1971, and retired in 2011. During his time, he covered numerous Tours de France, Milk Races and everything in-between. He was well known for his long-running 'Bikewatch' column, and played a pivotal role in fighting for the future of once at-threat cycling venues such as Hog Hill and Herne Hill Velodrome.