Twitter reacts to controversial bike changeover at World Champs time trial (video)
Alexey Lutsenko's messy change from time trial bike to road bike for the final climb have those questioning the efficiency of the move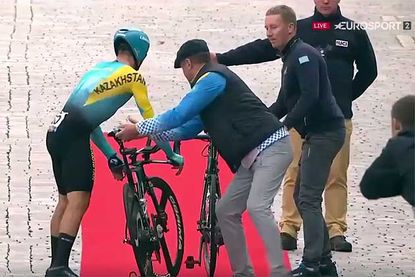 The first bike change did not go well... pic.twitter.com/vx9Xt1XFEl
— Eurosport UK (@Eurosport_UK) September 20, 2017
The controversial inclusion of a 'bike changeover' zone on the course of the 2017 UCI Road World championships elite men's time trial in Norway has created lively debate on social media.
Some teams and riders had elected to change from time trial bikes to lighter road bikes prior to the final steep climb of Mount Floyen in roder to save time.
Alexey Lutsenko of Kazakhstan suffered a time loss when changing bikes, fumbling to get his feet back in the pedals and requiring a late push from a team helper outside the designated 'push-off zone', marked by a red carpet on the cobbles.
>>> Controversy surrounds bike changes during men's time trial world championship
A UCI commissaire was on hand to check that anyone receiving a push after changing bikes kept within the regulated 20-metre stretch – yet Lutsenko appeared to be pushed beyond the point.
Other riders fared little better, losing momentum and making many question whether a bike change would be worth the effort.
And some riders decided not to change bikes, but used the red carpet as a smooth route over the cobbles – although this appeared to be stopped by the commissaire after the first few riders tried it.
Britain's Adam Blythe noted that some riders could have learned from cyclocross world champion Wout van Aert on how to smoothly change bikes during an event.
Once the riders had navigated the bike changeover zone, they then tackled the 3km Mount Foyen, which posed its own challenges in terms of the nine per cent average gradient and the huge crowds lining the road.
Thank you for reading 20 articles this month* Join now for unlimited access
Enjoy your first month for just £1 / $1 / €1
*Read 5 free articles per month without a subscription
Join now for unlimited access
Try first month for just £1 / $1 / €1