Velo Auctions to raise money for cancer charities
A host of unique bikes are up for auction on July 19, raising money for Macmillan Cancer Support and the Salisbury Hospice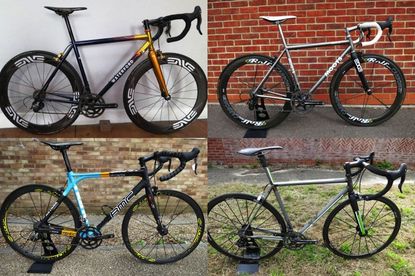 The inaugural Velo Auction is set to take place in Surrey on July 19, with all profits going towards a pair of cancer charities.
The organisers of the auction are raising money for Macmillan Cancer Support and the Salisbury Hospice in the memory of their friend Tim Marsh, who died of cancer.
Tim loved cycling and everything to do with bikes and wanted his rides to be sold to raise for his wife. But now more bikes have been put forward to sell in the auction, which takes place at Sandown Park, Esher.
>>> Austrian collector auctions huge array of classic bikes
And there's a good number of bikes on sale, from a Trek with a guide price of £750, to a Speedvagen which is estimated to go for £4,500.
All the bikes look pretty unique, with a few little-known manufacturers on sale, mostly paired with top quality group sets and wheels.
Take a look at the Velo Auctions website to see the full list of bikes up for auction on July 19 and if you can, pop down to Sandown Park on the day and take a look first hand.
You never know, you could come back with a great bike!
Thank you for reading 20 articles this month* Join now for unlimited access
Enjoy your first month for just £1 / $1 / €1
*Read 5 free articles per month without a subscription
Join now for unlimited access
Try first month for just £1 / $1 / €1