Viva la Vuelta! in Holland, a special history supplement in English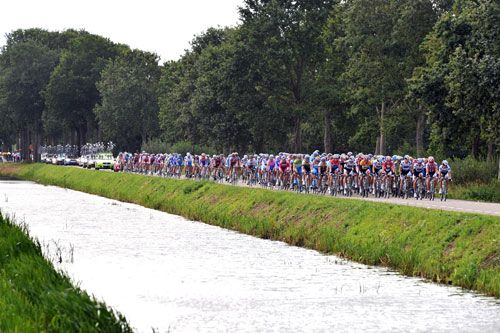 To commemorate the first four stages of the 64th edition of the Vuelta a España being held in The Netherlands - the Tour started from there on Saturday - a special Dutch edition of the Viva la Vuelta! has been published by Amplesport of Amsterdam.
Originally published by Mousehold Press in 2005, and written
by Lucy Fallon and Adrian Bell, this is claimed to be the only complete history of the Spanish Tour.
The authors have brought the story up todate, with new material covering the 2006 and 2007 editions, plus an additional chapter reporting on the 2008 race.
As well as covering the rich 73-year history of the Spanish stage race, the authors reflect upon the Vuelta's relationship with the other two Grand Tours, the Giro d'Italia and Tour de France.
The Vuelta has survived the Spanish civil war, famine, a dictatorship, terrorist attacks and near bankruptcy, to hold a special place in cycling history as one of the three Grand Tours.
It may be ranked third in importance behind the other two, but it nevertheless presents a difficult proposition for foreign riders who can have the devil's own job against a peloton packed with Spanish talent looking after their own, as Scotland's Tour de France mountains champion Robert Millar found out. Twice he finished second overall, In the 1985 and 1986.
In 1988 Britain's Malcolm Elliott became the first Briton to win one of the Vuelta's three major classifications, the points competition.
The new material is now published in English in a 36-page Viva la Vuelta Supplement available directly from Mousehold Press, or Sport and Publicity, for £2.50, or free if bought with a copy of the complete book.
Details: Mousehold Press
Victoria Cottage
Constitution Opening
Norwich NR3 4BD
www.mousehold-press.co.uk
01603 425115
Sport and Publicity
75 Fitzjohns Avenue
Hampstead
London NW3 6PD
www.sportandpublicity.co.uk
0207 794 0915