West Midlands Police become first force to target 'close pass' drivers
Officers on bikes are targetting drivers who pass too close to cyclists with proceedings against 38 people already in motion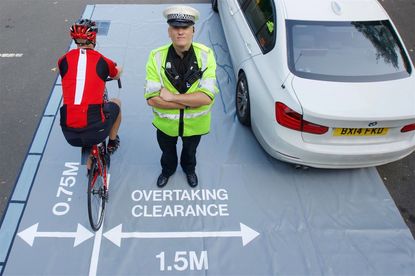 West Midlands Police is to become the first force in the UK to specifically target drivers who 'close pass' cyclists.
>>> Prosecuting drivers is most effective way to improve cyclists' safety, say West Midlands Police
Officers on camera-equipped bikes are patrolling busy roads and alerting patrol cars if they film a driver operating without due car and attention. Offenders will initially be given warnings and safety advice on the roadside.
However the force has said that repeat offenders will be prosecuted, stating that it expects drivers to adhere to a 1.5m safety zone when passing cyclists.
Earlier this week the WMP said it felt prosecuting drivers was the most effective way of improving the safety of cyclists.
After four days of testing the new scheme last month, the force pulled over 80 drivers to offer warnings and roadside advice. 38 drivers have also been prosecuted, with cyclists and drivers able to report bad driving if they supply video evidence.
>>> Driver fined for reckless driving after injuring cyclist: 'she is as guilty as I am'
The WMP also released a video compilation of close passes in the area supplied by local riders.
"As a police force we must do our utmost to protect vulnerable road users and show that anyone who puts them in danger through poor driving will be dealt with," traffic officer and cyclist PC Mark Hodson said.
"Cyclists may suddenly need to avoid uneven road surfaces or obstacles like drain covers so it's important to afford them plenty of room when overtaking."
Thank you for reading 5 articles this month* Join now for unlimited access
Enjoy your first month for just £1 / $1 / €1
*Read 5 free articles per month without a subscription
Join now for unlimited access
Try first month for just £1 / $1 / €1