'Why do cyclists wear lycra?' - you asked Google and we've got the answer
A lot of people have been asking Google why do cyclists wear lycra, so we've got the answer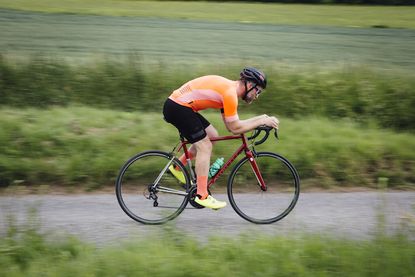 (Image credit: chris catchpole)
If there's one thing that's synonymous with cycling more than anything else, it's skin-tight clothing. But why do cyclists wear lycra?
Regardless of height or weight road cyclists will nearly wear lycra when they ride, which can be quite baffling for non-cyclists, who don't always realise the benefits it can bring.
1. It fits really well
It's important in a sport like cycling, especially on long rides, that kit fits well.
The last thing a rider wants is a badly fitting top or pair of shorts that either bunches, pulls up or, even worse, falls down when riding.
What's good about lycra, then, is that it stays in place despite arm or leg movements when exercising. This limits rubbing and chafing which will keep you more comfortable when riding.
Having cycling shorts that fit properly is particularly important as they hold the pad or Chamois that makes cycling comfortable.
>>> Buyer's guide to bib tights, plus our top picks
For this reason cyclists will often wear bib-shorts which have straps that go over the shoulders, holding the shorts in place.
Likewise, jerseys will often have silicone grippers that hold them in the most comfortable position.
Another perk of it being so close fitting? It doesn't get caught in the chain the same way that normal trousers would. This means we can arrive at our destination oil and grease free.
2. It's highly technical
This is another important reason that cyclists will wear skin tight clothing.
By technical properties we mean (depending on the item) how well it keeps you warm, or dry, or cool when out riding.
>>> 'Why is my bike so slow' - we answer your questions
It's important that kit wicks away sweat so it doesn't sit on the skin and chill the rider when they stop or start descending.
3. It makes you go faster
Or at least we like to think so.
Joking aside, there are actually some gains to be gleaned from all that skin tight clothing.
Most importantly, it helps cut through the wind. Looser items of clothing will balloon out when riding in the wind, seriously slowing you down.
It's not until you've done a long ride with your jacket acting as a parachute that you realise the potential benefits of tight fitting clothing.
>>> 'Why do cyclists ride in the middle of the road? - we answer your questions
We think we look really good
Finally, the real reason that cyclists wear lycra? Because we think we look really good in it (yes, really).
It's similar to why we shave our legs, it gives definition to those pipe cleaners, and as a result, gives us a mental boost.
Thank you for reading 20 articles this month* Join now for unlimited access
Enjoy your first month for just £1 / $1 / €1
*Read 5 free articles per month without a subscription
Join now for unlimited access
Try first month for just £1 / $1 / €1