'How do cyclists pee whilst racing the Tour de France?' – you asked Google and we've got the answer
Sometimes they just need a little push from a team-mate to keep rolling...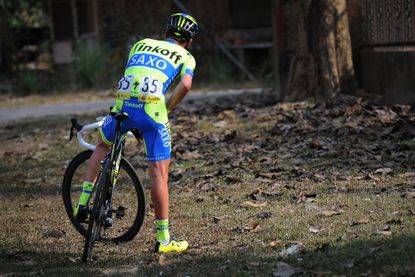 (Image credit: Getty / Robertus Pudyanto )
Professional riders racing the Tour de France are out on their bikes for hours and hours a day. With it being so important to stay properly hydrated, it's no surprise that the pros have to deal with peeing while racing - and without ruining the team's tactics on the day.
Google's autocorrect can provide us with a wealth of information around the general public's thoughts, attitudes and curiosities towards cyclists. One thing it tells us is that they desperately want to know 'how do cyclists pee?', 'when do cyclists pee [at the] Tour de France?' and if 'Tour de France riders pee their pants?'
At the 2021 Tour de France, Wout van Aert (Jumbo-Visma) and Luke Rowe (Ineos Grenadiers) were amongst those who were fined for 'inappropriate behaviour - urinating in public'. With each fine coming to 200 Swiss Francs (£166), their bodily needs certainly clocked up expenses for teams.
Obviously, with the physical exertion throughout a race, a certain amount of a rider's fluid intake will be expelled simply through sweat. But even so, with the length of the stages and the vital importance of not tipping over into a state of dehydration - sometimes a rider is going to have to take a leak.
So how do they do it?
Well, the answer is that - perhaps unsurprisingly, with peeing being a rather personal thing - different riders do take different approaches…
Pee at the side of the road
If the need to pee is only really affecting one rider, the rider may stop at the side of the road and pull down their shorts to go for a pee. There'll be points in the race when the pace is more leisurely and catching back onto the peloton is an easier feat - riders will be looking to take advantage of these opportunities.
It's also common practice for the cross-legged individual to make their way to the front of the peloton before stopping off, to give themselves the longest possible window during which to empty their bladder.
Should the rider take their time and be passed by the peloton, they can use the team cars to draft their way back to the bunch.
But quite often it's not just one rider who needs to pee. This is why the peloton may organise itself, selecting a 'nature break' slot during which the riders will collectively pee; at a Grand Tour tradition dictates that the GC leader determines when this will be. Anyone that keeps rolling is bound by unwritten law not to attack during this time.
Of course, like all unwritten rules, this little gem has been conveniently overlooked - most notably on stage 16 of the Giro d'Italia 2017 when Tom Dumoulin (Team Sunweb) stopped for a little bit more than a wee.
And from the sounds of it, there has been a shift in attitudes from the new pros and the whole peloton pee stop is beginning to become a thing of the past.
Peter Sagan recently told Het Nieuwsblad that there is currently a behaviour change within the peloton, with young riders actively choosing to ignore the unwritten rules in races, creating "total anarchy" as a result.
"I first noticed it when as a leader in a stage race I stopped to pee. They kept on attacking, while that used to be a moment of rest in the peloton.
"The bathroom break just doesn't exist anymore. I saw it again in the Haut Var. You used to have the fixed time to stop to pee together."
So, how are they doing it now? Well…
Pee whilst you ride
If the pace of the race is high and there's no collective 'nature break' in sight, some riders will call on their teammates to give them a push while they relieve themselves whilst still riding.
Reputable UK news source the Sun (please apply pinch of salt) was most shocked when a fan sent in a picture of Madison Genesis rider Taylor Gunman "pulling out his willy to wee" whilst riding in the Tour of Britain.
Some riders tend to look for a helping hand - with a team-mate pushing them from behind so they can keep up momentum whilst pedalling.
"Now everyone is peeing from their bicycle," Sagan shared with Het Nieuwsblad. "I then ask: Is that normal? I understand if you ride the final of say the Tour of Flanders or Paris-Roubaix. But at a dead-end in the race? You don't lose anything by stopping for a while. And they don't even bother going to the edge of the road.
"No names, but they just piss in the middle of the pack. Everyone pees on everyone. Disgusting. And if you say something about it, you are supposedly arrogant, because you can't decide what someone else should do."
Just get a bit wet
The final option is simply to let it happen without any real planning, stopping, or pushing from team mates.
Choosing this option can be particularly effective in cold conditions - something Mark Cavendish pointed out when he told GQ: "In races that are soaking wet and freezing cold, I like to piss myself.
"It warms me up for a split second. You get warm and you don't have to fuss around," he added.
How do female professional cyclists pee?
For the first time this year the professional women's peloton will be racing in a female Tour de France. There are some big days across the eight stages, with the 175km-long stage 5 from Bar-le-Duc to Saint-Die-des-Vosges being the longest ever professional women's road race stage.
This stage in particular does bring in some extra complications as the whole process of peeing certainly takes a little bit longer for women. While it is possible for women to pee standing up when wearing bib shorts, as this excellent and widely shared illustration demonstrates - it can be a messy process if it goes wrong, and frankly it's probably quicker just to squat and use the pull down design of women's bib shorts.
Since women's races are often shorter, the female peloton tends to avoid nature breaks where possible. The average distance of the stages this year for the men's TDF is 172.4km, whereas for the TDF Femmes it's just 128.62km.
What to do if you need to pee on a long bike ride
If you're on a group ride, you can talk to the other riders about slowing down so you can quickly relieve yourself behind a tree without getting left behind. On 'no drop' rides, there's also going to be points when you can take advantage of the group already waiting for others, particularly at the top of the hills.
Another option is making sure to include a cafe stop along your route.
It's also a lot easier for women these days too, thanks to the easy-pee access now built into many women's bib shorts.
Thank you for reading 20 articles this month* Join now for unlimited access
Enjoy your first month for just £1 / $1 / €1
*Read 5 free articles per month without a subscription
Join now for unlimited access
Try first month for just £1 / $1 / €1