'How do cyclists pee whilst racing the Tour de France?' – you asked Google and we've got the answer
Sometimes they just need a little push from a team-mate to keep rolling...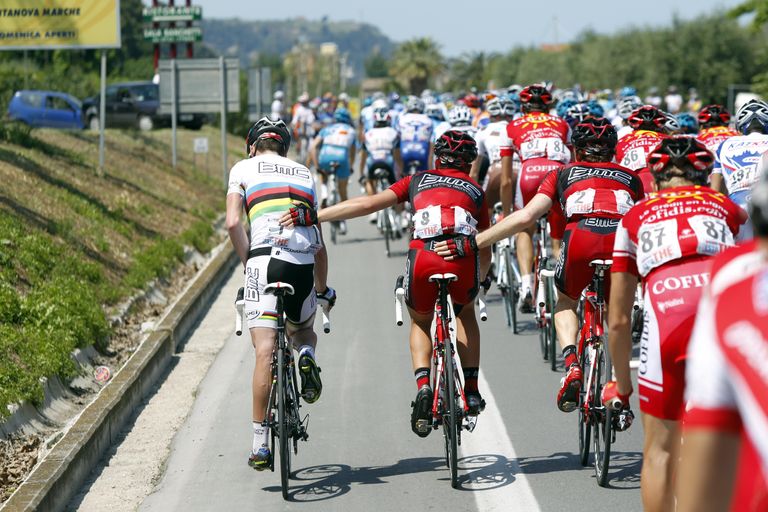 (Image credit: Yuzuru SUNADA)
By Michelle Arthurs-Brennan published
Google's autocorrect can provide us with a wealth of information around the general public's thought, attitudes and curiosities towards cyclists. One thing it tells us is that they desperately want to know 'how do cyclists pee?' and 'when do cyclists pee [at the] Tour de France?'
So far, at the 2019 Tour de France, 10 riders have been fined for 'inappropriate behaviour - urinating in public'. With each fine coming to 200 Swiss Francs (£161), and many days of racing ahead, the bodily need is certainly clocking up expenses for teams.
Obviously, considering a certain expected amount of exertion, sweat takes care of a lot of fluid intake - but with long stages and the need to stay hydrated of paramount importance, sometimes a rider is going to have to take a leak. So how do they do it?
The answer is the question is that, unsurprisingly, peeing is a rather personal thing - and different riders take different approaches.
Pee at the side of the road
Some riders stop at the side of the road to go for a pee.
The peloton may organise itself, selecting a 'nature break' slot during which the riders will collectively pee; at a Grand Tour tradition dictates that the GC leader determines when this will be. Anyone that keeps rolling is bound by unwritten law not to attack during this time.
Of course, like all unwritten rules, this little gem has been conveniently overlooked - notably on stage 16 of the Giro d'Italia 2017 when Tom Dumoulin (Team Sunweb) stopped for a little bit more than a wee.
If the need to pee is only really affecting one rider, it's common practice for the cross-legged individual to make their way to the front of the peloton before stopping off, to give themselves the longest possible window during which to empty their bladder.
Should the rider take their time and be passed by the peloton, they can use the team cars to draft their way back to the bunch.
There is no women's Tour de France, but of course the Women's World Tour comprises of some long days of racing, and for female riders the whole process takes a little bit longer.
It is possible for women to pee standing up when wearing bib shorts, as this excellent and widely shared illustration demonstrates - but it can be a messy process if it goes wrong, and frankly it's probably quicker just to squat.
When sitting in the convoy at the Women's Tour, we only saw one 'nature break stop' during the whole five day race. The rider chased back on pretty easily, but since women's races are often shorter, the female peloton tends to avoid nature breaks where possible.
Pee whilst you ride
Reputable UK news source the Sun (please apply pinch of salt) was most shocked when a fan sent in a picture of Madison Genesis rider Taylor Gunman "pulling out his willy to wee" whilst riding in the Tour of Britain last year.
Not all riders are happy to pee on the bike, whilst others tend to look for a helping hand - with a team-mate pushing them from behind so they can keep up momentum whilst pedalling.
Just get a bit wet
The final option - applicable to male and female cyclists - is simply to let it happen without any real planning, stopping, or pushing from team mates.
As German sprinter Marcel Kittel kindly confirmed during the 2016 Paris-Nice, choosing this option can be particularly effective in cold conditions - something Mark Cavendish backed up when he told GQ: "In races that are soaking wet and freezing cold, I like to piss myself.
"It warms me up for a split second. You get warm and you don't have to fuss around," he added.
Cycling Weekly's Tech Editor Michelle Arthurs-Brennan is a traditional journalist by trade, having begun her career working for a local newspaper before spending a few years at Evans Cycles, then combining the two with a career in cycling journalism.
When not typing or testing, Michelle is a road racer who also enjoys track riding and the occasional time trial, though dabbles in off-road riding too (either on a mountain bike, or a 'gravel bike'). She is passionate about supporting grassroots women's racing and founded the women's road race team 1904rt.
Favourite bikes include a custom carbon Werking road bike as well as the Specialized Tarmac SL6.
Height: 166cm
Weight: 56kg