Yoann Offredo fined €700 over altercation with motorist
Motorist and passenger also given fines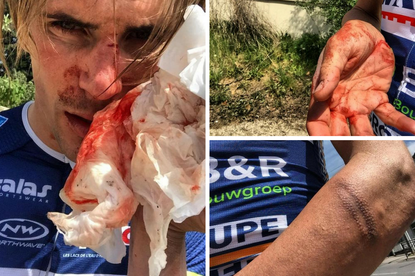 Wanty-Groupe Gobert rider Yoann Offredo has been fined a total of €700 (£626) for assaulting the driver and passenger of a car in an incident in April.
The French rider was out training near Paris earlier this year when the incident took place, posting graphic photos of his injuries on social media, claiming that he and his training partners had been attacked.
>>> Chris Boardman: 'Shame on the government' for discussing compulsory cycle helmet law
"I was training with two colleagues in the Chevreuse valley when a car sped past very close to us. Suddenly the driver braked with the intention of making us crash," Offredo said at the time.
"I wanted to talk to the driver, but she was ready to get out of the car with a box cutter. In a reflex I blocked the door of the car. Then the passenger got out of the car and picked up a baseball bat from the boot.
Watch: Tour de France 2018 route guide
"With that he hit me and afterwards he headbutted me. The police then intervened. A case was opened and a complaint filed."
At a hearing at Evry Criminal Court on Thursday, Offredo and one of his training partners were found to have assaulted the driver and the passenger, while the driver and the passenger were also found guilty.
>>> Ever fancied owning a fully equipped pro team bus? Wanty-Groupe Gobert are selling theirs
Le Parisien reports that Offredo was given a suspended fine of €400 and ordered to pay €300 in damages, while his training partner was also fined €200. The driver and the car passenger were each given a suspended fine of €700.
The incident disrupted Offredo's 2017 racing season, suffering a broken nose, bruised ribs, and numerous cuts and bruises, having to take time off ahead of the Four Days of Dunkirk in early May, before heading to the Tour de France in July.
Thank you for reading 20 articles this month* Join now for unlimited access
Enjoy your first month for just £1 / $1 / €1
*Read 5 free articles per month without a subscription
Join now for unlimited access
Try first month for just £1 / $1 / €1