Yoann Offredo speaks out about 'senseless' road rage attack that left him bloodied and bruised
Wanty-Groupe Gobert rider speaks out about Monday's attack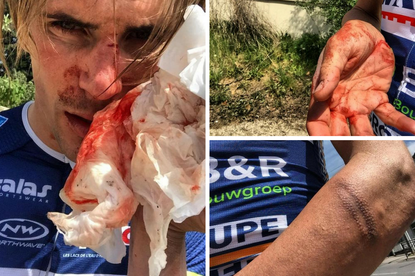 Yoann Offredo has spoken out about the attack that left him with bloodied and bruised while out on a training ride on Monday.
In a statement on the Wanty-Groupe Gobert team website, the Frenchman gave details about the attack which he said took place on the roads to the south west of Paris.
"I was training with two colleagues in the Chevreuse valley when a car sped past very close to us. Suddenly the driver braked with the intention of making us crash," Offredo explained.
>>> Iljo Keisse road rage attacker receives 100 hours of community service
"I wanted to talk to the driver, but she was ready to get out of the car with a box cutter. In a reflex I blocked the door of the car. Then the passenger got out of the car and picked up a baseball bat from the boot.
"With that he hit me and afterwards he headbutted me. The police then intervened. A case was opened and a complaint filed."
Offredo posted graphic images of his injuries on Monday night, and gave more details about his condition in the statement.
>>> Is this foul-mouthed tirade the worst example of road rage directed at cyclists ever? (video)
"I suffer from pain on the nose, on a rib and suffer from several bruises. I still have to go to the hospital to let determine the suffered damage.
"I am particularly shocked. I have been in cycling for 15 years and I have never experienced such a thing. Verbal aggression often occurs, but most of them stop there."
According to the team, the 30-year-old will rest at home while he recovers from his injuries, but should return to racing at the Four Days of Dunkirk which commences on May 9.
Thank you for reading 20 articles this month* Join now for unlimited access
Enjoy your first month for just £1 / $1 / €1
*Read 5 free articles per month without a subscription
Join now for unlimited access
Try first month for just £1 / $1 / €1