Is this foul-mouthed tirade the worst example of road rage directed at cyclists ever? (video)
New Zealand driver posts video of expletive-laden rant at a group of cyclists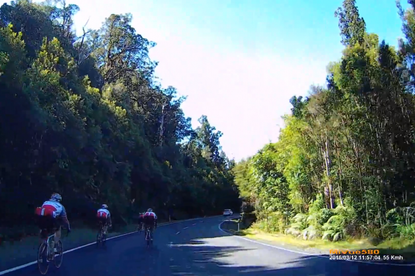 WARNING: CONTAINS VERY STRONG LANGUAGE
We are aware that a certain faction of motorists are not particularly big fans of cyclists but this woman from New Zealand takes it to a whole new level.
She is following a group of four cyclists down a fairly wide road when she inexplicably launches into a tirade that includes the phrases: "Oh my God, do you even know how to ride a f***ing bike", "they wonder why they get f***ing hit" and the absolute gem, "do you even human?!".
To be honest, we're not sure what her problem is, if you look at the GPS figures in the bottom right hand corner of the screen you can see the group were setting a cracking pace topping out at about 60 kph, and she is able to easily overtake them as soon as the road ahead is clear.
>>> Five tips for safe commuting
This video is equal parts hilarious and terrifying as the driver, known on YouTube as Samanthapants, spews death threats with abandon. When she was challenged about her language in the comments section she simply said: "thanks for caring but out the car I am different person I would never hit them I just say stupid stuff"… well that makes us feel much safer!
Thank you for reading 5 articles this month* Join now for unlimited access
Enjoy your first month for just £1 / $1 / €1
*Read 5 free articles per month without a subscription
Join now for unlimited access
Try first month for just £1 / $1 / €1