Motorist takes a tumble while trying to attack cyclist (video)
Angry at the fact that a cyclist was taking up too much space on the road, a motorist ends up chasing the rider and taking an unfortunate fall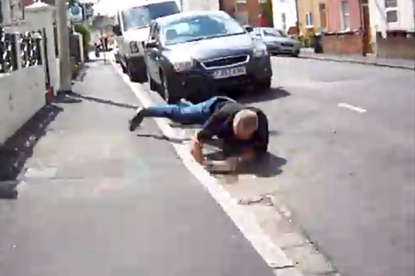 Warning: This video contains VERY strong language.
We've got a new contender for Britain's Angriest Driver - rivalling the South London cafe owner who threatened to break a rider's neck - after a motorist took offence to a cyclist riding on the road.
When the Peugeot made a close pass on the rider on a residential street the cyclist chased the car down to let him know. This didn't go down well with the driver, who leant out of his window and shouted abuse - all while his young passenger looked on sheepishly.
After a verbal exchange, during which several threats were exchanged, the driver parked up, marched up to the rider and put his hand over the camera.
"Why don't you get a car?" the driver then asks incredulously, walking back to his car.
Rather than letting the situation go and riding off with video evidence of the assault, the cyclist draws level with the stationary car once more and caused the driver to get more irate.
>>> Irate driver confronts cyclist in San Francisco (video)
He then got out the car and started chasing the rider down the pavement, aiming a kick and his rear wheel and getting his comeuppance as he stumbled and fell into the road.
The comical chase occurs after the three-minute mark in the video, but be warned: the whole thing contains a lot of swearing.
Thank you for reading 20 articles this month* Join now for unlimited access
Enjoy your first month for just £1 / $1 / €1
*Read 5 free articles per month without a subscription
Join now for unlimited access
Try first month for just £1 / $1 / €1