Yoann Offredo posts images of wounds suffered after he was attacked 'with baseball bat & box cutter'
The Frenchman claims his attackers used a baseball bat and a box cutter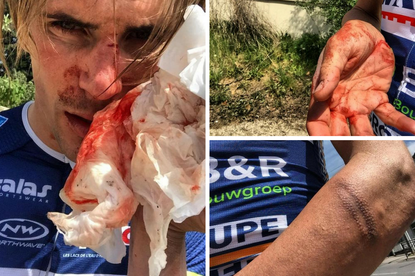 Yoann Offredo (Wanty Groupe-Gobert) has published photos on his social media (opens in new tab) accounts that show the wounds of an attack he says he suffered while out on a training ride.
The Frenchman says he was assaulted while out on a ride with two friends by assailants with a baseball bat and box cutter.
He didn't state where or when the attack took place, but showed his injuries with three images and posted an impassioned message saying that he was "far from imagining this job would be so dangerous," when he became a professional cyclist.
"Today [I was] a victim of assault," he added. "Result: a fractured nose, a rib in a sorry state and bruises all over the body. But beyond physical wounds, I am above all shocked."
The 30-year-old moved from his native WorldTour team FDJ to join up with Belgian Pro Continental squad Wanty at the start of this year, and placed 14th in the recent Monuments Tour of Flanders and Paris-Roubaix.
Offredo went on to add that he doesn't want his kids to cycle, because of the dangers of the sport.
"I'm not angry," he wrote. "I'm not angry, I'm just sad to say that I hope my children don't take up this great sport that I love... too dangerous."
"You leave for training in the morning, but you never know if you're going home."
Thank you for reading 5 articles this month* Join now for unlimited access
Enjoy your first month for just £1 / $1 / €1
*Read 5 free articles per month without a subscription
Join now for unlimited access
Try first month for just £1 / $1 / €1