Young Aussies take it to the big guns Down Under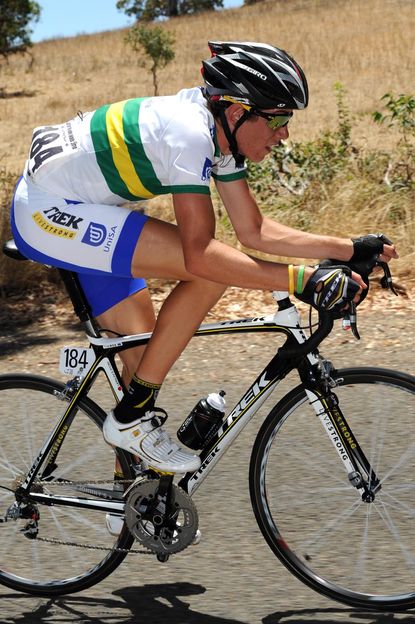 Two days in to the Tour Down Under and one team is standing out above all others. But it's not Sky, HTC Columbia, RadioShack, or any of the other ProTour teams with big budgets. It's the group of young Australians punching above their weight in the national jerseys for the Uni SA team.
The team has had a man in both of the day-long breaks, and on each occasion they have taken the King of the Mountains points.
Getting in the break might sound easy, after all they're not making it to the finish to contest the stage win, but it isn't. Lots of riders want to get in the break, but out of 132 riders, only three have on each day, and Uni SA is the only team to do it on both occasions.
Okay, so lots of riders here are under orders to work for their sprinters or team leaders, and others are still blowing away the winter cobwebs, but that still leaves a good 50 or so who either a) want to get in the break, or b) think they might as well as there's nothing better to do.
So how do they do it? David Kemp revealed the tactics of how it's done during an interview following today's stage saying that the person who makes the break is "whoever's there. I'll go with the first one, and if that comes back someone else will go. It's not like [the team manager] says, 'okay Dave, it's your go'. it's everyone's go."
As he explained, the motivation is there too. "We're all in good nick and we want to take it to these ProTour riders."
So I thought I'd go and find Dave Sanders, the team manager for the Uni SA team who also happens to be Australia's junior national coach and the head coach of the state of Victoria. He's obviously well qualified and must be doing a good job of getting his team up for the racing, I wonder what management technique he uses. Within a few seconds of meeting him its blindingly obvious.
Sanders is a big man, with a big voice, and as soon as he opens his mouth you know not to mess with him. He's the a typical straight-talking Aussie who wouldn't take any nonsense or suffer fools. I start safe, and point out how well his riders are doing by getting in the break. "Well, if you'd watched the last ten years [you'd know] we always do," he said.
Without pausing for breath he launches in to his theories on bike racing in short, clipped sentences. "The young guys they have to commit. They have to commit, what are your options, sit there and get a sun tan or go and race? We'll always race, we'll always put it on the line."
Uni SA's David Kemp (centre) played a big part in the break during stage two of the Tour Down Under
There's not even a need to ask supplementary questions. I feel like I'm in a pre-race team talk, one where I wouldn't dare speak out or disagree. "It's not easy, but we're just committed," he continues. "The young guys know that if the first break doesn't work then you've got to be in the second. If that doesn't work, the third one, you've got to be in it, from the drop of the flag. That's the plan. It's not, maybe see what happens, that's the plan, they've got to be in it. Our race is the first 30 km. Make sure you're in it."
Sanders has been working on this race for years and he knows what an opportunity it is for the riders selected to ride in the white green and yellow national jersey in front of the best in the world. "This is the biggest race some of these guys have ridden."
"I say to these young guys; you don't have to win to be noticed. You get out there, directors see you doing a good ride, even if you don't win you're getting your name on the board. You come here to race and show yourself and a director might see your name, or remember you from here, that's what it's about."
"This is the first race for some of the Euros, coming out of European winters, they may have been to a training camp. Nearly all our guys have had big training camps throughout December, they've raced a few races, national championships last week, had a crit series, small Tours in December, they should be fit and have good legs."
"That is an advantage, if you have an advantage, use it. Go for it."
Sanders' team now holds the climbers' jersey; how will they defend it? The only way he knows how. "The only way you can defend is by attacking as far as I'm concerned. Most of these guys don't want to race from the start, we will."
Good on ya, Dave.
Tour Down Under 2010: Race reports
Tour Down Under, stage two: Greipel takes win number two
Tour Down Under, stage one: Greipel takes back sprint crown Cancer Council Helpline Classic: Team Sky off to perfect start as Henderson wins


Tour Down Under 2010: Related links




Downing adapts to embrace new challenge
Hayman admits to nerves before Sky's debut
Tour Down Under news round-up (Jan 16)
Armstrong leads thousands on Twitter ride in Adelaide
Team Sky ready for first race
Armstrong warms up Down Under
Armstrong in Australia: "I'm in better shape than last year"
Team Sky gets ready for Tour Down Under
Tour Down Under 2010: Start list
Lance Armstrong to ride 2010 Tour Down Under
Cadel Evans and BMC to ride Tour Down Under
Tour Down Under teams confirm rosters
Davis wins 2009 Tour Down Under
Tour Down Under 2010: Photo galleries
TDU stage one photo gallery by Graham Watson
Cancer Council Helpline Classic
Armstrong in Adelaide


External link





Tour Down Under official website
Thank you for reading 20 articles this month* Join now for unlimited access
Enjoy your first month for just £1 / $1 / €1
*Read 5 free articles per month without a subscription
Join now for unlimited access
Try first month for just £1 / $1 / €1