Legendary cycling record-breaker Eileen Sheridan dies aged 99
The 'Mighty Atom', who was hailed Britain's Greatest Cyclist', was just eight months shy of her 100th birthday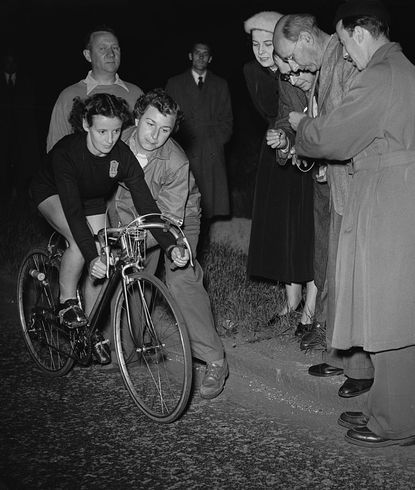 (Image credit: George W Hales / Fox / Getty)
Legendary record-breaking cyclist Eileen Sheridan has passed away, aged 99. Possibly the only rider to be named on the front cover of Cycling Weekly as 'Britain's Greatest Cyclist', she passed away at the weekend just eight months shy of her 100th birthday.
Sheridan's ability against the clock in place to place record breaking propelled her to cycling stardom, and her 1954 Land's End to John o' Groats record set in 2 days, 11hrs, 7min, stood for 36 years, only being beaten by Pauline Strong in 1990.
That LEJOG ride was the one that prompted the 'Britain's Greatest Cyclist' Cycling Weekly cover, which was in fact a full-page advertisement taken out by her sponsor Hercules. It had been the cherry on the cake of a series of record-breaking place-to-place rides by the 'Mighty Atom' as she was nicknamed, thanks to her diminutive 4ft 11in height.
Born in Coventry in 1923, Sheridan began her cycling career riding against the clock at standard distances. She quickly became a champion at 25, 50 and 100 miles, won the BBAR twice and set a new 12-hour comp record of 237 miles too.
She first started breaking place-to-place records in 1950, setting a new time of 5hr 22 for the London-Birmingham and closely following that with a new London-Oxford record.
A year later cycle manufacturer Hercules signed her up to become a pro record breaking cyclist – this was the 'golden' post-War period for road records after all – and the times began dropping like skittles. By 1954 Sheridan held all but one of the major place-to-place records. Undeterred by having her new Land's End to London record declared null and void because she'd broken the 'no prior publicity' rule, Sheridan returned to Land's End to take on the big one, LEJOG. Her 2-11-07 knocked more than 11 hours off Marguerite Wilson's previous professional record, and she rode on to set a new 1,000-mile record too.
She was now the undisputed champion.
Unsurprisingly, she remains an inspiration to modern place-to-place riders. Men's LEJOG record holder Michael Broadwith nominated her for Cycling Weekly's list of '130 People Who Changed Cycling', while Jasmijn Müller, a former BBAR winner who has attempted the LEJOG record twice, says Sheridan "is my inspiration".
"If I manage to break the record, it would be really nice to celebrate it with the person I blame for getting me to think about the record in the first place," she wrote after her first attempt in 2017.
Thank you for reading 20 articles this month* Join now for unlimited access
Enjoy your first month for just £1 / $1 / €1
*Read 5 free articles per month without a subscription
Join now for unlimited access
Try first month for just £1 / $1 / €1