LeMond calls for McQuaid to resign as UCI remain under fire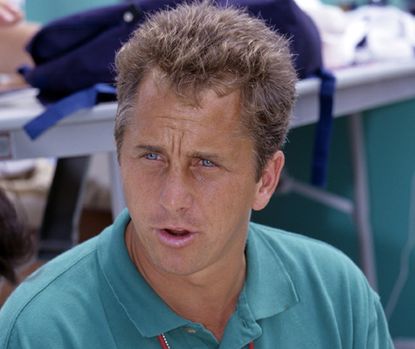 The Union Cycliste International (UCI) remains under fire in the wake of the Lance Armstrong doping scandal. President Pat McQuaid gave the governing body's rubber stamp approval of the US Anti-Doping Agency's decision to strip Armstrong's seven Tour de France wins, but critics are calling for more.
Three-time Tour de France winner Greg LeMond called for McQuaid to step down in an open letter published on his Facebook page.
"I want to tell the world of cycling to please join me in telling Pat McQuaid to resign. I have never seen such an abuse of power in cycling's history; resign Pat, if you love cycling. Resign even if you hate the sport," LeMond wrote. "Pat McQuaid, you know damn well what has been going on in cycling, and if you want to deny it, then even more reasons why those who love cycling need to demand that you resign."
LeMond goes on to allege McQuaid and his predecessor Hein Verbruggen are corrupt and claims to be in possession of a document that proves it.
McQuaid and Verbruggen are currently suing Irish journalist Paul Kimmage in the Swiss courts over accusations of corruption. "I donated money for Paul's defence, and I am willing to donate a lot more, but I would like to use it to lobby for dramatic change in cycling," LeMond added. "The sport does not need Pat McQuaid or Hein Verbruggen; if this sport is going to change, it is now. Not next year, not down the road, now! Now or never!"
McQuaid acknowledged cycling is at a crossroads at Monday's press conference when he announced the UCI's decision not to appeal the US agency's decision against Armstrong. The agency collected damning evidence and testimonies that demonstrated Armstrong doped throughout much of his career.
Although McQuaid thanked USADA during the press conference he leveled some criticism at their process. "It would have been better that the evidence collected by USADA had been assessed by a neutral body. ... This would have avoided both the criticism of a witch hunt against Mr Armstrong and the criticism that the UCI had a conflict of interest."
USADA CEO Travis Tygart hit back on Monday. He called for a full and independent investigation into cycling, and put further blame on the UCI. "The truth is Lance Armstrong, on their watch, pulled off the greatest heist sport has ever seen," Tygart told the Guardian newspaper. "Instead of attempting to explain or justify their inadequacies, the UCI should acknowledge their responsibility and failures and find ways to make it right.
"They accepted money from him [Armstrong], they accused us of a witch-hunt (without seeing any evidence), they sued the chief whistle blower [Floyd Landis], they discouraged witnesses from participating."
"They simply are trying to divert attention away from their own failures in this whole sad saga, and those that love the sport of cycling and clean sport should not allow that to happen."
Tyler Hamilton and Landis were among 11 of Armstrong's former team-mates who testified. McQuaid said, "[they] are being made out to be heroes, they are as far from heroes as night and day, they are not heroes, they are scumbags." McQuaid immediately retracted the scumbag claim, but added Hamilton is trying to make money with his book, The Secret Race.
"Pat McQuaid's comments expose the hypocrisy of his leadership and demonstrate why he is incapable of any meaningful change," Hamilton said on Tuesday. "Instead of seizing an opportunity to instil hope for the next generation of cyclists, he continues to point fingers, shift blame and attack those who speak out, tactics that are no longer effective. Pat McQuaid has no place in cycling."
The World Anti-Doping Agency (WADA) President John Fahey asked if cycling can continue with McQuaid at the helm. "If that doping was widespread, then the question is legitimately put: who was stopping it? Who was working against it? Why wasn't it stopped?" Fahey told Australia's Fox Sports. He said the UCI need to "look at the past, examine the people who are there, ask themselves the questions 'Are those same people still in the sport and can they proceed forward with those people remaining?'"
Despite the calls of resignation, McQuaid said that he does not fear losing his job. "No. Not at all, no," McQuaid explained. "As I said, since I became President my objective as been the fight against doping. My objective has been to change the culture of doping in the sport. I've done everything I can. I don't see why my position should be under fire because of the activities of these guys?"
The UCI is holding a special management committee meeting next Friday at their headquarters in Aigle, Switzerland.
External link
Thank you for reading 10 articles this month* Join now for unlimited access
Enjoy your first month for just £1 / $1 / €1
*Read 5 free articles per month without a subscription
Join now for unlimited access
Try first month for just £1 / $1 / €1
Gregor Brown is an experienced cycling journalist, based in Florence, Italy. He has covered races all over the world for over a decade - following the Giro, Tour de France, and every major race since 2006. His love of cycling began with freestyle and BMX, before the 1998 Tour de France led him to a deep appreciation of the road racing season.