Lincoln Grand Prix: Post-race debrief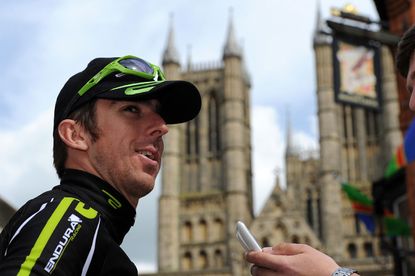 Cycling Weekly's Premier Calendar post-race debrief is the place to catch up on what you've missed from this weekend's Lincoln Grand Prix.
With analysis, rider interviews and video highlights, you can be sure you'll know exactly what happened in Sunday's race.
Super Team Challenge: standings after Lincoln GP>>>
Russell Downing wins Lincoln GP for fourth time>>>
Lincoln Grand Prix Gallery>>>
Premier Calendar coverage index>>>
Analysis: Four by four for Endura
All eyes were on Endura as they lined up at the Lincoln GP last Sunday with a fourth straight Premier Calendar in their sights. Except that is for Scott Thwaites and Ian Bibby, who were hiding behind the Herbalife-Leisure Lakes team car when the rest of the field squeezed together for the race briefing.
The Scottish have dominated the domestic scene this year were expected to do so again in Lincoln. For all their fans, and for cycling journalists who had their headlines pre-written and ready to go, they didn't disappoint.
Although insisting that they go into races with no pre-determined leadership roles marked out, their policy of 'two in six' - two Endura riders for every six in a breakaway - ensures they always ride at the front of the race.
Indeed only two of their riders were absent from the action when the race heated up after five laps; Jonathan Tiernan-Locke had crashed a lap earlier and Ian Bibby remains hindered by lingering illness.
Russ Downing (Endura) grinds up the cobbles of Michaelgate
That said, Russ Downing looked every inch the winner. He rode a controlled race throughout, conservative and clever at the front of the race during the opening encounters and then unstoppable once he opened up on the Michaelgate climb on the final two laps.
Sunday also saw the rest of the teams take a step up in their quest to beat Endura. Russell Hampton (Raleigh-GAC) had a sterling ride to finish fifth and IG-Sigma also managed riders in fourth and seventh.
Yet Endura could boast a further two riders in the top ten too, and that is where there strength lies: in numbers.
Although there was little anyone could do to stop a rampant Downing from his fourth Lincoln win, there was nevertheless evidence aplenty that the field were willing to take the fight to Endura.
With the demanding Tour Series kicking off in Kirkcaldy tomorrow, Endura will have to fight back even harder if they want to keep they're winning streak going.
Team talk

Marcin Bialoblocki (Node4-Giordana)
Second
"I knew it would be hard, and it was! I had lots of help from my team-mates, they worked hard from the beginning and the first few laps. Russ [Downing] is a great rider and he's done lots of good races this year, much more than me."
Marcin Bialoblocki (Node4-Giordana) and Kristian House (Rapha-Condor-Sharp)
Simon Richardson (IG-Sigma Sport)
Fourth
"We had pretty regimented team tactics today, this is one of the few British races where you can plan and actually control it, and we did and the lads were absolutely awesome today. It came down to legs and unfortunately I just didn't quite have them. It was a case of riding for third and all credit to Kristian, he dug really deep on that last climb."
Kristian House (Rapha-Condor-Sharp)
Third
"I felt pretty good, it wasn't really a case of attacking for the King of the Mountains, it was just staying out of trouble. You've got to be at the front on this climb, no matter what you do.
"I made a pretty amateur mistake; I just didn't eat enough I think. I felt it going into three laps to go and I was cursing myself. I got as much food down me as I could but it just wasn't quite enough."
Julian Winn - Team Manager, Endura Racing
"I think Russ was always going to fall into a leadership role, he knows his way around this race. He was in control all day.
"You could see Russ was going well at the Reservoir but it wasn't really hard enough for him to split it. In the back of my mind I always thought he was going to be the one there [at the finish], but that didn't mean he was going to be the undisputed leader."
Tweets of the race
Jonathan Tiernan-Locke
@J_T_Locke
Badly battered but not broken. Frustrating to miss yet another big race now the forms coming, but I'll be back at route du sud! #luckyescape
John Herety
@RaphaJ
Mixed fortunes at Lincoln GP as House takes 3rd and KoM. But 3 crashes, 2 guys ok. Mike Cuming broken elbow.
Pete Hawkins
@peter_hawkins
Ended up 13th myself. One place better than last year. Should be on for the win at the age of 38 if I keep up that progress
Simon Richardson
@si_richardson
Could only manage 4th at the Lincoln today, but I did have my first hot post race shower of the season so some degree of success at least.
Russell Hampton
@RussellHampton
I got a lot of comments today of " where have you come from" in response i really dont know myself sometimes! #hardday
British Cycling Highlights Video
Related links
Russell Downing wins Lincoln GP for fourth time
Lincoln Grand Prix Gallery
Premier Calendar coverage index
Thank you for reading 10 articles this month* Join now for unlimited access
Enjoy your first month for just £1 / $1 / €1
*Read 5 free articles per month without a subscription
Join now for unlimited access
Try first month for just £1 / $1 / €1
Richard Abraham is an award-winning writer, based in New Zealand. He has reported from major sporting events including the Tour de France and Olympic Games, and is also a part-time travel guide who has delivered luxury cycle tours and events across Europe. In 2019 he was awarded Writer of the Year at the PPA Awards.