Refresh
In to the second week of the Tokyo 2020 Olympic Games and it's time for the track cycling to get underway!
Day one sees action from the team sprint and team pursuit. The women's team sprint gets us underway today with qualifying, with the gold medal decided by the end of the session.
The women's team sprint starts with the eight teams taking on qualifying, which sees each team take on a two-lap timed progression. The teams are then seeded by their qualifying times for the first round
This is the order of qualifying for the team sprint:

1 Ukraine
2 Lithuania
3 Poland
4 Mexico
5 Netherlands
6 Germany
7 Russian Olympic Committee
8 China
Here's are full list of events today:
Monday, August 2, 3.30pm - 6.30pm Japan/7.30am - 10.30am UK
Women's Team Sprint Qualifying
Women's Team Pursuit Qualifying
Women's Team Sprint First round
Men's Team Pursuit Qualifying
Women's Team Sprint Finals
Women's Team Sprint Victory Ceremony
Ukraine are just about to begin the Tokyo 2020 track cycling events with their team sprint qualifying
So there's the first benchmark, a 33.542 time for Ukraine.
A reminder that all eight teams will make it through the qualifying round, but a better time will see you seeded more highly and against a team with a worse qualifying time
We're three teams into qualifying and Poland are now top of the standings:
1 Poland 33.244
2 Lithuania 33.276
3 Ukraine 33.542
Opening laps in the event so far have been all a shade over 19 seconds. Mexico managed to do the slowest lap (19.177) but then take the lead (33.097).
The Netherlands have just been on their turn and were the first team under 19 seconds for the opening lap (18.966) and now lead with a time of 32.465
Germany, the world champions, have lived up to expectations and soared into the lead - 18.685 opening lap with a finishing time of 32.102
Top three currently
1 Germany 32.102
2 Netherlands 32.465
3 Mexico 33.097
ROC went on a flyer in the opening lap with the fastest time of 18.582, but faded massively in the second lap to only take third place with a 32.476.
Just China to come now.
China went very similarly to ROC there and struggled to maintain a blistering start. They've taken second place to Germany will take top spot. Here's the qualifying rankings:
1 Germany 32.102
2 China 32.135
3 Netherlands 32.465
4 ROC 32.476
5 Mexico 33.097
6 Poland 33.244
7 Lithuania 33.276
8 Ukraine 33.542
Just as we're reflecting on the team sprint the team pursuit is already underway with France
It's a 4000m race distance here and the teams will want to set as fast a time as possible to give them the best route to the medal races
Once again it's eight teams competing here - USA and defending champions Great Britain will set off second to last and last respectively
That's a fast start from France, they've set a time of 4:12.511. We're expecting GB's world record (4:10.236) to fall in this opening round of qualifying
Italy's team pursuit quartet are out on the track now
A well paced effort there from Italy sees them set a 4:11.666. They looked behind in the early stages of that effort but lifted their effort towards the end in a well paced effort
Here's the Italian team midway through their qualifying effort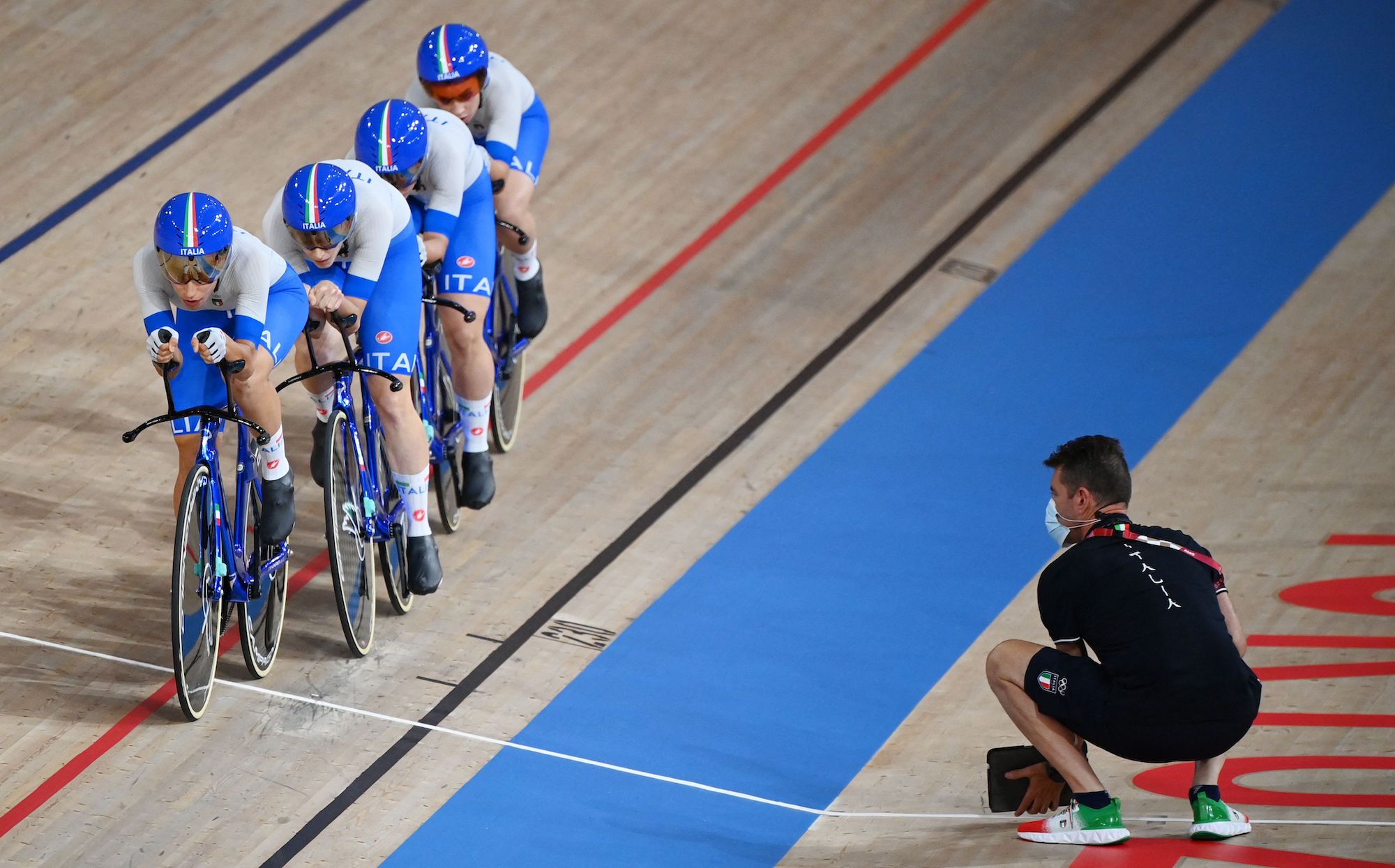 Germany on course to set a new world record here at the halfway point
World record smashed! 4:07.307 for Germany!
That's streets faster than the 4:10.236 former world record set in Rio 2016. That's a high benchmark for Germany who take the lead ahead of Italy and France.
The New Zealand squad are on the track now
Current standings in the women's team pursuit qualifying:
1 Germany 4:07.307 (WR)
2 Italy 4:11.666
3 France 4:12.502
New Zealand not quite looking competitive here at five seconds down in the last lap
New Zealand just behind France there with a time of 4:12.536. A quick time but not quite up to the standards being set here already
Australia are the next to go
Latest women's team pursuit standings:
1 Germany 4:07.307 (WR)
2 Italy 4:11.666
3 France 4:12.502
4. New Zealand 4:12.536
Fast start by Australia who are just off the pace of the world record time set by Germany
The time has drifted now for Australia, who are 1.4 seconds down on the German pace just over halfway through
That's not a good time from Australia in the context of this qualifying - they started fast but struggled in the final kilometre or so, finishing with a time of 4:13.571, leaving them in fifth at the moment
Canada are also unable to meet Germany's world record time, finishing eight seconds down with a time of 4:15.832
That leaves Canada in sixth so far behind Australia, with Germany still leading
1 Germany 4:07.307 (WR)
2 Italy 4:11.666
3 France 4:12.502
4 New Zealand 4:12.536
5 Australia 4:13.571
6 Canada 4:15.832

The world champions USA are off
Another fast start here and the US are just .011 behind Germany's pace with over a kilometre gone
With 2000m ridden the US are drifting slightly, now 0.5 behind the best pace
The USA are losing time fairly quickly in the final few laps and Chloe Dygert has now gapped her team-mates after forcing the pace
It's a 4:10.138 - which would have broken the world record before Germany earlier on - but it wasn't the cleanest ride by the USA team. They set off almost matching Germany but began to drift in the second half. With a few laps to go Dygert's huge turn then put her team-mates in trouble. They were able to regroup though and are guaranteed a top three slot in qualifying
Defending champions Great Britain are up next
Latest team pursuit standings with one team to ride
1 Germany 4:07.307 (WR)
2 USA 4:10.118
3 Italy 4:11.666
4 France 4:12.502
5 New Zealand 4:12.536
6 Australia 4:13.571
7 Canada 4:15.832
GB are out on track and are up on the world record pace so far thanks to a fast start by Katie Archibald
Halfway through and the GB team are 0.8 up on Germany
Over a second ahead now for GB with 2750m gone!
GB have faded in the final kilometre and have drifted beyond Germany. A huge turn from Archibald gapped her team-mates towards the end
But GB will qualify with a time of 4:09.022 in second place. That time is much faster than their previous world record of 4:10.236
Women's team pursuit first qualifying round final standings:
1 Germany 4:07.307 (WR)
2 Great Britain 4:09.022
3 USA 4:10.118
4 Italy 4:11.666
5 France 4:12.502
6 New Zealand 4:12.536
7 Australia 4:13.571
8 Canada 4:15.832
There's no break in the racing and we're back onto the women's team sprint. ROC have just beaten Mexico in the the first heat
The Netherlands are next to qualify in the heats, beating Poland. They are however slower than the ROC, who set a time of 32.249 to the Netherlands' 32.308
China and Lithuania are off in Heat 3
New World Record! China have beaten their own world record from Rio 2016 with a 31.804. That will be enough to make the gold medal final
Germany v Ukraine for a place in the final. They'll need to beat the Netherlands' time to get there
Germany would have broken the previous world record from 2016 with their time of 31.905, but it's not enough to beat China today. It will be China v Germany in the gold final later however, with Netherlands v ROC in the bronze final
Next up we've got more team pursuit, this time it's the men's competition
It's eight teams once again in the qualifying, with Great Britain off last. It's Canada riding first right now though
Canada have set the benchmark time of 3:50-455, but it was a scrappy finale after losing their third rider towards the end. That time isn't far off GB's Olympic record of 3:50.265 though, so expect some even faster times to come
Germany are the next team up
Similar finish to Canada there from Germany, losing the third man in the closing laps. Germany weren't able to go as fast though, finishing with a 3:50.830
Switzerland are about to start
Switzerland put in a more rounded effort there but still lost their third man in the final lap. They finish a second or so down on the Canadians
Current men's team pursuit standings:
1 Canada 3:50.455
2 Germany 3:50.830
3 Switzerland 3:51.514
Italy are up next. Road star Filippo Ganna is part of this team, as is Simone Consonni
A brilliant start from Italy here, over two seconds better than Canada midway through
Three laps to go and the Italians are 2.8 seconds up
New Olympic Record by Italy! They almost lost their third man but held it together in the final lap to set a time of 3:45.895
Current men's team pursuit standings:
1 Italy 3:45.895 (OR)
2 Canada 3:50.455
3 Germany 3:50.830
4 Switzerland 3:51.514
The world championships silver medallists New Zealand are out on the track
First time watching team pursuit? Here's everything you need to know:
Team pursuit: Everything you need to know for the Tokyo 2020 Olympic Games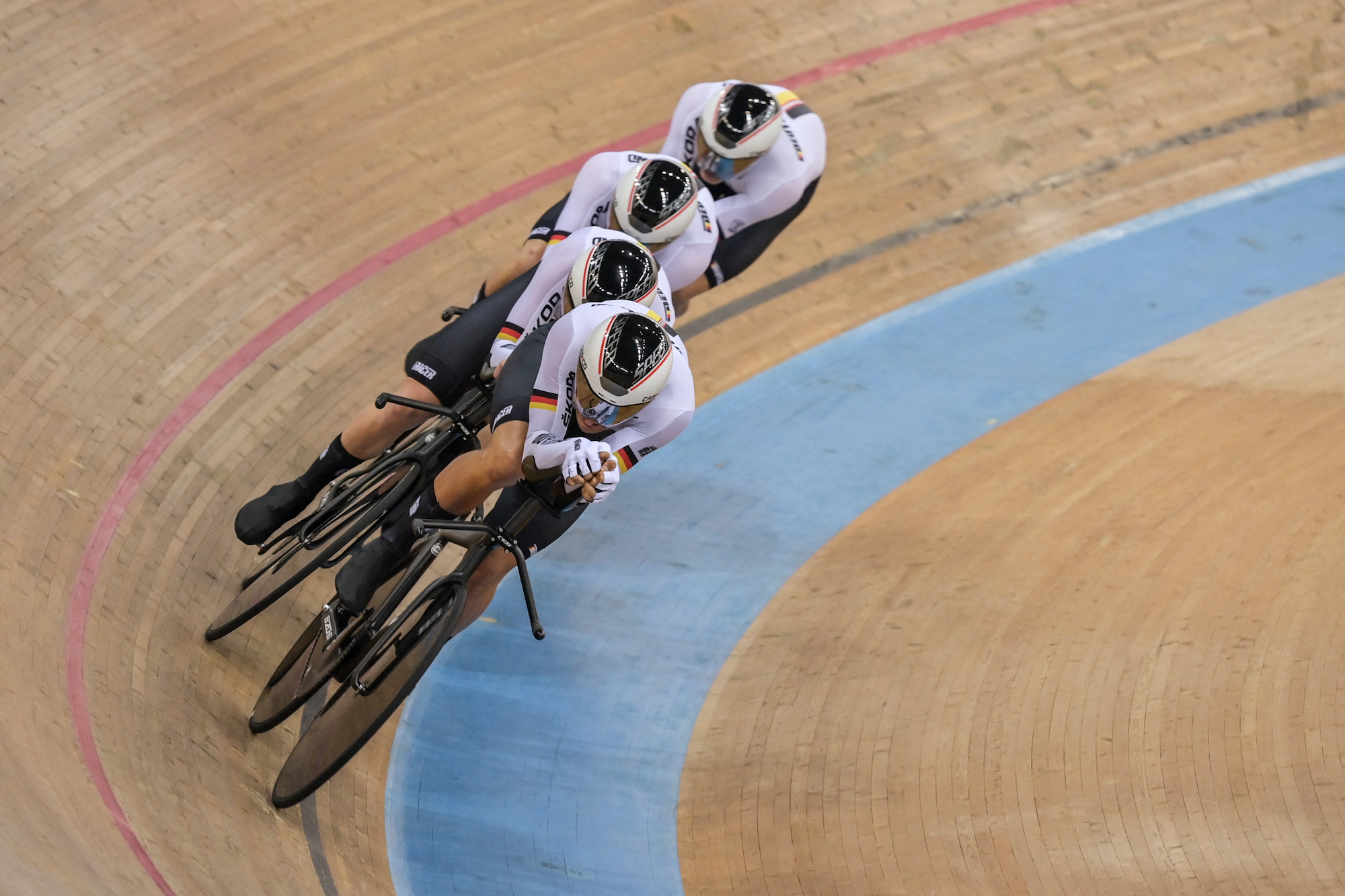 A fine effort by New Zealand here, they started down but entered the final two laps up on Italy
The New Zealand team couldn't quite hold on to it. They had four men until a lap and a half to go until the rider in second wheel pulled out. They were able to keep it together for a time of 3:46.079, taking second place
With just Denmark, Australia and GB to come, here are the current men's team pursuit standings:
1 Italy 3:45.895 (OR)
2 New Zealand 3:46.079
3 Canada 3:50.455
4 Germany 3:50.830
5 Switzerland 3:51.514
World champions and world record holders Denmark are about to start
Fast start from Denmark - they're up on Italy in the opening lap
Denmark are flying here, well over a second on Italy with 1750m gone
The time is slightly drifting with two laps to go, but the lead is still 1.3 seconds
New Olympic Record by Denmark! 3:45.014 for the Danes and they take the lead
That was a great ride from Denmark. After going down to three riders with around 6 laps to go they started to lose a bit of their lead on Italy, but they managed to up it in the final kilometre and hold it to the line to get that new record
It's still around half a second of their world record of 3:44.672, but the Danes looked very strong there. A world record looks possible when they have another team to chase on the track tomorrow
Here go Australia, the penultimate team in this round
Fast start and the Aussies are up on Denmark in the first lap
Crash! The Australians are asking for a rerun after a rider goes down
It looks like a mechanical there, the bars seemed to snap off for Alex Porter. He seems angry more than hurt but the team are just lucky he was at the back of the line
It's unclear whether Australia will get a restart here. Porter is being checked over by the medical team after face planting the track. There's some repairs going on on the track before GB take their turn
Right, back to the racing. Here come GB
First 1000m done and GB are 1.6 down on Denmark
2k in and it's over two seconds down for GB
Down to three riders with around five laps to go
The GB men are pulling some time back - 1.6 seconds down at 3k
It wasn't a great end for the GB team as the second and third riders are gapped in the last lap. The GB riders end with a time of 3:47.507, over two seconds down on Denmark in fourth place.
GB were losing time up to around 3k, but began to pull it back in the final 1000m, before the gap appeared and they slipped back once again.
Australia will ride their qualifying after the women's team sprint. So here are the standings right now in the men's team pursuit:
1 Denmark 3:45.014 (OR)
2 Italy 3:45.895
3 New Zealand 3:46.079
4 Great Britain 3:47.507
5 Canada 3:50.455
6 Germany 3:50.830
7 Switzerland 3:51.514
The women's team sprint 7-8 final is out on track, Poland v Ukraine
Poland take seventh place there, beating Ukraine with a time of 33.054
Here's an image from Alex Porter's crash, as you can see the handlebars completely separated from the bike while he was riding fourth wheel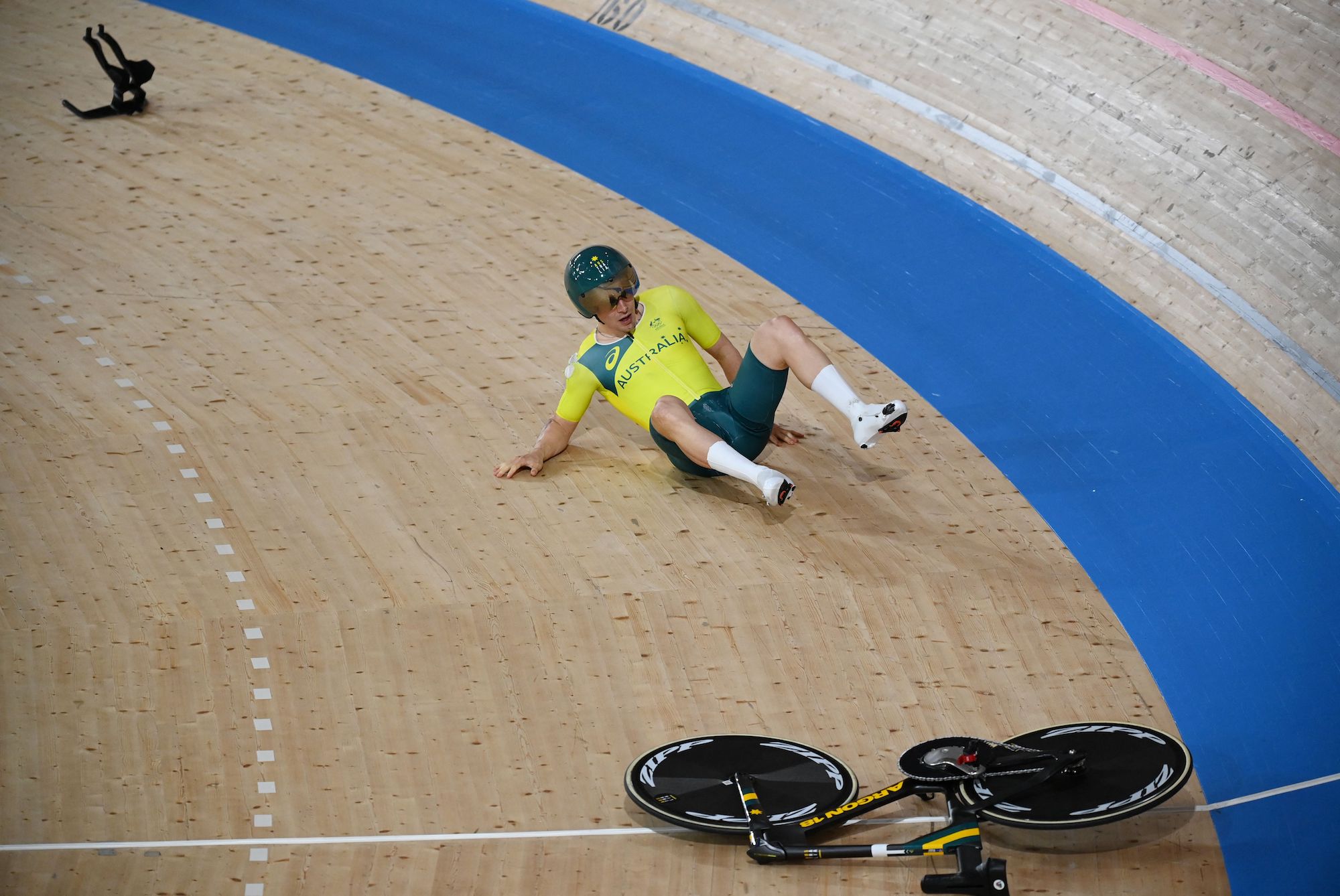 Mexico and Lithuania are battling it out for 5th-6th place in the women's team sprint
Fifth place for Lithuania
Right, it's time to race for the first track cycling medal of these Games. Netherlands take on ROC in the women's team sprint bronze final
It was ROC all the way there in the bronze final, they take the bronze medal ahead of the Dutch with a time of 32.252 to 32.504
China and Germany are on the track for the women's team sprint final
That was a close race - China were ahead after the final lap but Germany pulled it back for a very close finish. They couldn't do enough however and will have to settle for silver
Women's team sprint results:
1 China
2 Germany
3 Russian Olympic Committee
4 Netherlands
5 Lithuania
6 Mexico
7 Poland
8 Ukraine
That should have been the end of today's racing, but we've got Australia to come in the team pursuit following that crash
Australia are out and riding - they need to beat GB to qualify fourth if they want to race for a gold medal
2.7 seconds down with 2000m ridden for Australia. It's a big job to get back now before the end
It's a 3.:48.448 for Australia - that's fifth place for them, so the maximum they can get is bronze after the heats tomorrow. GB live to fight on for gold
Here's the final standings from the men's team pursuit:
1 Denmark 3:45.014 (OR)
2 Italy 3:45.895
3 New Zealand 3:46.079
4 Great Britain 3:47.507
5 Australia 3:48.448
6 Canada 3:50.455
7 Germany 3:50.830
8 Switzerland 3:51.514
That's tough to take for the Aussies, the crash definitely disrupted them and they were way off the pace by the end of their second effort. The most they can do tomorrow now is set a fast enough time to qualify for the bronze final. They'll race eighth place Switzerland in Heat 2 tomorrow
GB meanwhile will face Denmark, while Italy go head to head with New Zealand
That's it from the Izu Velodrome today, it's been a thrilling opening to the track racing with some fast times out there. We saw Germany set a new world record in the women's team pursuit, China a new world record in the women's team sprint, while Italy set a new Olympic record in the men's team pursuit before Denmark beat it.
We can expect some fast times in the finals of the pursuits in the coming days.
Of course there's also been some medals - China are our women's team sprint champions, the German's took silver, and the ROC a bronze
Read a round-up of today's action here:
Tokyo Olympics track round-up: Records smashed in both team pursuits despite shock crash, and cycling gold for China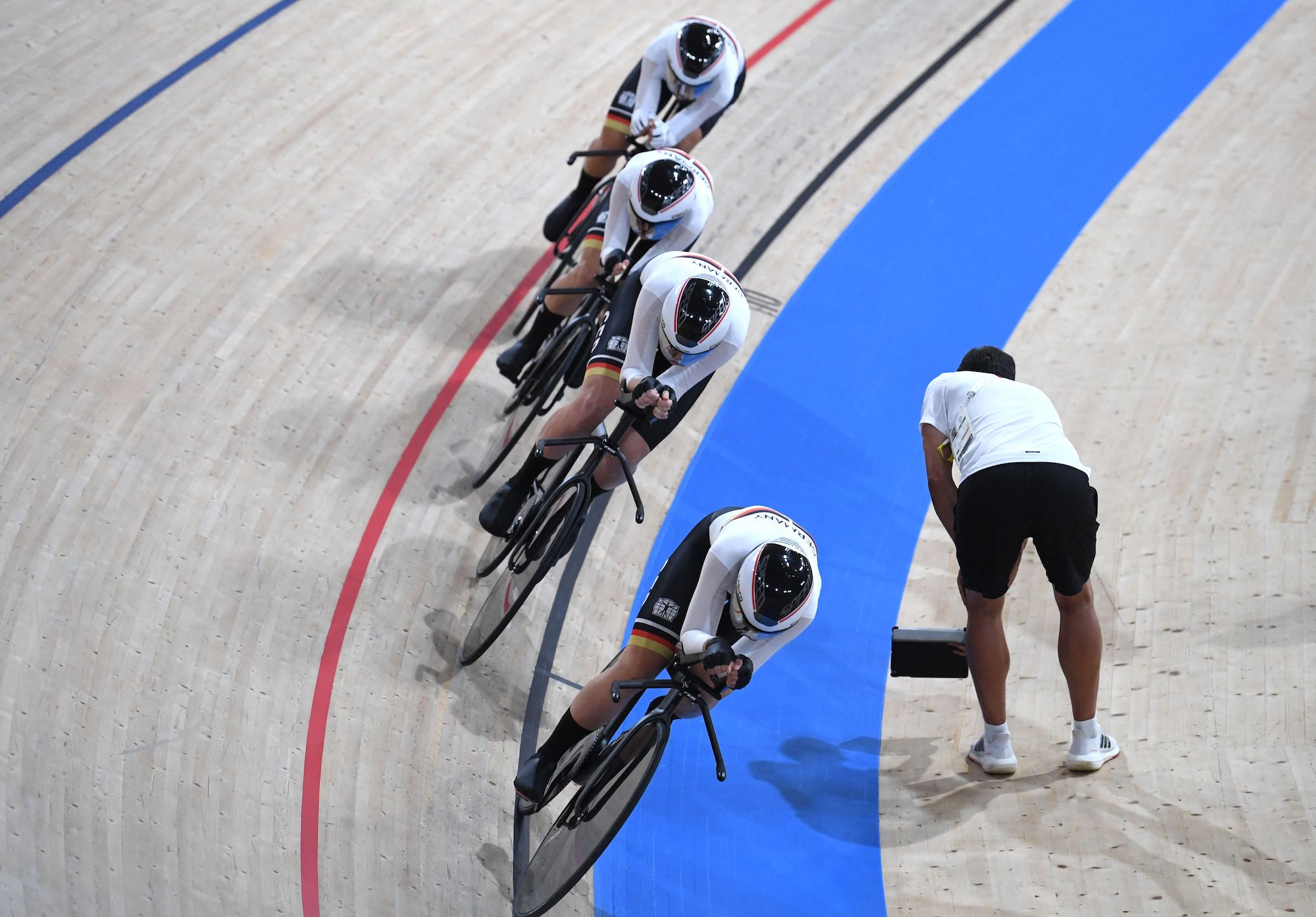 Thank you for reading 10 articles this month* Join now for unlimited access
Enjoy your first month for just £1 / $1 / €1
*Read 5 free articles per month without a subscription
Join now for unlimited access
Try first month for just £1 / $1 / €1