After a pair of days for the sprinters, dominated by Jasper Philipsen, it's a day for the GC men and the climbers as the race hits the mountains.
The finish will be on the fearsome Col de Marie Blanque.
We'll be here with minute by minute updates throughout the day.
Stage start: 12.05 BST
Finish: 16.20 BST
Situation: Jai Hindley is out front alone, around a minute ahead of major GC rival Jonas Vingegaard, who in turn has distanced Tadej Pogačar to the tune of around 50 seconds.
Refresh
Stage five course
Today's stage features three climbs, but the hardest comes mid-way through the stage.
Will the GC teams choose to blow it up here? Perhaps unlikely this early in the race but Tadej Pogačar and his UAE Emirates team have been keen to race aggressively so far.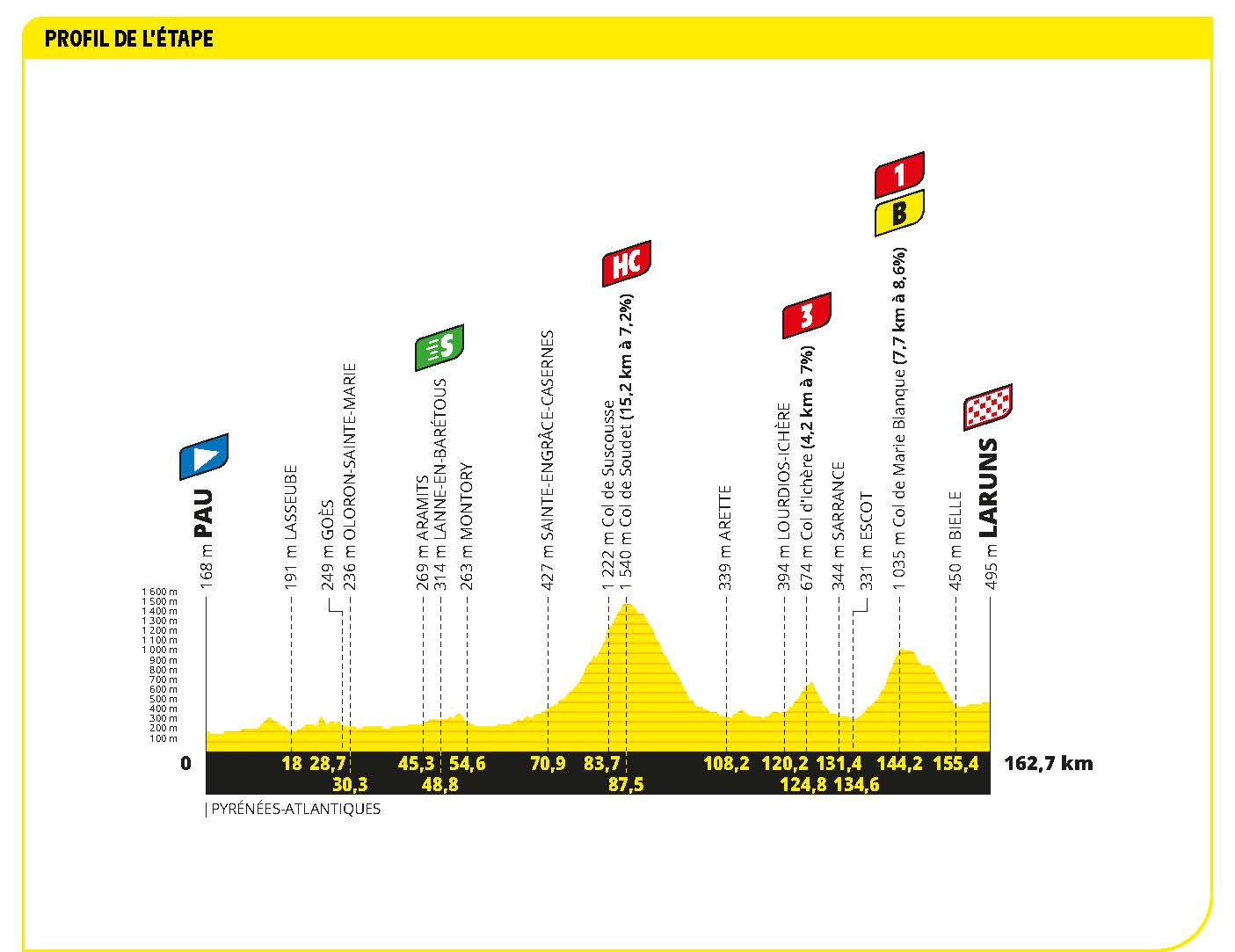 A day off for Jasper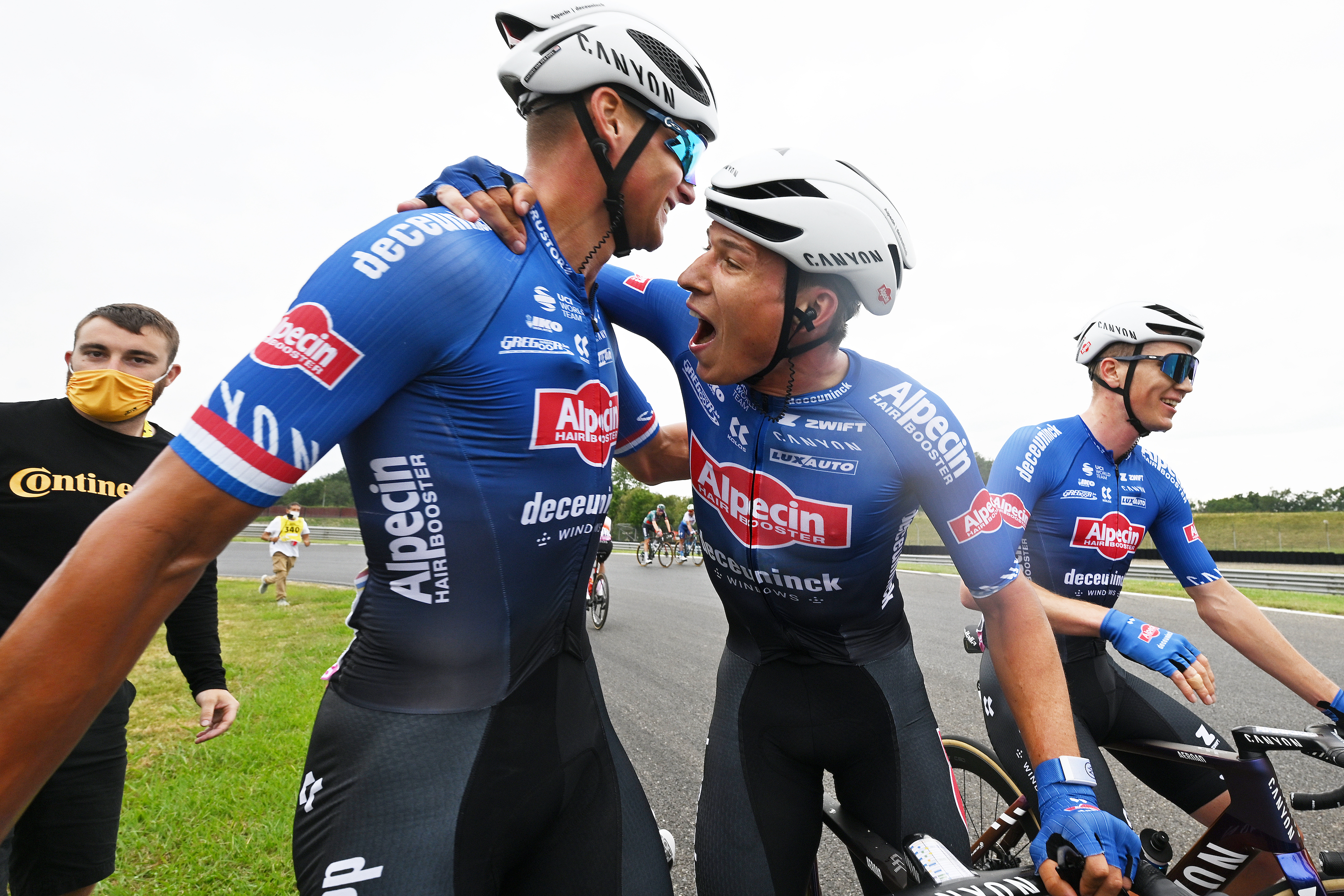 Jasper Philipsen has won two of the two sprints that have been contested so far at this Tour de France. But today he'll have a break – if you can call climbing all these mountains a break.
Not that it's all been simple. Both Philipsen and Mark Cavendish had some pretty choice words to describe yesterday's crash-marred stage.
The Belgian told Cycling Weekly: "I'm just really happy and proud that we have such a strong team and leadout, even in a f***ed up situation like today, actually."
His British rival told the assembled press: "It was carnage. Every team would have had a plan for that final and I would bet there wasn't any of them that went right, apart from Jumbo who were the guys into the narrow roads early."
IS 'SAFER' SAFE ENOUGH? RIDERS CALL FOR DOWNHILL FINISHES TO BE SCRAPPED
The riders have been talking about safety on this Tour, following the death of Gino Mäder in the Tour de Suisse. The Swiss rider crashed on a high-speed descent.
It is downhill descents to the finish that are attracting attention, such as stage 14 to Morzine and stage 17 to Courchevel. Tour de France organiser ASO has put extra safety measures in, but some riders don't think it is enough.
Matteo Jorgensen of Movistar says he thinks downhill finishes should be scrapped, while Soudal-Quick Step's Michael Mørkøv says he will "never appreciate downhill finishes", with others echoing their views.
SO JUST WHO IS LAURENT GINA?
Laurent Gina is new rider in town, according to the numerous cardboard placards held up by roadside fans screaming his name.
Except there is no Laurent Gina on the start list.
There's not even a pro cyclist, man or woman, going by that name.
So who is Laurent Gina? Tom Davidson takes up the story.
ELISA LONGO BORGHINI ABANDONS GIRO DONNE AFTER CRASH
Elisa Longo Borghini will not start the Giro Donne this morning after falling heavily on the descent to the finish of yesterday's stage five in Ceres.
The Lidl-Trek rider went to hospital for check-ups, specifically for concussion and an x-ray on her pelvis.
In a post on social media last night the team said: "She underwent an x-ray of pelvis and right shoulder, which ruled out the presence of fractures. She also underwent a brain scan, as she hit her head during the crash (though without damage to her helmet), which came back negative of any injuries."
However, it decided this morning that due to the fact she was still in considerable pain, she would not start.
Longo Borghini had already won stage four, and was lying in 17th place on GC.

Let's have a look at today's climbs. First up – the Col de Soudet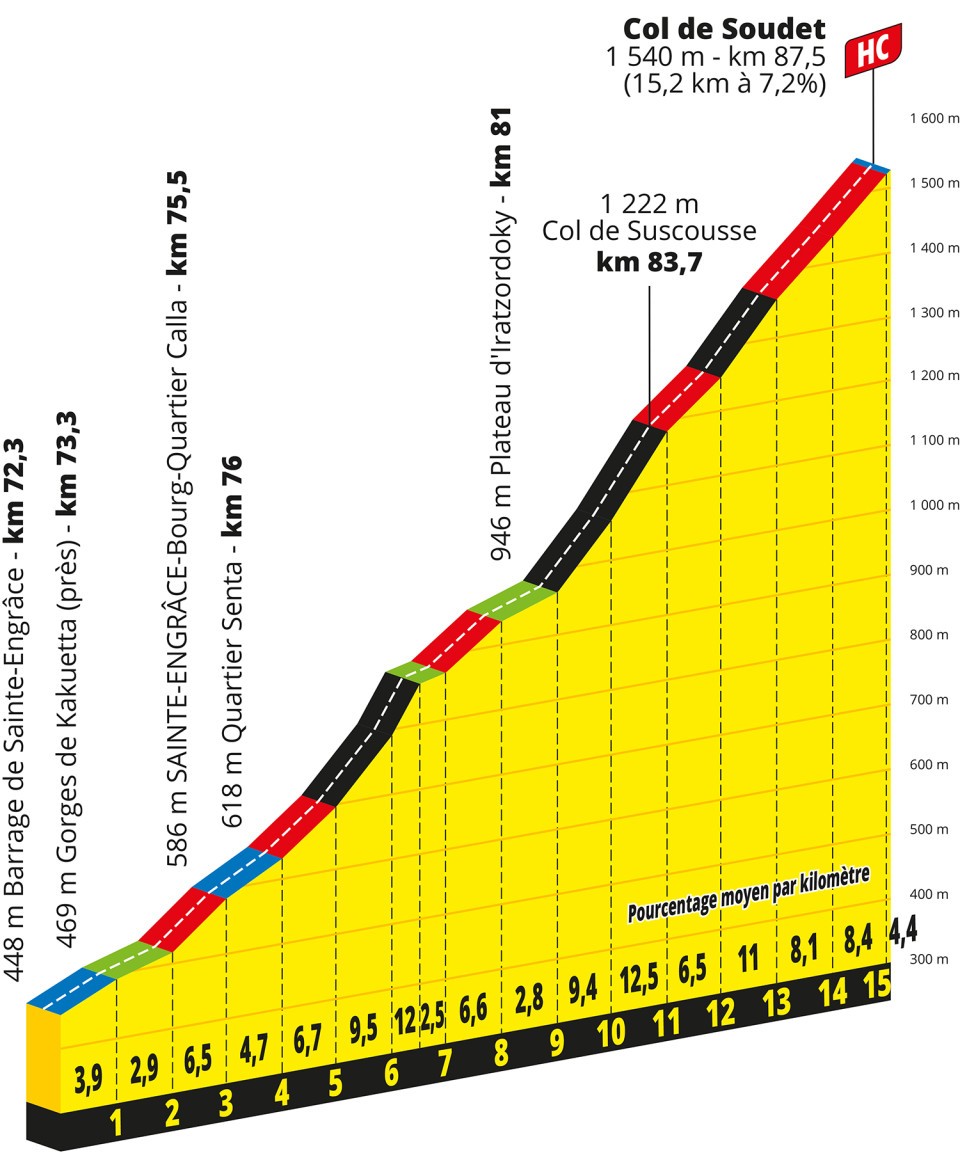 The Col de Soudet is the first climb the riders will encounter today, and it's a beast. Hors-catégorie (the toughest category of climb there is), they'll begin climbing it at 72km and crest the summit 15km later, encountering slopes of up to 14.5% along the way.
This was first used in 1987, when Dutchman Erik Breukink won the stage in Pau, and was most recently used in 2020.
The stats
Length: 15.2km
Average gradient: 7.2%
Steepest kilometre: 12.% two-thirds of the way up
Height: 1,540m

162km to go: The riders are underway in the neutral zone, heading towards the start proper.
162km to go: And we're go for stage five of the 2023 Tour de France. Good luck and God speed.

Sorry, thought I was in a NASA control room for a second there.
158km to go: A few tentative attacks going off the front. The latest from Magnus Cort.
He didn't make it stick but now Pierre Latour (TotalEnergies) has a small gap. It's sticking.
Latour has nine seconds. Probably wishing someone would come with him at this point.
155km to go: Small line of eight riders clipping off the front, trying to bridge to Latour, who's hanging out there at just five seconds.
154km to go: Mathieu Van Der Poel has attacked, with Victor Campanaerts, Ben Turner and others all going with him too.
Meanwhile at the back Matthias Skelmose has crashed. Not sure how that happened. He's straight back up though and on the bike.
152km to go: The chasing attack by MVDP et al has, it seems, come to nowt. Latour though, now has 14 seconds. 10km in to the stage now.
150km to go: Neilson Powless active on the front, resplendent and impossible to miss in that polka-dot skinsuit.
149km to go: The front of the bunch is chaos, with riders clipping away left right and centre, but nothing sticking.
And now Julian Alaphilippe goes, quickly surpassed by Wout Van Aert and Alberto Bettiol. Will this hold?
146km to go: Fabio Jakobsen, heavily bandaged, is already off the back. He crashed hard in yesterday's finale. It's going to be a long day for him, but he has a team-mate Michael Mørkøv, to help shepherd him.
144km to go: It all looks to be coming back together. That attack by WVA and co has come to nothing, and even Latour remains a mere eight seconds out front now.
143km to go: Alaphilippe attacking again now, and Latour has been caught. That was a lot of hard work come to nothing for the Frenchman.
Rigoberto Uran is with Alaphilippe, as are others. But no, you guessed it, it's all back together.
140km to go: Tadej Pogačar has made an appearance at the front now, which of course has set the GC teams into a frantic scrabble to battle stations.
138km to go: Right now, the peloton is all together, save for poor Fabio Jakobsen and his shepherd Mørkøv. There are a few riders that keep appearing again and again, clearly keen to make something of the day. Alaphilippe, Powless, Latour, and Uran spring to mind.
Mark Cavendish and Astana team-mates part of a group that is threatening to lose touch at the back of the race as things get ever more hilly.
136km to go: Looks like there's a sizeable group up the road now. Not by much, but the gap is there. There are 13 riders, including Wout Van Aert, Rigo Uran, Dani Martínez, Jack Haig, Valentin Madouas, Julian Alaphilippe and Kasper Asgreen.
They're 20 seconds ahead.
37 riders in this first group is the latest count, at 22sec. Jai Hindley and Marc Soler are in there too.
Those climbs again. Let's check out the third climb, the cat-one Col de Marie-Blanque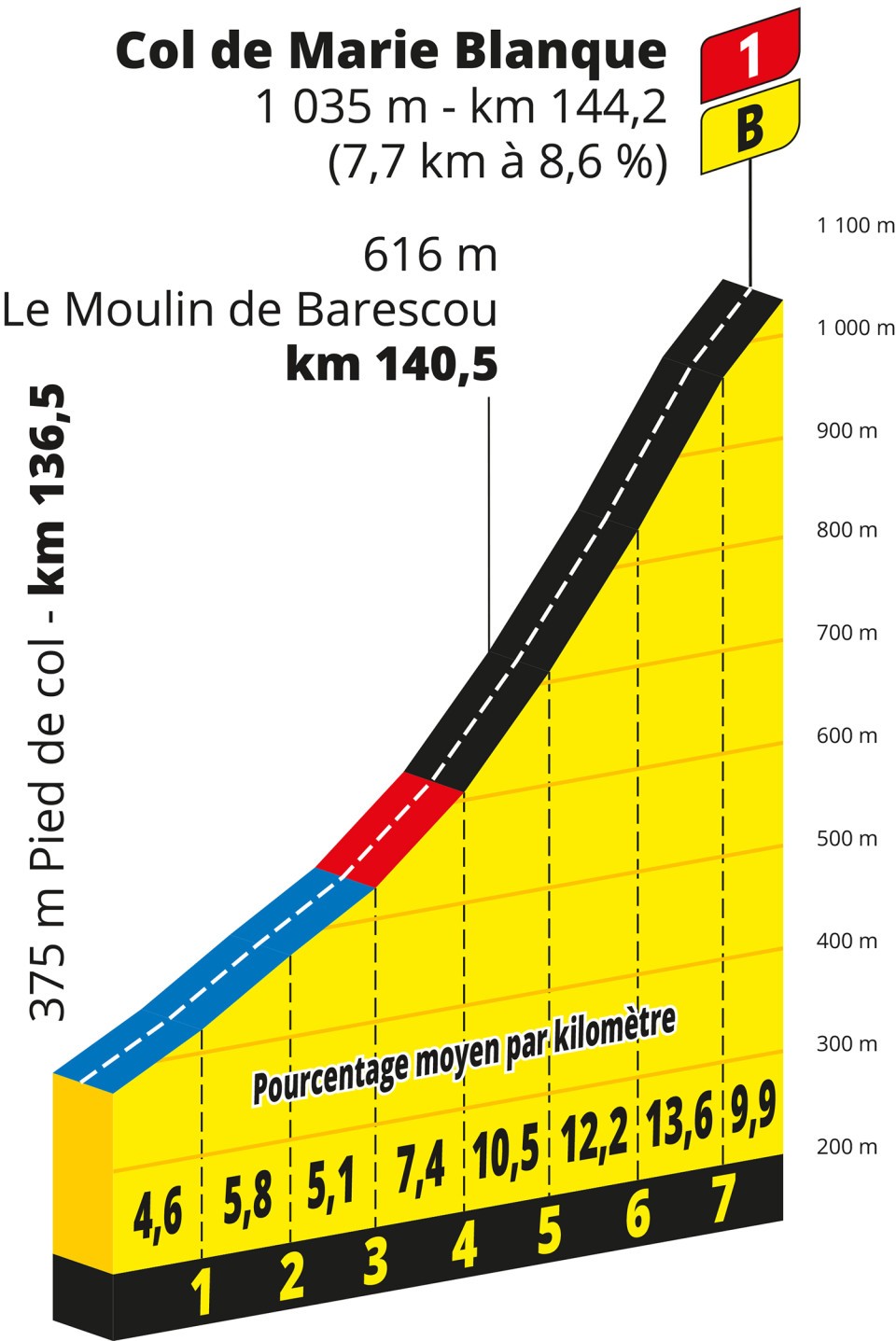 You can see from the swathe of black gradient that this is going to be a steep climb. It's also narrow and technical, in the typical style of the Pyrenees.
It's the third climb of the day, coming after riders have already tackled the Col de Soudet at 87km and the much smaller cat-three Col d'Ichère at 128km.
The Col de Marie-Blanque is a Tour de France legend, having already been used 15 times since 1978.
The stats
Length: 7.7km
Average gradient: 8.6%
Steepest kilometre: 13.6% (km 6-7)
Height: 1,035m
124km: Back to the action. That big group is now at 1.29 and still going out. The peloton seem happy enough to let that stand, even with the presence of GC threats like Hindley.
Further back, Quinn Simmons (Lidl-Trek) has hit the deck after what looked like a touch of wheels. His jersey is shredded and he has some nasty road rash, but he's back on the bike.
119km to go: GC favourites Jonas Vingegaard (Jumbo-Visma) and Tadej Pogačar (UAE Team Emirates), not to mention his maillot jaune team-mate Adam Yates, are all now a clear 1.55 behind GC hopeful Jai Hindley (Bora-Hansgrohe) who, let's not forget, won the Giro d'Italia last year.
116km to go: Four riders have escaped the breakaway: Van Aert, Victor Campanaerts, Mads Pedersen and Bryan Coquard are 13sec out front.
They may, understandably, have felt the original huge group was doomed to failure with a GC rider like Hindley on board.
114km to go: The first, and only, intermediate sprint of the day coming up.
Pedersen goes, Coquard follows... and Coquard comes round the Dane to take the points.
Here's the full sprint result

Lanne-en-Barétous, 114km
1. Bryan Coquard (Cofidis) 20 pts
2. Mads Pedersen (Lidl-Trek) 17 pts
3. Wout Van Aert (Jumbo-Visma) 15 pts
4. Victor Campanaerts (Lotto-Dstny) 13
100km to go: This is Vern Pitt taking over from James so he can have a break.
I can't help but wonder if UAE Emirates have made a grave error here. Hindley's group has two minutes and 33 riders in it (plus the ones off the front). He's got two solid domestiques with him and he's a mere 22 seconds off the yellow jersey.
He won the Giro d'Itlia last year so he's not to be underestimated.
Plus, Jumbo have Wout van Aert up there and so are wisely, and justifiably, playing the "well we don't have to do any work" card. That might change later if they too start fearing Hindley's position but will the two squads have enough fire-power by then.
Of course the members of the break might start looking at Hindley's Bora-Hansgrohe contingent to work a lot and that might prove their undoing but at least he has something to offer them in the form of a stage win if they work for him. In the peloton it's not so clear cut that Jumbo and UAE will have as much to bargain with.
That said, it's quite possible other teams such as Ineos decide it suits them to chase too and they bring it back.
It's all very delicately poised right now.
99km to go: Quinn Simmon's snazzy stars and stripes outfit (he's American road race champion) has been torn to shreds in a crash earleir nad he's back at the medical car getting some attention.
98km to go: The escapees are losing ground. The big group is only about 1-30 ahead of the peloton now as the break look at Bora-Hansgrohe to set the pace.
And now the attacks are coming in totally destroying the cohesion of the group. Bora have restored order for a bit though.
Simmons' road rash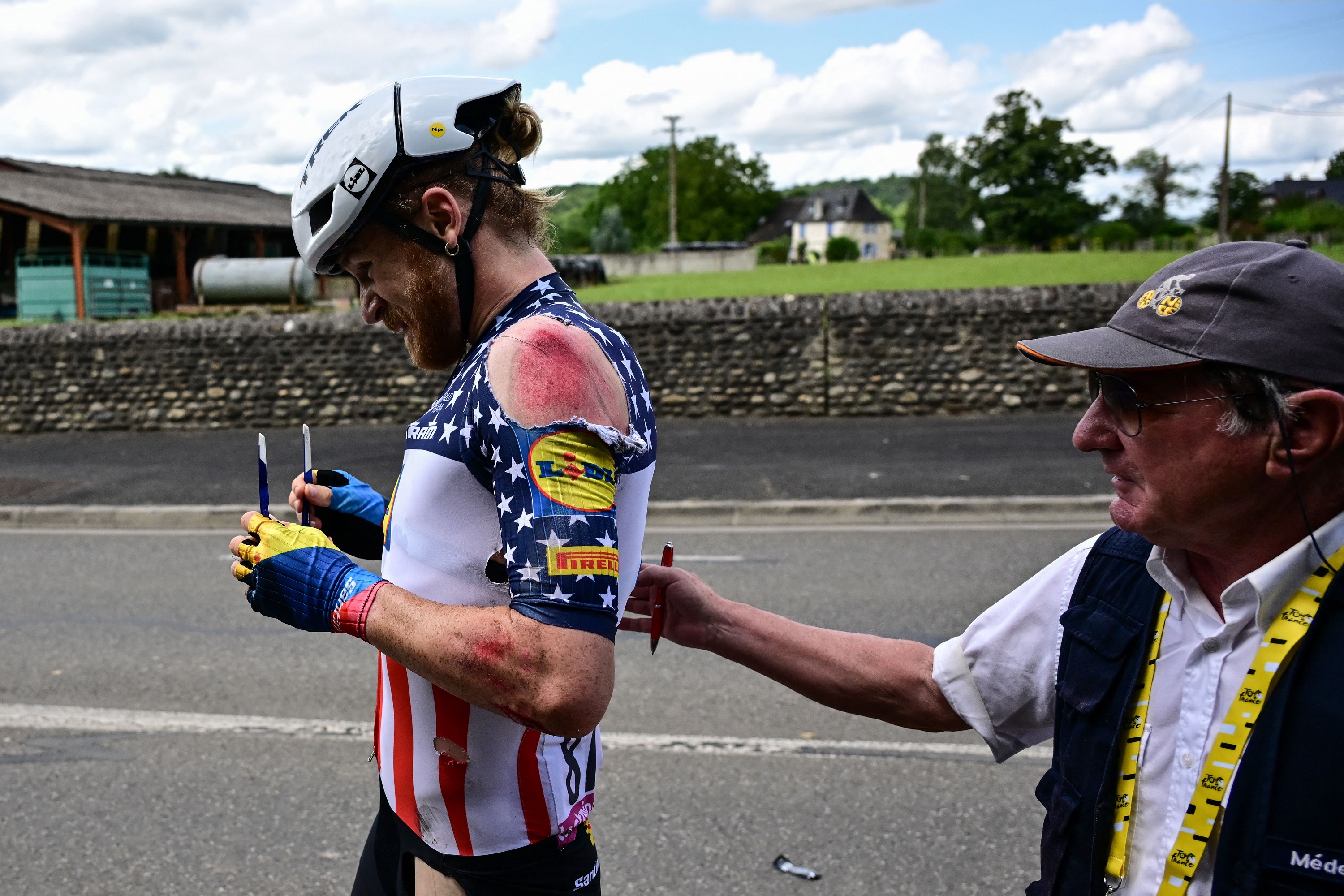 88km to go: We're on the climb and the three out front, Van Aert, Pedersen and Campenaerts have slightly extended their advantage on the Hindley group to 46 seconds.
The Hindley group have just under two minutes on the peloton.
87km to go: The weather is fairly grim up the top of this HC climb, with very minimal visibility.
Steve Cummings, Ineos Grenadiers DS, has been o the radio to warn his riders that the GC big hitters might make a move on this climb, even though its quite far out.
86km to go: Remi Cavagna (Soudal - Quick-Step) comes to the front of the Hindley group and pushes the pace out and the gap to the peloton has climbed over the two minute mark.
86km to go: There are, in case you were wondering, 11km to the top of this climb.
As you can from the profile, the last 5km are the toughest.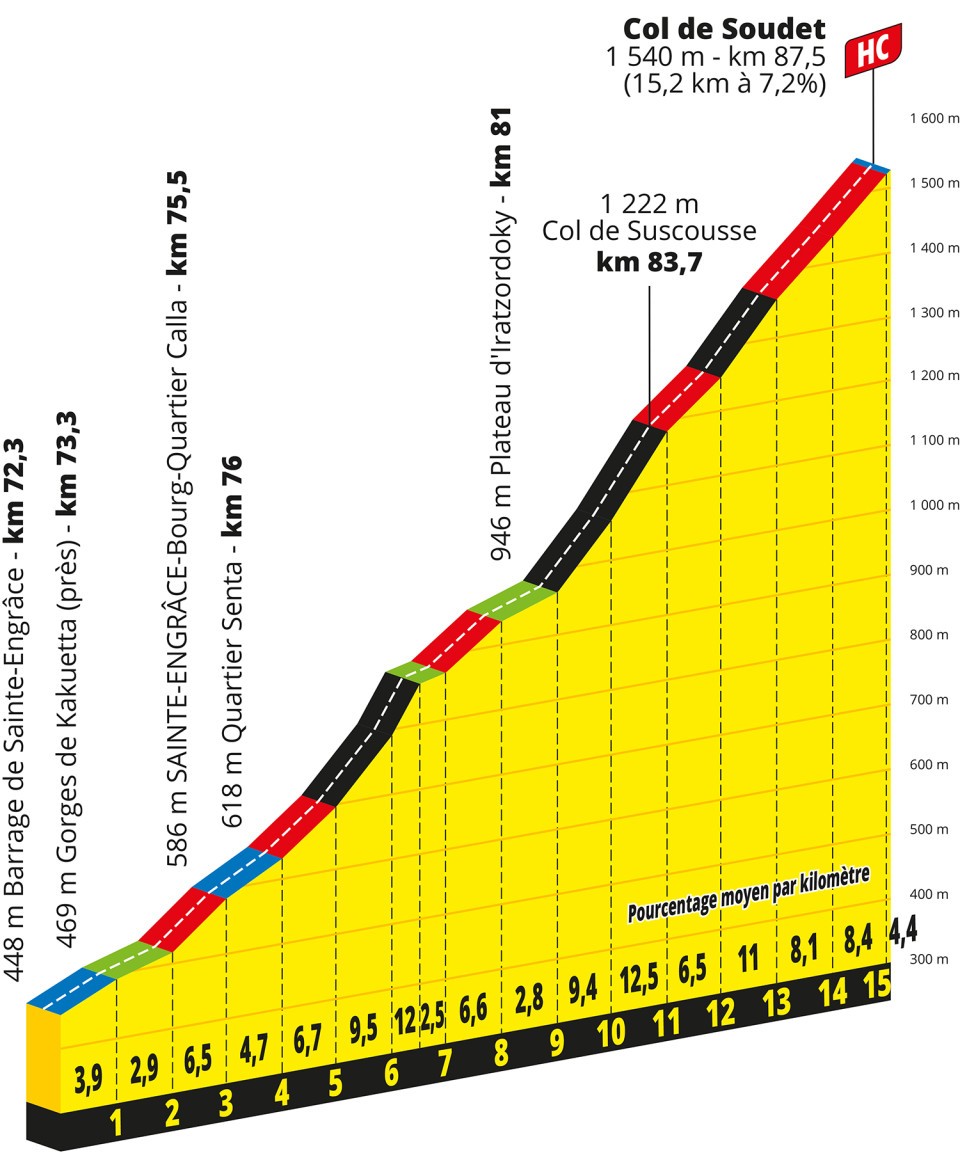 85km to go: Mads Pedersen is falling off the back of the front trio, which is now a duo #quickmaths
85km to go: Sprinters are already falling out of the back of the peloton. We just saw Mark Cavnedish back among the cars.
It's grupetto time!
Pedersen has been caught by the main breakaway group, which is being led by Julian Alaphilippe.
84km to go: Van Aert looks fairly comfortable out front, Campenaerts less so, but is hanging on just fine.
Lidl-trek, who have Giulio Ciccone in the breakaway, have come to the front of that group.
The gap is now 2-30 to the peloton.
83km to go: Pogačar had to get a bike change a few kilometers ago but he's back at the front of the peloton now.
83km to go: The leading duo's margin is shrinking, it's come down to just 19 seconds.
82km to go: The race might be in France now but it's still fairly close to the Basque country and there are a few Basque flags at the side of the road still.
81km to go: Wout van Aert doesn't seem to be getting many turns from Campenaerts.
That's not overly surprising given the Lotto-Dstny rider is much more a time trialist (he's a former hour record holder) than a climber but he's putting in a good uphill showing here staying with van Aert.
80km to go: Lidl-Trek continue to work on the front of the break as it approaches the hardest section of this HC climb.
79km to go: Marc Soler (UAE Emirates) has been recalled form the break to the peloton to work for his team leader(s) Tadej Pogacar and yellow jersey wearer Adam Yates.
78km to go: There are now just over 3km to the top of the climb for those out front.
77km to go: The break is really thinning down with Lidl-Trek atill o nthe front its close to just ten in the main part of it though those of the back are not far behind.
Wondering what this climb is like to ride? Let me colleague, Cycling Weekly contributor and Pyrenees resident/evangelist Peter Cossins tell you...
The Soudet is a beautiful climb up a very quiet valley. Consistently hard on the stretch up to the Col de Suscousse. Turn right at the top of the pass and the road leads to La Pierre St Martin, where Chris Froome annihilated his rivals in the 2015 Tour #TDF2023July 5, 2023
See more
77km to go: 2km to the top now and Felix Gall (AG2R Citroen) clips off the front of the main break group in a bid to get the KOM points. They overtake Van Aert. Only Ciccone, Hindley and Krists Neilands (Israel-Premier Tech) can go with him.
Gall goes again!
76km to go: Just 1km to the top of the climb now and Gall is on his own. He'll claim the KOM jersey, virtually, if he makes this.
75km to go: Gall comes over the top first. Ciccone and Dani Martinez sprint for second and Martinez gets it.
Hindley is still with this lot. I expect they'll bridge to Gall on the descent.
72km to go: Dani Martinez (Ineos Grenadiers) is flying down here and there's a gap to the rest.
70km to go: Emmanuel Buchmann (Bora-Hansgrohe) is also there as this group out front has grown to about 10 or so. He's driving the pace for his leader.
They have four minutes on the peloton now. That would give Hindley a commanding GC lead were it to remain that way (it wont' of course).
69km to go: The descent is twisty but the roads are pretty wide so it's being taken fairly swiftly.
67km to go: Wout van Aert, who'd fallen of the back of the break, is making his way back on on the descent.
64km to go: The front group has 14 riders now. There's a further trio with Alaphilippe about 20 seconds back.
Hindley is on the front railing this descent.
Jasper Philipsen's green machine
I missed this this morning and it's glorious.
The green machine 💚@JasperPhilipsen's #CanyonAeroad ahead of stage 5️⃣ in @LeTour 🤤#AlpecinDeceuninck #JasperPhilipsen #TDF2023 #Canyon #MyCanyon #RoadCycling 📷 Stefan Rachow (Mr. Pinko) pic.twitter.com/snd8DVPfCpJuly 5, 2023
See more
59km to go: There have been a few attack in the break now. Martinez is having to close a split.
53km to go: It has all calmed down a bit in the front group as Hindley comes to the front.
As soon as typed that Neilands goes off the front.
52km to go: That attack by the Israel-Premier Tech rider aside, it seems a little chilled, probably too chilled for Hindley's liking. They're not exactly working together right now.
51km to go: Neilands has built a gap of 27 seconds. Meanwhile the gap from the break to the peloton has fallen to around 3-30.
50km to go: It's noteworthy that Wout van Aert is willing to work in the break containing Hindley, despite his team leader Vingegaaard being in the peloton further back down the road.
UAE are still chasing in the peloton.
48km to go: UAE Emirates still have numbers in the peloton, so the firepower is there.
48km to go: We're approaching the bottom of the third category Col d'Ichere, which is 4.2km long and has an average of 7%.
45km to go: The peloton is strung out in one long line under the pressure of UAE Emirates here.
But there are attacks going off all the time in the front group now. Alaphilippe is the latest (I think).
Hindley is having to close gaps.
43km to go: Jonathan Vaughters who has joined the GCN commentary team, says a day like this is the only way any of the GC riders have of beating Tadej Pogačar and Jonas Vingegaard.
41km to go: The break come onto the bottom of the third cat climb. The gap to the peloton behind is fluctuating all the time. It's not just over 3 minutes.
Neilands is still up front but van Aert and Alaphilippe are now in the gap between him and the break.
39km to go: Hindley and co are losing a bit of ground to those out front. Their gap to Neilands is 43 seconds.
36km to go: James back with you now for what should be an extremely watchable final 35km of stage five.
Van Aert, Neilands and Alaphilippe descending the narrow and sinuous Ichère.
30km to go: Fraile pushing hard on the front of group two, presumably in the service of Ineos team-mate Dani Martínez. They remain 19sec behind the leading trio, with the major hurdle of the Marie-Blanque to come in around 10km.
Jonas Vingegaard, Tadej Pogačar and their teams are going to have go hell for leather on the Marie-Blanque in an attempt to catch this big group out front and, most pertinently, Jai Hindley.
At the moment the Aussie has more than three minutes on those big GC rivals, and if he is allowed to take anything like that to the end of the stage, Pog and Vingegaard are going to have what might be termed 'a situation' on their hands.
With the caveat that there is, of course, a long way to go.
23.5km to go: Unsurprisingly the UAE team is indeed working hard on the front right now, with Pogačar sitting pretty in fourth wheel. The gap to the Hindley group is coming down steadily – it's now 2.40, so 40sec has been wiped off in recent kilometres.
Fraile's work is done – he has dropped off the back.
"Dani, the floor is yours", he may or may not have said to his team-mate.
22km to go: On the lower slopes of the Marie-Blanque now and the break is splitting. Van Aert, Alaphilippe and Neilands have been absorbed and the gap to the break (which includes Hindley, don't forget) is 2.29.
21km to go: Wout Van Aert has dropped off the front half of the break now. It's not going to be his day after all, it would seem.
Back in the peloton, Adam Yates is up at the front of the peloton too, and all the while the break is still around 2.30 ahead.
It seems there was team strategy behind Van Aert dropping back – he took to the front of the bunch with the rest of the Jumbo-Visma team, pulling hard to help Vingegaard back up towards Hindley.
Hindley, as if in response, has ridden away from Felix Gall, with whom he was riding off the front of the race. He has several seconds.
19km to go: WVA all done now, and Sepp Kuss is pacing a strong looking Vingegaard with Pogačar on the Dane's wheel.
No one else can live with them.
19km to go: 1km to the top of the Marie-Blanque for Hindley, who is alone but looking strong and has nearly three minutes over Vingegaard and Pogačar.
Vingegaard attacks!
Pogačar has no response.
It looks as though Pogačar is doing his level best to match the Jumbo-Visma rider but he is 6sec back already. Perhaps the Slovenian is starting to rue the training missed due to his wrist injury.
18.5km to go: Hindley now over the top of the Marie-Blanque, and the gap now appears to be 1.11 to Vingegaard. Some timing issues with the coverage earlier I think.
Pogacar now over the top, around 25sec behind Vingegaard. Huge crowds at the top of this climb.
16.5km to go: It's now a common-or-garden 10 miles to the finish, a distance many reading this will be well familiar with riding against the clock.
There is of course the small matter of the descent of the Marie-Blanque to be dispatched as part of it. How much time can Hindley conserve ahead of Vingegaard?
Right now the gap is 57sec.
9km to go: Tadej Pogačar now exactly a minute behind Vingegaard, who is now making very little headway against Jai Hindley, who is still 54sec ahead of the Dane.
5km to go: Vingegaard has now picked up Gall, Ciccone and Buchmann from the earlier break. The chances of them having the energy, or even the inclination to work with him now seem slim.
4.5km to go: The gap to Hindley has now been reduced to 43sec. In fact it's coming down fast enough that the Aussie will be far from totally confident in victory at this point.
Into the final kilometre for Hindley now. He's got this.
And Hindley wins! He'll be very, very happy with his ride today.
The Aussie wins the first major mountains day of his first Tour de France. Great ride.
Vingegaard comes in at the back of the foursome 34sec behind.
And now here's the Pogačar group – he's lost 1.38 on Hindley today, 1.04 on Vingegaard.
Thank you for reading 20 articles this month* Join now for unlimited access
Enjoy your first month for just £1 / $1 / €1
*Read 5 free articles per month without a subscription
Join now for unlimited access
Try first month for just £1 / $1 / €1