30-metre mattresses will be used on key Tour de France descent
Ski racing safety devices to be installed on descent of the Col de la Loze on Stage 17 as UCI launches new safety programme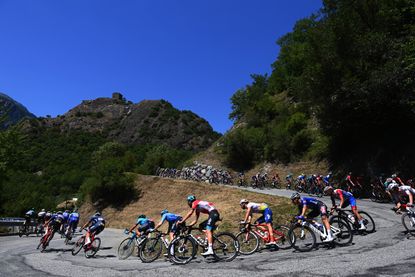 (Image credit: Getty)
Mattresses on descents will be among the new measures introduced at this year's Tour de France, race director Christian Prudhomme has announced.
The decision comes in response to concerns over rider safety, following an increase in the incidence of crashes at races. Earlier this month, 26-year-old Gino Mäder died after crashing at high-speed on a descent at the Tour de Suisse.
Speaking at a press conference in Bilbao on Friday, Prudhomme said that Mäder's death was a "drama that we absolutely don't want to be repeated".
The Tour de France director explained that new safety initiatives will therefore be used at this year's race, where over 5,000 "dangerous spots" will be marked for the riders. The initiatives include noise-producing road signs, re-tarmacked roads and 30-metre-long safety mattresses, which will be installed on the descent of the Col de la Loze on stage 17.
Expanding on the latter, Prudhomme said: "Certain measures will be put in place on the descent of the Col de la Loze, with mattresses at certain points, which come from the Ski World Championships, to make sure the riders are as safe as possible."
The race director, however, explained that such measures will not be in place across the rest of the race, and riders will be trusted to adjust their behaviours accordingly. "Cycling is a magnificent but cruel sport, and the riders know it," he said. "They still have their champion's instinct, which is their first port of safety."
I am glad to announce that we had a call with @amaurysport, @AigcpOfficial, @UCI_cycling regarding the downhill finishes on stage 14 and 17 @LeTour. ASO will have warning Audio signs well before corners, new ashfelt(which was a main concern for the riders) and barriers with… pic.twitter.com/Bq5WPi8q4vJune 29, 2023
See more
The new measures coincide with the launch of a new rider safety programme - SafeR (a shortening of the team 'Safe Road Cycling') - announced by the UCI in the same press conference on Friday.
A collaboration between the governing body and the various rider unions, SafeR is currently in its initial pilot phase, and will act as an independent entity. It is scheduled to become fully functional in 2025.
UCI president David Lappartient said: "We need to bring together all the stakeholders to collectively address safety in our sport.
"Our goal is to anticipate - to be in a proactive situation - and to reduce clearly the number of crashes."
According to data from the UCI, the incidence of crashes has increased 24% year-on-year, with the majority of them coming in the final 40km of races.
As part of the programme, the UCI has created a 'race incidents database', together with Ghent University, which will see crashes logged by teams and supplemented by footage, some of which will be acquired from fan videos on Twitter.
Thank you for reading 20 articles this month* Join now for unlimited access
Enjoy your first month for just £1 / $1 / €1
*Read 5 free articles per month without a subscription
Join now for unlimited access
Try first month for just £1 / $1 / €1