Lorry ban during rush hour may not be answer to cycle safety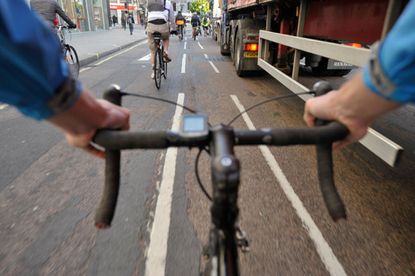 Get The Leadout Newsletter
The latest race content, interviews, features, reviews and expert buying guides, direct to your inbox!
Thank you for signing up to The Pick. You will receive a verification email shortly.
There was a problem. Please refresh the page and try again.
A rush hour ban for heavy goods vehicles (HGVs) may not be the answer to improving cyclist safety, a Parliamentary Transport Committee heard yesterday.
London's Cycling Commissioner Andrew Gilligan, along with a transport, academic, London Assembly Member and freight industry representatives, said enforcement of "very very high levels of non-compliance" and stricter standards for lorries in London would do more to improve safety.
Other suggestions were better cyclist training and improved road design, including segregated cycle tracks.
Gilligan, said: "It's finely balanced: an HGV ban in rush hour could have saved two of the 14 cyclists who have died and the other 12 didn't involve HGVs or happened outside rush hour.
"However, there are counter risks, firstly that it would lead to a flood of HGVs onto the streets immediately after the ban, say 9am."
He also refuted the argument that the Paris rush hour lorry ban has saved lives. He said: "In the four years before it came in (in 2006) there were nine cyclist deaths in Paris, and in the four years after there were 18 cyclist deaths."
Meanwhile, freight representatives said a lorry ban could increase the cost of living for Londoners.
Jack Semple, of the Road Haulage Association, said: "A peak hour ban would add a minimum of 25-30% to haulage costs in London. It is far from clear as to whether there would be a benefit in terms of road safety outcomes."
Val Shawcross, Chair of Labour's Transport Committee and member of the London Assembly, said: "The first thing is that [HGVs] should all comply with the FORS [Fleet Operator Recognition] scheme. I'm not sure that [the lorry ban] is a well researched proposal, cyclists do under the wheels of HGV at all times of day. At congested times traffic is very slow and speed is implicated with serious injuries."
Andrew Gilligan said: "In our recent police operation in London and in our first operations which were a sort of try-out, which took place in Vauxhall a few weeks ago, we've seen really striking levels of non-compliance with HGVs. The majority of lorries at Vauxhall failed to comply with one regulation or another, not necessarily safety critical regulations but there's very very high numbers of non-compliance so it may be that enforcement is something we need to do."
The Mayor's construction industry standard will be launched next week. At present some construction lorries are exempt from certain mirrors and side bars, which prevent a person being dragged under the vehicle in a collision, and the suggestion is to heavily charge those vehicles entering the city.
Jerry Mclaughlin, Director of Economics for the Mineral Products Association, said there are operators cutting corners. "We welcome the increased and targeted enforcement effort that has been going on over the past couple of months," he said.
Mike Cavenett of the London Cycling Campaign, said the charity supports a rush hour ban but there is a risk this could mean lifting current restrictions on night time lorry movements, which could affect people's sleep and therefore health. He said: "Most cycle commuters are doing normal commutes to normal jobs. Peak hours for cycling are between 8-10am. If you only allow lorries on the streets when there's fewer cyclists on the roads it would make cycling and walking to work safer but it must not be a trade off for quality of life at other times of day."
The second session of the Transport Committee will be held tomorrow, where "cycling minister" Robert Goodwill, among others, will give evidence.
Related links
Media are scaring people off cycling says London cycling commissioner
Thank you for reading 20 articles this month* Join now for unlimited access
Enjoy your first month for just £1 / $1 / €1
*Read 5 free articles per month without a subscription
Join now for unlimited access
Try first month for just £1 / $1 / €1