Lucy Garner's dream debut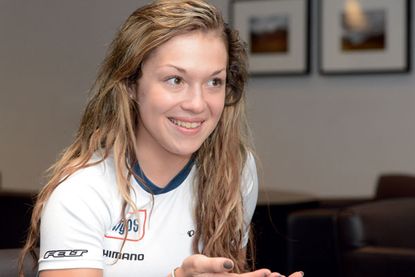 Get The Leadout Newsletter
The latest race content, interviews, features, reviews and expert buying guides, direct to your inbox!
Thank you for signing up to The Pick. You will receive a verification email shortly.
There was a problem. Please refresh the page and try again.
Despite turning professional with Argos-Shimano at the start of the season, Lucy Garner has seemingly changed very little from the rider who won two junior World Championship road race titles in 2011 and 2012.
The 18 year old is approaching the end of her first professional season, which saw her relocate from Leicestershire to the small town of Woudenberg, 60 kilometres to the south-east of Amsterdam.
Yes, there's a different hair colour (she went from blonde to brunette at the start of June, she said) but her mild-mannered personality and soft-spoken tone seem remarkably familiar.
"I've been really happy with how the season has progressed," Garner says. "It was a big step from junior racing.
"On the flatter races, you can sit in and the differences aren't too big, but when there are hills, that's when you feel the increase in pace.
"It was not just the racing that was tough, either, because I moved to a new country and had to adjust to the lifestyle of being a professional."
Being friendly and polite should never be considered a vice, yet at the start of the season, her gentle personality did not help Garner's adjustment to senior racing.
"A few of our riders said she had a little too much respect for other riders," explains Argos directeur sportif Cees-Jan van der Zweep, "and whereas at the start of the season she was quiet in team meetings, she now adds things and she's a lot more vocal. You can see the difference in her."
The 18 year old admits as much to Cycling Weekly: "Going in from junior racing, you feel like you're still a baby. I was nervous at the start of the year, particularly when it came to moving through the bunch, because it's double [the size of] what I've ever ridden before.
"I remember the sprint at the Drentse 8 [an early-season Dutch one-day race in which she finished eighth]. All the top riders were there, and it really hit me who I was coming up against. [Marianne] Vos is my idol, so to be sprinting with her was quite surreal.
"I think from that point [of view] I was a little scared, but the riders really respect each other, so I've been able to adjust. I think China really helped, too, as I gained a lot more respect from the other riders."
By "China", Garner is referring to her stage victory in May's Tour of Chongming Island, her first win as a professional, which came after some promising
early-season results.
"It was really unexpected, honestly. I went in hoping to get a podium, so to win and then get two more top-10 stage finishes was beyond my expectations," she says as she watches a video of the finish.
From the camera angle, it appeared as if she started her sprint early.
"I left it quite late, actually. It was a headwind finish, and a lot of riders went early, but I had looked at how the wind was and where it was coming from, and worked out when was best to go.
"I probably went as late as possible, and that's why I managed to win, I think."
Sprinting ahead
That day, Garner beat Australian Chloe Hosking, a fourth-year professional, with 29-year-old Swedish rider Emma Johansson in fourth.
Age clearly knew no bounds, and neither did inexperience: "She's got a great racing instinct and she is very smart tactically," says van der Zweep.
Garner attributes part of this to Kirsten Wild, her Dutch team-mate and only one of four female riders to have a win count in double figures for 2013.
"Kirsten's a great sprinter, she's the type of rider I'd like to be, so to have shared rooms with her and to have gone training with her and listened to what she has to say was really beneficial," says Garner.
"She's a really nice, friendly, down-to-earth woman and she's really encouraging when it comes to trying to help me improve my sprint.
"I know that I still need to learn a lot. The first stage in China I got tactically right, but other stages [she finished sixth and seventh] showed I still need to get up to a good speed before I start the sprint."
Another positive influence comes in the form of Garner's boyfriend, double under-23 cyclo-cross world champion Lars van der Haar.
"He's been really good with helping me settle into life in Woudenberg. He knows what it's like in the cycling world, he knows the sacrifices and how you need to live to be successful and he's really good to have around," she says.
"Yes, I do miss living in Leicester, especially as I can't just go to my mum or dad if I need anything! It's the right thing to do for my career, so it's not a problem."
Dutch courage
As is to be expected from any rider's debut season as a professional, 2013 has not always been the easiest for Garner.
"I did start learning and I had lessons," she says of her attempt to pick up Dutch, "but with my racing calendar, I've been all over the place.
"I can almost understand conversations now and pick up what people are speaking about, but I don't dare speak back.
"A good example of my Dutch skills is that I live in Woudenberg. Whenever I say it, Lars tells me that I should be able to say it correctly now, because they pronounce a W as a V. I've not quite mastered the 'rolling the tongue' skill yet. English is the language within the team, thankfully."
From a racing perspective, without hesitation she lists the Tour of Flanders as her toughest day in the saddle.
"That was really hard. That was probably the hardest thing I've ever done - but at the same time it was really good for me to get to the finish within the time limit and get a position, even if it was last," she says while laughing slightly at the end of the sentence.
"A lot of people said I did well to finish that as a first year [professional]. It was a bit of a shock to the system, I've never ridden the climbs before and the cobbles are so tough. But it's one of those races you want to race, regardless of how tough it is.
"I've gained some great experience, doing all types of racing. My programme hasn't simply been just racing races that are good for sprinters and may finish in a sprint. It's good that I've been able to experience that in year one."
Garner, who turns 19 later this month, can expect a similarly tough schedule in 2014.
"Our main goal at Argos is to make every rider better. Not just physically, but mentally and as a person," says van der Zweep.
"The Route de France [eight-stage race at the start of August] showed that she can recover well from day to day, so the signs are there that she has adjusted to racing at senior level.
"Looking ahead to next year, I think our main goal with Lucy is to help her step up a level again. The victory in China showed she can win flat, relatively short races, which we knew from her time racing as a junior.
"Now we want to help her win races that are longer and are tougher - those that have one or two climbs in them, for example.
"There's a lot of that which comes with age, but if we can help her build a good base in the off-season, the improvements will continue to come."
Food for thought
Any eagle-eyed viewer of the short documentary Argos-Shimano made about Lucy Garner (see below) may have noticed a box of Kellogg's Corn Flakes sitting on top of her fridge.
"Yep, they're mine," she says, laughing. "You can get them where I live."
Garner confesses that until this year, she was not adept at cooking, but admits that like Dutch cuisine, she has got used to it now.
"Whereas you would have fish and chips in Britain, they have cheese in batter. Then there's hagelslag - chocolate sprinkles that people put on top of bread.
"I'm lucky in that where we live, there's a lot of variety in what we can buy and eat."
Two teams, one ethos
At the heart of Argos-Shimano is their 1t4i (team spirit, inspiration, integrity, improvement and innovation) ethos.
However, given the close bond between their men's and women's teams, integration could be included as one of the 'I's in their philosophy.
"We went to Altea a lot to train in the winter, and the men's team was there at the same time," Garner says. "There were a few days that we rode with them, and we would always eat with them and interact with them. It is very much one team, and you feel that.
"Riders like Marcel Kittel were always friendly and happy to talk to you. I think if you went to some of the men's teams, you would probably feel intimidated by them. They're really all friendly, and there were no egos.
"They just want us to be treated the same as them, which is a good way of developing women's cycling."
The link between Argos-Shimano's men's and women's teams is likely to be even stronger in 2014, as Garner's boyfriend Lars van der Haar is rumoured to be joining the team.
This article was originally published in the September 5 2013 issue of Cycling Weekly magazine.
Read
Cycling Weekly magazine on the day of release wherever you are in the
world with our iPad and iPhone edition - International digital edition,
UK digital edition. And if you like us, rate us!
Thank you for reading 20 articles this month* Join now for unlimited access
Enjoy your first month for just £1 / $1 / €1
*Read 5 free articles per month without a subscription
Join now for unlimited access
Try first month for just £1 / $1 / €1
Get The Leadout Newsletter
The latest race content, interviews, features, reviews and expert buying guides, direct to your inbox!
Nick Bull is an NCTJ qualified journalist who has written for a range of titles, as well as being a freelance writer at Beat Media Group, which provides reports for the PA Media wire which is circulated to the likes of the BBC and Eurosport. His work at Cycling Weekly predominantly dealt with professional cycling, and he now holds a role as PR & Digital Manager at SweetSpot Group, which organises the Tour of Britain.