Marcel Six banned for 18 months after refusing to give a sample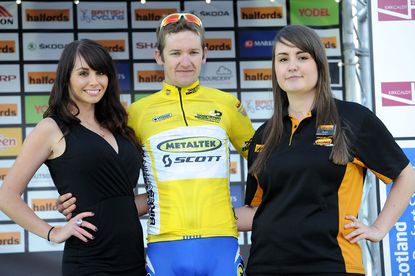 Metaltek-Scott rider Marcel Six has been banned for 18 months by UK Anti doping for refusing to give a urine sample after the Canary Wharf Tour Series round on May 31.
Six, who finished 11th on that day, was twice asked to provide a sample by the UKAD Doping Control Officer immediately after the race, but refused on both occasions explaining that he had to get home as his wife and children were waiting for him.
Six, who was reported to be 'frustrated, angry and upset' at the time, signed the relevant form that confirmed the fact he had refused to give a sample. On the form he wrote "..wife with kids who are extremely ill and I need to be there." He also invited the officer to return home with him and conduct the test there or carry out the test the following day.
Six later said as part of his defence that he had raced at Canary Wharf at the last minute to help his team and at the time was needed at home. Also that apart from his wife's medical issues his children were unwell, and that he had learnt, before speaking to the Doping Control Officer, that his wife was locked out of the house.
Six provided phone records that showed text messages and missed calls from his wife to his mobile phone during the race and around the time the tester was attempting to get a sample from him. Evidence that was not challenged by UKAD.
UKAD admitted in their decision (published on their website) that this had not been an easy issue to resolve. The first issue for them was whether or not the athlete had demonstrated that there was a 'compelling justification' for refusing to take the test.
In their decision, UKAD wrote "As Ms Six explained to us, the amount of time that the Athlete spent cycling was something of a bone on contention between them........ That, we accept, sets the context for the Athlete deciding to decline the test once he had been told that his wife was "locked out"."
"What happened thereafter, including the telephone call that Mr D'Wan [the Doping Control Officer] witnessed in the car park, served only to fortify the Athlete in his resolve to go home rather than take the test. Nevertheless, it says something about his motivation that he did (albeit unrealistically) suggest that testers might carry out the test at home that day or the following day."
Six's team manager at Metaltek-Scott, Andrew Swain said that Six was in fact tested the next morning at his home and that the result came back negative. UKAD were unable to confirm or deny this.
UKAD's decision went on to say; "Honourable though the Athlete's motives may have been, we have no hesitation in finding that his refusal was not based on any compelling justification. To be blunt, even if he agreed to race only at the last minute and under pressure, the fact of the matter is that, if he had time to compete in a cycle race, he had to make time to take the test. If, as was the (sic) later the case, he wished to put his family first, then the time to do that was before he agreed to race rather than when he came to be tested."
Six's ban started on September 28 2012 and runs to March 27, 2014.
In a statement posted on the team's Facebook page, Team manager Andrew Swain said; "We understand the decision of UKAD and that rules are rules and Marcel made a massive error of judgement in refusing a test on the night of Canary Wharf. When you are aware of the circumstances surrounding the matter, an urgent private family situation, coupled with the fact he was tested 12 hours later at home (by UKAD) which of course proved negative along with other negative tests at Lincoln and Stocton GP's plus 2 further 'out of competition' tests, the headlines are somewhat harsh and mislead the reader to more serious wrong doing."
"In UKAD's statement they quote Marcel was able to 'demonstrate he was at no particular fault or negligent'. We have found Marcel to be nothing but professional this year and he wouldn't wish to tarnish his name, cherished family and our Team. He of course accepts the outcome of UKAD and the consequences of his actions that evening. As a Team we welcome everything UKAD is doing for the good of the sport and will continue to support them."
In the May 10 edition of Cycling Weekly magazine we reported that there
had been no anti-doping tests at any Tour Series events in the previous
two years after several riders voiced concern over the lack of testing.
Liam Holohan of Team Raleigh-GAC said; "I've never been tested in Britain. Maybe I'm a bit ignorant [to the costs of the system] but I feel more
should be done." Pete Williams of Node 4-Giordana said; "I've never seen testing at the Tour Series. There definitely should be - the whole British scene is based around it - not to catch anyone, but just as a deterrent."
Despite the lack of testing Metaltek-Scott Team Manager Andrew Swain said that the incident on May 31 was the sixth time that Six had been subject to a random test. UKAD was not able to confirm or deny this. Six finished second overall in the Boardman Bikes sprint standings at the Tour Series.
Thank you for reading 10 articles this month* Join now for unlimited access
Enjoy your first month for just £1 / $1 / €1
*Read 5 free articles per month without a subscription
Join now for unlimited access
Try first month for just £1 / $1 / €1
Editor of Cycling Weekly magazine, Simon has been working at the title since 2001. He fell in love with cycling 1989 when watching the Tour de France on Channel 4, started racing in 1995 and in 2000 he spent one season racing in Belgium. During his time at CW (and Cycle Sport magazine) he has written product reviews, fitness features, pro interviews, race coverage and news. He has covered the Tour de France more times than he can remember along with two Olympic Games and many other international and UK domestic races. He became the 130-year-old magazine's 13th editor in 2015.