Mark Cavendish buys second guard dog for £20,000 after knife point raid
Peta Cavendish said family home had become a reminder of "threat and fear" after home invasion robbery in 2021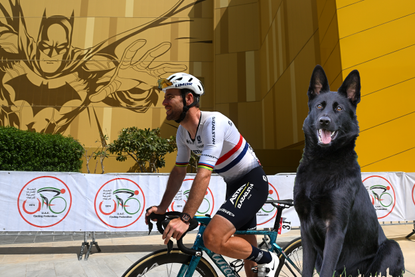 (Image credit: Getty Images)
Mark Cavendish has purchased a second guard dog for his home after the knife point burglary he and his family suffered in November 2021.
The 34-time-Tour de France stage winner and his wife, Peta, already had one £25,000 German Shepherd that was purchased after the home invasion, but have now bought a second from guard dog trainers Elite Protection Dogs.
Romario Henry and Ali Sesay were both convicted of robbery and sentenced to prison at Chelmsford Crown Court last month, after they broke into the Cavendish home in November 2021.
In January, the court was told that the pair broke into the house wearing balaclavas and put Mark Cavendish in a headlock with a knife to his throat.
The robbers then forced the family to hand over phones, a safe and two Richard Mille watches values at £400,000 and £300,000, among other items.
Peta Cavendish told the court how the crime had "turned a loving family home into a constant reminder of threat and fear".
She said the couple were thinking of selling the property "due to the continuing fear" but were set to make a "considerable loss" if they did so in the current economic climate.
Elite Protection Dogs have provided trained pets to famous sportsmen including Premier League footballers Hugo Lloris and Emiliano Martinez, and boxer Tyson Fury.
A spokesperson for the company told the Daily Mail: "They have had a new addition. Two is always better than one."
Mark Cavendish referred to the two dogs as his "puppies" during an Instagram story which showed the pair. He is currently racing Tirreno-Adriatico in Italy.
During the raid she had been forced to hide her three-year-old child under the duvet to stop them seeing what was going on.
Speaking to the the assembled press outside the court after the sentencing hearing Peta Cavendish added: "No family should ever have to go through what we went through and I'm glad that two of the people have been sent to jail today for significant periods of time.
"But no matter what the sentence was any parent will understand, I'm sure, that no time in prison could make up for what they did to us that night."
Essex Police are still trying to locate two men, George Goddard and Jo Jobson, in relation to the incident.
Thank you for reading 20 articles this month* Join now for unlimited access
Enjoy your first month for just £1 / $1 / €1
*Read 5 free articles per month without a subscription
Join now for unlimited access
Try first month for just £1 / $1 / €1