McQuaid: "We need a couple more years to restore credibility of cycling"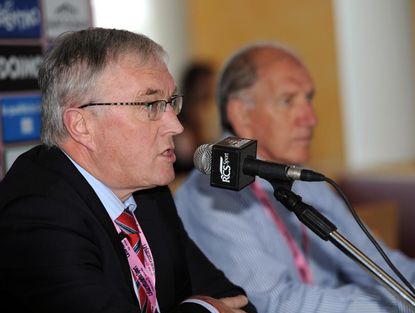 Union Cycliste Internationale (UCI) president Pat McQuaid has said that it may take a couple more years to restore the credibility of cycling after years of doping scandals have rocked the sport.
Speaking during a review of the 2011 cycling season, McQuaid said: "I don't think we've completely restored the credibility [of cycling]. We still need another couple of years like we had this year and then we can safely say that we have restored credibility."
McQuaid's comments come on the back of a season that has been notably short on high-profile doping cases compared to previous years. There was just one positive test during the year's three Grand Tours, that of Alexandr Kolobnev at the Tour de France in July.
"All the work that we have been doing in recent years is starting to pay off now," said McQuaid. "The biological passport is working very much as a deterrent, the no needles policy likewise. It helps to restore the credibility of cycling and change the culture of doping.
"Step by step, we go forward and any new methods to continue to improve the fight against doping, we'll continue to introduce."
However, the year hasn't been entirely free of doping controversy. The 2010 Tour de France doping case of Alberto Contador is still on-going after a hearing at the Court of Arbitration for Sport (CAS) in November. CAS are due to produce a ruling from the hearing in early January 2012.
McQuaid also spoke about the UCI's objective of globalising the sport.
"Globalisation is working very well," said McQuaid. "The sport is developing on other continents. The Tour of Beijing was a very big success in its first year and will grow into a much bigger race, and we see top athletes being signed to ProTeams from Iran, from Eritrea, from different parts of the world... so it's happening but there's still a lot to be done."
Related links
Contador clenbuterol hearing completed after four days
UCI appeals Kolobnev's Tour de France dope case to CAS
Thank you for reading 20 articles this month* Join now for unlimited access
Enjoy your first month for just £1 / $1 / €1
*Read 5 free articles per month without a subscription
Join now for unlimited access
Try first month for just £1 / $1 / €1