National Crit Champs head to Otley this evening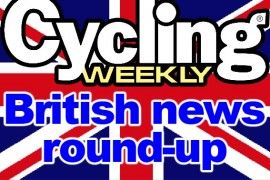 >>>We want to hear what's happening in your area - from racing results to sportives, recreational cycling to commuting. To submit your stories for CW's British news round-up, please email Nick Bull or Richard Abraham>>>
Otley city centre will this evening play host to the National Circuit Race Championships where the best of British racers will battle it out to wear the coveted national stripes for the upcoming year.
The evening kicks off with two youth races at 6.40pm before the National A race starts at 7.15pm.
Although the women's circuit champs will take place later in July, local lass Lizzie Armitstead (AA Drinks-leotien.nl) will use tonight's race as preparation for the defence of her British national road race title this coming weekend just up the road in Ampleforth.
Lizzie Armitstead (centre) will be one to watch in the National A race
The elite race will be the last event off at 8.30pm where defending champion Graham Briggs of Team Raleigh-GAC will come up against plenty of well-drilled crit legs fresh from the Halfords Tour Series.
Look out for local lad Scott Thwaites and his Endura team-mates plus fellow Northerner Adam Blythe (BMC Racing). A full schedule and startlist can be found at www.otleycycleraces.co.uk
_______________________________________________________
Great Britain's para-cyclists continued their build up to this summer's Paralympic Games with two gold and three silver medals at the UCI Road World Cup in Segovia last weekend.
David Stone, double gold medalist in Beijing, won the mens's T2 time trial ahead of defending world champion Hans-Peter Durst while tandem duo Lora Turnham and Fiona Duncan won the B/Vi time trial.
Karen Darke claimed second in both the H2 time trial and road race and C1 time triallist Mark Colbourne also returned with a silver medal behind key rival Michael Teuber.
________________________________________________________
The individual victories record holder in the Halfords Tour Series, Dean Downing of Rapha-Condor-Sharp, has revealed that an illness blighted the opening half of his 2012 campaign.
"It's been a strange month for me in the first half of the Tour Series this year," Downing said as he announced he is to become an ambassador for static trainers Wattbike.
"A puncture, two rounds where I had to stop due to illness and a missed round isn't what I expected to happen."
Rapha-Condor-Sharp were the winners of the Tour Series team time trial in Stoke
Downing, 37, has five individual victories since the series began in 2009, plus a sixth in the Tommy Godwin team time trial round in Stoke-on-Trent last Thursday.
________________________________________________________
Rollapaluza, the fast paced roller racing roadshow, are running a 'Have a Go' session this Saturday, June 23, outside the JJB Sports at the Whitgift Centre in Croydon.
The session is open to anyone and runs between 10am and 2pm. More information on Rollapaluza can be found on www.rollapaluza.com.
________________________________________________________
1000 free places for Nottingham residents are available at the E.ON Nottingham City Ride, a three mile traffic-free ride through the south side of the city. The event takes place on Sunday July 15 alongside the Great Notts Bike Ride sportive.
"We wanted to make sure the weekend appeals to everyone, and the E.ON Nottingham City Ride provides an ideal opportunity for families with young children to enjoy a day out on safe, traffic-free roads whilst also catering for those who aren't confident on open roads just yet," said Chris Simon of organisers Perfect Motion.
The two events are also part of the E.ON Cycle Live Nottingham weekend which features circuit racing and a Raleigh Chopper race between Friday July 13 and Sunday July 15. For more information head to www.cyclelivenottingham.co.uk.
________________________________________________________
Latvian rider Toms Alsberg was the best of 31 riders competing at the Red Bull Minidrome last weekend at Edinburgh's College of Art.
Alsberg notched his fifth win on the minidrome, a 25m wooden track just 1.8m wide and ten times smaller than an Olympic velodrome. Local rider Martin Betchley took second which Ricky Crompton came in third.
An unusual installation at the Edinburgh College of Art
"I'm so happy to have defended my title successfully. It's great to be here in Edinburgh, the atmosphere was fantastic and the quality of the riders just gets better every time," said Alsberg.
All competitors raced over 10 laps of the track, 250m, and the latest round featured a women's final for the first time, won by Astrid Narud from Anna Glowinski.
________________________________________________________
Round the World record holder Mike Hall was the special guest starter at last week's fifth round of the Brixton Cycles 'Beas
tway' Mountain Bike Series at Hog Hill.
Gary Record took off from the gun and couldn't be beaten, with Phil
Lenney coming closest. Hall himself entered the race on a borrowed
single-speed bike but had to withdraw with back pain shortly afterwards.
________________________________________________________
The inaugural Hackney Cycling Conference, run by Hackney Council and the London Cycling Campaign (LCC), took place on June 8 with Times journalist Robert Crampton as chair.
Over 100 councillors, academics, engineers, campaigners and planners tackled issues faced by councils across London to encourage residents to cycle.
Hackney boasts an impressive record on cycling with the number of residents cycling to work doubling in the last decade.
All of the borough's residential roads now also have 20mph speed limits, a measure that the LCC's 'Go Dutch' campaign calls to be introduced across all of the capital's roads.
"Hackney is at the forefront of London's cycling revolution and understanding where it came from and how it got to where it is now can help inform how Croydon Cyclists approach the same objectives," said Croydon Cycling Campaign's Kristian Gregory.
>>>We want to hear what's happening in your area - from
racing results to sportives, recreational cycling to commuting. To
submit your stories for CW's British news round-up, please email Nick Bull or Richard Abraham>>>
>>To catch up on previous weeks' round-ups see the British news round-up index page>>>
Thank you for reading 20 articles this month* Join now for unlimited access
Enjoy your first month for just £1 / $1 / €1
*Read 5 free articles per month without a subscription
Join now for unlimited access
Try first month for just £1 / $1 / €1