Newly formed NCL teams to make their debut at Tucson Bicycle Classic
The co-ed pro teams will tackle a full season of NCL and domestic racing including Redlands, Joe Martin, Tulsa Tough and America's Dairylands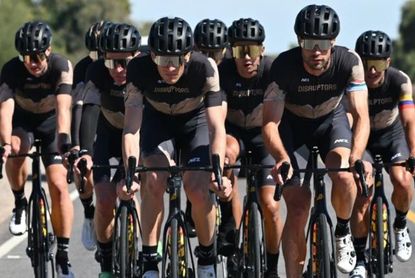 (Image credit: Denver Disruptors)
The Denver Disruptors and Miami Nights, the two new professional cycling teams formed by the National Cycling League (NCL), will tackle a full season of both NCL and domestic cycling events, starting with the Tucson Bicycle Classic on March 3.
The newly formed teams are made up of eight men and eight women and led by a veteran pros.
The Disruptors are led by former Paris-Nice winner Sergio Henao and two-time Canadian Olympian and World Champion Leah Kirchmann. The Nights are led by longtime Continental and domestic pros Johnny Clarke, Frank Travieso and latin American Olympians Daniely Garcia and Paola Munoz Grandon.
"Teammates develop friendships in training and during training camps, but racing forges bonds that last a lifetime," said Sebastian Alexander, Miami Nights' Head Coach and an experienced sporting director who previously led United Healthcare and Jamis teams.
"We want to come out of the gate with a dominating performance in our home race, the NCL Invitational in Miami Beach on April 8, and then keep on winning throughout a full North American race schedule."
The teams' schedules includes domestic classics such as Redlands, Joe Martin, Tulsa Tough and America's Dairylands.
Being an official NCL team, the Disruptors and Nights will, of course, prioritize the four-race NCL calendar with the hopes of winning a slice of the $1 million prize purse at the end of the season.
Making its debut on April 8, 2023, the National Cycling League is an all-new take on American bike racing with the goal of reigniting America's cycling fandom.
The championship-style race series will take place in the heart of America's some of biggest cities, where teams will compete at criterium-like races, earning points along the way for a chance of winning the largest prize in the history of American criterium racing,
Unlike traditional racing, the first person across the finish line may or may not be the winner. Instead, the NCL will operate on a points-based scoring system in which points are earned after each lap. Additionally, the NCL will feature a virtual racing component. The riders will be outfitted with wearable technology to stream data live during races so fans will be able to race alongside the pros in real-time via a virtual platform.
For its inaugural 2023 season, the NCL launched two dedicated, co-ed professional teams who will compete in the series and other American races throughout the year. The goal is that each host city will soon have a city-based team of its own.
The NCL season kicks off in Miami Beach, home of the NCL pro team, the Miami Nights. The second race will take place in Atlanta, GA, on May 14, before heading to the home of the Denver Disruptors, in Denver, Colo. on August 13th. The season's finale will take place in Washington D.C. on September 10th.
Existing teams like L39ion of Los Angeles and the Miami Blazers announced that they have no interest in partaking in this new form of racing, and as of yet it is unclear teams will contest the two NCL squads in the series.
Thank you for reading 10 articles this month* Join now for unlimited access
Enjoy your first month for just £1 / $1 / €1
*Read 5 free articles per month without a subscription
Join now for unlimited access
Try first month for just £1 / $1 / €1
Cycling Weekly's North American Editor, Anne-Marije Rook is old school. She holds a degree in journalism and started out as a newspaper reporter — in print! She can even be seen bringing a pen and notepad to the press conference.
Originally from The Netherlands, she grew up a bike commuter and didn't find bike racing until her early twenties when living in Seattle, Washington. Strengthened by the many miles spent darting around Seattle's hilly streets on a steel single speed, Rook's progression in the sport was a quick one. As she competed at the elite level, her journalism career followed, and soon she became a full-time cycling journalist. She's now been a cycling journalist for 11 years.