The National Cycling League announces the dates of its inaugural 2023 season
The series, and its all-new approach to bike racing, kicks off in Miami Beach on April 8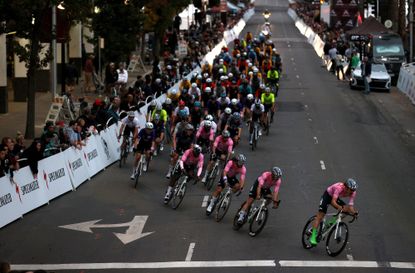 (Image credit: Getty Images)
The National Cycling League (NCL) today announced its inaugural 2023 season with four races in Miami Beach, Atlanta, Denver and Washington, D.C.
The season kicks off in Miami Beach, home of the NCL pro team, the Miami Nights, on April 8th. The second race will take place in Atlanta, GA, on May 14, before heading to the home of the second NCL pro team, the Denver Disruptors, in Denver , Colo. on August 13th. The season's finale will take place in Washington D.C. on September 10th where one co-ed team will emerge victorious and claim the largest prize in the history of American criterium racing, which is $700,000 for the first place team.
Hoping to reignite America's cycling fandom, the NCL is an all-new, championship-style race series with a unique approach to bike racing.
Similar to the franchise systems we're familiar with in most North American professional ball sports, the NCL will be location-based with each host city putting forth one team, consisting of 16 riders, both male and female. While the men and women will compete in separate events, they'll be equally compensated and everyone will earn points for their team with the goal of earning a slice of the $1 million prize purse at the end of the season.
The fast-paced criterium-style racing will take place on a closed, 1-2 kilometer long circuit in the heart of each host city. Unlike traditional racing, however, the first person across the finish line may or may not be the winner. Instead, the NCL will operate on a points-based scoring system in which points are earned after each lap. The NCL hopes that this system will create a more competitive and exciting racing throughout the entire event and series.
Additionally, the NCL will feature a virtual racing component. The riders will be outfitted with wearable technology to stream data live during races so fans will be able to race alongside the pros in real-time via a virtual platform.
The NCL has launched two professional teams for the 2023 season, stacked with internationally known talent.
The Denver Disruptor team, coached by Olympian Svein Tuft, will be made up of eight men and eight women, led by Colombian Paris-Nice Champion Sergio Henao and two-time Canadian Olympian and World Champion Leah Kirchmann.
The Miami team, the Nights, will be coached by Sebastian Alexandre, who previously served as sporting director of the United Healthcare and Jamis teams, and includes the likes of 20-time national Austrian track champion Verena Eberhardt and criterium specialist Clever Martinez, formerly of the Miami Blazers.
Just who these teams will be competing against has yet to be announced.
Also Read
- The newly formed National Cycling League: a gimmick or the future of American bike racing?
- The National Cycling League announces its first teams, stacked with internationally known talent
- NBA All-Star Bradley Beal and NFL pros pump $7.5m into the new US cycling league
- The National Cycling League announces a $1 Million dollar prize purse
- Inaugural US National Cycling League could see fans virtually racing the pros in 2023
- Why American cycling needs a new Greg Lemond or - whisper it - Lance Armstrong
Thank you for reading 10 articles this month* Join now for unlimited access
Enjoy your first month for just £1 / $1 / €1
*Read 5 free articles per month without a subscription
Join now for unlimited access
Try first month for just £1 / $1 / €1
Cycling Weekly's North American Editor, Anne-Marije Rook is old school. She holds a degree in journalism and started out as a newspaper reporter — in print! She can even be seen bringing a pen and notepad to the press conference.
Originally from The Netherlands, she grew up a bike commuter and didn't find bike racing until her early twenties when living in Seattle, Washington. Strengthened by the many miles spent darting around Seattle's hilly streets on a steel single speed, Rook's progression in the sport was a quick one. As she competed at the elite level, her journalism career followed, and soon she became a full-time cycling journalist. She's now been a cycling journalist for 11 years.