Obree plans to go for HPV speed record in the UK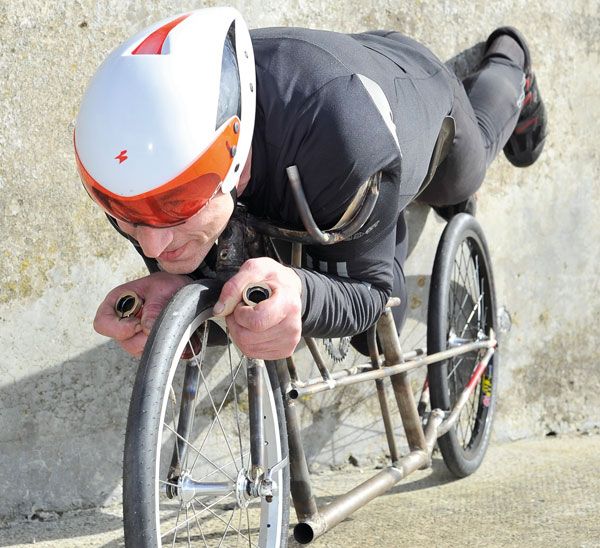 Graeme Obree had hoped to be in America this week, buzzing down Nevada State Route 305 at something close to 100mph on his latest reinterpretation of the bicycle.
Instead, when we called him up yesterday morning, he was sat in a workshop at the Glasgow School of Art overseeing work on the shell for his "Beastie".
Problems with the shell's manufacture led Obree to make a last minute cancellation of his trip to the USA last week and start looking at options for an "all British attempt" on the Human Powered Vehicle speed record later in the year.
"The skin malformed in the jig," he explained. "These guys I'm working with here are aerodynamics experts and they say you're not going to get laminar flow because of the ripples on it.
"Really it's a case of perfectionism kicking in," he added. "We had a second attempt at getting the shell made but it still came out with bubbles on it. We asked if we really wanted to go to America with the inferior shell?"
The answer was no, of course.
Joe Cherrie, who's been working with Obree on the shell, elaborated on the problems.
"The surface of the material we've chosen has to be really smooth to get maximum benefit from the shell," he explained,
"The company we outsourced the manufacturing to didn't do a good enough job. Basically it pushed their machine to the limit - it wasn't big enough. I'm confident it can be resolved but basically we need a company that has a machine big enough to make it."
Obree's design is based around having a tiny frontal area
The material that Obree's team have chosen to make the shell from is ABS high impact plastic. Cherrie asserts it is as light and strong as possible and offers considerable protection should there be a crash.
Perhaps the biggest appeal for Obree, though, is it also allows the machine to be transparent.
"We're kind of pushing boundaries," says Obree. "Normally HPV shells are just a lay-up with carbon, but that means you can't see in and the vehicle is just an inanimate object moving along the road.
"If we can get this skin right, it will look amazing -you can see the rider pedalling inside- and it will probably be safer."
Obree's tries out the imperfect shell for size
Battle goes on
Obree concedes that in delaying his attempt to better the machine, he is compromising on venue. "We're getting a more perfect bike but not the best road in the world," he said.
At Battle Mountain, a small dusty town, miles from anywhere else in the north Nevada desert, the road to the south has been especially surfaced for speed trials.
Here, there's a straight of over five miles and a very slight slope that both allows a little extra assistance but falls within the parameters of record breaking rules.
The weather is dry, the altitude is high (1408m) and for just one week of the year, the road is shut down twice a day so that HPV speed freaks can see how fast they can go through a 200 metre speed trap.
In 2009 Sam Whittingham clocked the current world record of 82.819mph there. This year 38 riders are entered in the event. One of them is possibly cranking out a new world record as you read this (yesterday Sebastiaan Bowier clocked 80.12mph in the Velox2 machine pictured above).
But where does that leave Obree?
"Do you know anyone with a long driveway?" he asked.
Jokes aside, finding somewhere else suitable for an attempt will be no easy task.
Although Obree says he wouldn't rule out waiting for the Battle Mountain speed trials in September 2013 if nothing else works out, he is far keener to make his attempt as soon as possible and within the UK.
"The skin's made in Scotland, the bike's made in my kitchen, the [Reynolds] tubing is made in Birmingham," he said. "Basically we're going to do it as an all British affair."
Obree thinks the best option is probably an airport runway - although in the UK you're looking at a maximum straight of less than 4km.
"I think you need a couple of miles," he speculated. "Longer the better, otherwise you've got to work really hard to get up to speed.
Long straights closed to traffic are hard to find in the UK
"Your legs will be more stuffed than with a gradual build up. And you've got to have stopping distance too
"You could probably use a taxiway to build up some momentum and then turn a bit to onto a runway.
"You're also allowed two people to run with you at the start to give you a punt. That gives you a bit more momentum."
Despite the limitations, Obree says they have already got a few options.
"It's a case of seeing what's the best surface and then getting calm weather conditions," he said. "We live in quite a breezy country."
For now then, the decision of when and where his attempt will eventually be made is literally "up in the air".
Photos courtesy of Humans Invent and Bas de Meijer
Related links
Obree ready to lay it downObree Land Speed Record attempt
Thank you for reading 5 articles this month* Join now for unlimited access
Enjoy your first month for just £1 / $1 / €1
*Read 5 free articles per month without a subscription
Join now for unlimited access
Try first month for just £1 / $1 / €1