On the beat at Bow roundabout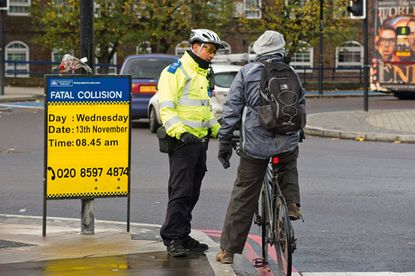 Get The Leadout Newsletter
The latest race content, interviews, features, reviews and expert buying guides, direct to your inbox!
Thank you for signing up to The Pick. You will receive a verification email shortly.
There was a problem. Please refresh the page and try again.
A sunny morning does little to brighten up grim Bow roundabout, in East London. It's rush hour, it's cold and officers have been deployed along Cycle Superhighway 2 following a spate of deaths, three between Bow and Whitechapel in only two weeks.
When I arrive near where a cyclist was killed on November 13, there's already a police officer and cyclist chatting on the pavement.
"To be honest, it's really confusing," the cyclist says. "I just went through the first green and almost went across the roundabout. I saw the fatality sign and slammed on my brakes just before the traffic came across from the right."
There's an early start cyclist light as you are approaching the roundabout, which puts riders ahead of the traffic until the main lights change.
"I've never seen anything like this before," he adds. "You see a green light and think it's OK to go."
The officer says he's seen plenty of cyclists miss that second red light.
"My personal opinion is that with motorbikes you get a CBT [compulsory basic training], and cyclists should do the same. It's for their own safety," he says. "People don't help themselves; you see a car indicating left 10 feet away and the cyclist still thinks its alright to go down the inside."
This officer, like the next one I chat to, advises me to wear a helmet and hi-vis. "If a driver doesn't see you he isn't going to stop for you, is he?" he says.
Chatting to officer three on Whitechapel Road, we watch a silver sports car edging forward until it covers the advance stop line, before a young guy on a bike sails across the junction on a red light, no hands, moments before traffic gets a green from both sides.
I ask the officer how many tickets he's issued and he points out he (like the other two) is a Police Community Support Officer (PCSO), so he can only advise people on their behaviour and give fines for pavement cycling.
Even cycling in uniform he tells me drivers act recklessly around him: a van nearly hit him recently as he tried to turn right. These PCSOs are helping educate drivers and cyclists, something sorely needed to improve safety. The mayor announced 2,000 more officers deployed on London's streets "giving advice and stopping badly driven lorries, dangerous lorries and also bad cycling". Let's hope this education offensive works.
This article was first published in the November 28 issue of Cycling Weekly. Read Cycling Weekly magazine on the day of release where ever you are in the world International digital edition, UK digital edition. And if you like us, rate us!
Thank you for reading 20 articles this month* Join now for unlimited access
Enjoy your first month for just £1 / $1 / €1
*Read 5 free articles per month without a subscription
Join now for unlimited access
Try first month for just £1 / $1 / €1
Get The Leadout Newsletter
The latest race content, interviews, features, reviews and expert buying guides, direct to your inbox!