Oprah Winfrey 'mesmerised and riveted' by Lance Armstrong interview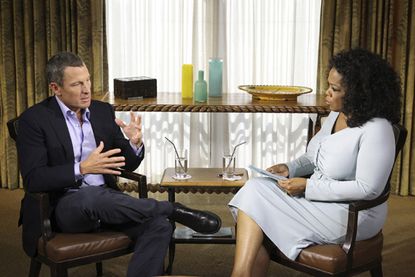 Lance Armstrong "mesmerised and riveted" Oprah Winfrey on Monday when he reportedly confessed to doping. The talk show host said that she prepared, but was surprised by Armstrong's answers in an interview that airs Thursday and Friday.
"I would say that he did not come clean in the manner that I expected, it was surprising to me," Winfrey said yesterday on CBS network's This Morning. "I'd say that for myself, my team... all of us in the room were mesmerised, riveted by some of his answers."
The famous talk show host interviewed Marion Jones and Mike Tyson in the past when their careers were falling apart. The she pitched the interview idea to Armstrong and finalised it over lunch when the two were at their homes in Hawaii.
The interview was originally scheduled to air for 90 minutes, but has been extended to two episodes over to nights. Winfrey did not want to cut the content and felt people had been waiting a long time to hear everything.
"I had prepared, read the reasoned decision, I watched all of Scott Pelley's reports [on] 60 Minutes, I seen the Tyler Hamilton interview. I read Seven Deadly Sins, I read LA Confidentiel, David Walsh's books... I prepared like it was a college exam," Winfrey explained.
"[I] walked into the room with 112 questions and within a two-and-a-half-hour interview I asked most of those questions or at least as many as I could, but I feel that he answered the questions in a way that I felt that he was ready. I didn't get them all asked, but I think the most important questions that the people around the world were waiting to hear were answered. I can only say that I was satisfied by the answers."
Winfrey would not spoil the interview that will be aired on her network, OWN. Viewers abroad may stream it on Oprah.com, 2:00 London time on Friday and Saturday.
Hollywood-style confession
Armstrong has come under fire for what is seen as showmanship. The World Anti-Doping Agency (WADA) applauded his desire to confess, but encouraged him to do it under oath in front of the proper bodies.
"These details must be passed on to the relevant anti-doping authorities," said the agency's director general, David Howman in a statement.
"Only when Mr Armstrong makes a full confession under oath - and tells the anti-doping authorities all he knows about doping activities - can any legal and proper process for him to seek any reopening or reconsideration of his lifetime ban commence."
Even with the Hollywood-style confession, Armstrong has ruined or tried to destroy the lives of many people. From his return from cancer in 1998, over the years of his seven Tour de France wins and in his comeback from 2009 to 2011, Armstrong denied, lied and made threats.
"He's lied to presidents, to Larry King, he's lied to Oprah before," said former team-mate, Frankie Andreu. "He lied about how many test he passed by saying 500, he only took about 250. He lied about seeing Dr [Michele] Ferrari, a known doping doctor. He lies about everything. Now for him to come out and actually change and admit is a big step. What does it mean? I don't know, but it's a start.
"My wife [Betsy] and I have been attacked and ripped apart by Lance and all of his supporters repeatedly for a long time. I just wish they wouldn't have been so blind and open up their eyes earlier to the signs that indicated there was deception there so we wouldn't have had to suffer as much. And it's not only us; he's ruined a lot off people's lives."
Bradley Wiggins is busy training and preparing for the 2013 season with his Sky team-mates in Spain. He said the interview will mark a great, but sad day.
"It will be a great day for a lot of people and quite a sad day for the sport in some ways," Wiggins told Sky News. "It has been a sad couple of months [for cycling]. The 90s are pretty much a write-off now."
Related links
Lance Armstrong confesses to doping
Thank you for reading 20 articles this month* Join now for unlimited access
Enjoy your first month for just £1 / $1 / €1
*Read 5 free articles per month without a subscription
Join now for unlimited access
Try first month for just £1 / $1 / €1