Pendleton adds Keirin gold in Cali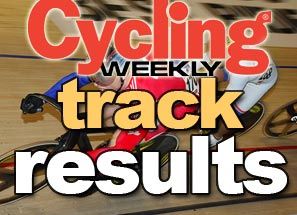 Victoria Pendleton gave Great Britain a strong finishing flourish at the second round of the 2010/11 Track World Cup in Cali, Colombia, on Saturday winning gold in the Keirin to add to her team sprint gold on Thursday and sprint silver on Friday.
Pendleton dominated the Keirin,coming out on top in all of the rounds leading to the final. French sprinters Sandie Clair and Virginie Cueff finished second and third respectively.
A medal for each day of the World Cup - two golds and a silver - signals that Pendleton's form is exactly where it should be in the vital lead-up to the 2012 Olympic Games in London.
France continued its renaissance in Cali with gold in the men's sprint, with Kevin Sireau denying Sir Chris Hoy a gold medal in the final just as the team sprinters had done on Thursday. Sireau's compatriot Gregory Bauge took bronze ahead of Japan's Tsubasa Kitatsuru.
Laura Trott (Great Britain) placed first in the individual time trial round of the women's omnium, pushing her up into fifth in the final standings behind winner Sarah Hammer (Ouch USA). Hammer dominated the competition, winning the first four (of six) rounds and finishing with half the points of second placed Tara Whitten (Canada).
Britain's Katie Colclough matched Trott with fifth in the women's points race, keeping in touch with the leaders to finish just five points adrift of victor Giorgia Bronzini (Italy).
New Zealand's male team pursuiters clocked 4-00.837 to take gold in the final against home nation Colombia. Spain took bronze against Denmark. Great Britain did not field a squad in the competition.
Britain finished the round in Cali with three gold, four silver and one bronze medal. Conspicuous by their abscence were Australia, who had largely decided to sit out this round of the World Cup after hosting - and dominating - the opening round in Melbourne two weeks previously.
Great Britain: Medals, Cali
Gold: Women team sprint (Pendleton, Varnish)
Gold: Victoria Pendleton (Women keirin)
Gold: Ed Clancy (Men omnium)
Silver: Chris Hoy (Men sprint)
Silver: Men team sprint (Hoy, Crampton, Kenny)
Silver: Wendy Houvenaghel (Women individual pursuit)
Silver: Victoria Pendleton (Women's sprint)
Bronze: Women team pursuit (Houvenaghel, Trott, Colclough)
Results

Women's Keirin

1. Victoria Pendleton (Great Britain)
2. Sandie Clair (France)
3. Virginie Cueff (France)
Men's sprint

1. Kevin Sireau (France)
2. Chris Hoy (Great Britain)
3. Gregory Bauge (France)
4. Tsubasa Kitatsuru (Japan)
Women's omnium: Final standings

1. Sarah Hammer (Ouch USA) 15 points

2. Tara Whitten (Canada) 30 points
3. Tatsiana Sharakova (Belarus) 31 points
4. Jolien D'Hoore (Belgium) 39 points
5. Laura Trott (Great Britain) 42 points
Men's team pursuit

1. New Zealand (Bewley, Gough, Ryan, Sergent) 4-00.837

2. Colombia (Arango, Castro, Avila, Roldan) 4-07.408
3. Spain (Tereul, Bernal, Escobar, Muntaner) 4-07.439
4. Denmark (Byrgesen, Hansen, Quaade, Ranneries) 4-16.097
Women's points race

1. Giorgia Bronzini (Italy) 13 points

2. Kelly Druyts (Belgium) 10 points
3. Aksana Papko (Belarus) 10 points
4. Belinda Goss (Australia) 8 points
5. Katie Colclough (Great Britain) 8 points
Related links

Track World Cup, Cali, day two: Clancy takes gold in men's omnium
Track World Cup, Cali, day one: Pendleton and Varnish score team sprint gold
Thank you for reading 20 articles this month* Join now for unlimited access
Enjoy your first month for just £1 / $1 / €1
*Read 5 free articles per month without a subscription
Join now for unlimited access
Try first month for just £1 / $1 / €1