Pierre Rolland: The Big Interview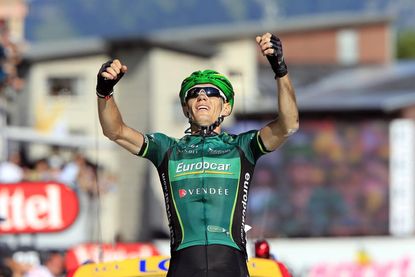 Given its rich history of success, French cycling has been more les misérables than les magnifiques in modern times. But Pierre Rolland has been one of the leaders in the country's ongoing, quiet revolution.
The tall, hollow-cheeked Orléanais has been an effective sidekick to his more-adulated and flamboyant Europcar team-mate Alpe d'Huez and La Toussuire in the last two years, putting Alberto Contador and Samuel Sanchez to the sword.
After a stage of the season-opening Tropicale Amissa Bongo in Gabon, the 26-year-old climber discusses working on his time trialling, his panache-heavy philosophy of cycling and the pressure ladled on young hopefuls by his home media.
CW: Why did you start cycling?
PR: I was young, I didn't have a lot to do on my Wednesdays and weekend. My best friend Benjamin cycled... so I went with him, we did a few town sign sprints, we passed evenings.
CW: When did you discover you were a climber?
PR: When I was an U23 and did the Ronde de l'Isard [big European amateur race], I'd never ridden the big climbs before. I discovered I could play for the win on them, and when I turned pro and rode races like the Tour de l'Ain and the Dauphiné, I really understood that I was a climber.
CW: What's your philosophy of cycling? With Team Sky, for example, it's more scientific and less emotional.
PR: With us, it's more in the moment and about feeling, a bit unlike those who do things all calculated. Personally, I take pleasure in the way we do it, also knowing that it's exciting for the fans, attacking the jerseys with Thomas [Voeckler] and the others.
CW: Is your panache natural or part installed by [directeur sportif] Jean-René Bernaudeau?
PR: No. I have to curb myself; if not, I'd attack all the time, the first day or the last, if I had the energy. But now I've learned to channel it and wait for the stages that suit me. It's within me. But Jean-René's teams have always functioned like that. We used to be more a team looking to cross the summits first and to get in the breaks for publicity. But now when you go up the road, it's to win or take, I don't know, the King of the Mountains.
CW: Go back to the stage you won on La Toussuire in last year's Tour de France. Was it the plan to have three team-mates with you in the initial break?
PR: It was ideal. I'd said to team-mates that I wanted to win the stage, to improve my place. Davide [Malacarne] was already in front; we came up with Christophe [Kern]. Even though there were guys like Scarponi and Basso there, they were tired from doing the Giro. I'd already won on Alpe d'Huez, the year before, so when I found myself in that break, it was down to me to take it.
CW: Which victory was more beautiful for you: Alpe d'Huez or La Toussuire?
PR: L'Alpe d'Huez is mythical. When you talk of mountains, it resounds. La Toussuire was a very tough stage, where I had to work with my team-mates. It's not the same emotions; the effort's the same, but the emotion's not similar because last year I shared it with those who had helped me. On the Alpe, Thomas had lost his yellow jersey at the same time that I won. The two are both good memories, even if everyone talks of Alpe d'Huez first.
CW: So, how about winning on Mont Ventoux in the Tour this year? A nice sequence...
PR: Ventoux on Bastille Day! [laughs] Certainly, it makes me dream. It's the start of the season now and I'll work hard to do the best possible. But I'm hoping.
CW: How's your personality?
PR: I have my head in the clouds. I always forget everything. I'll say 'yes' to this demand, and then it slips my mind. While I forget the small things, when it comes to cycling I'm more principled and pay attention.
CW: Do you want to improve your time trialling?
PR: Yeah, I've got to. We've started to find new positions on the bike; it's going well.
CW: How is it being a star in France?
PR: I stay relaxed - I know what I'm capable of doing. It doesn't change anything for me.
CW: With you, Arnaud Démare, Thibaut Pinot and a few others, it seems there's a very talented new generation of French cycling emerging. What has changed?
PR: Well, I'm not quite as young as them. I'm three or four years older. Nothing's really changed; maybe there's more ambition. We work hard, and maybe other countries had an advance in technology, and we're on a good level with that now. In France, it maybe took us a bit of time to see that cycling had changed and we had to change too, we couldn't rely on the old-school method.
CW: Does the French media put too much pressure on young shoulders?
PR: Yes, like with other countries, there's a waiting period. There hasn't been a Frenchman on the podium since... I don't know how long, Luc Leblanc? Virenque?
CW: Virenque, yes. He was second [in the 1997 Tour].
PR: But there are other riders. We had a French King of the Mountains, lots of good things. They shouldn't be doing it so much. It happened to me when I was King of the Mountains at Dauphiné [in 2008] and at the Olympic Games. They put on so much pressure when you are young, you're not able to take on the mantle. They should leave it more alone and if a rider is serious, it works out.
CW: Was it bad for your head?
PR: Maybe it pushed things back a little bit for me. When I was a neo-pro, I rode my bike as I liked to, calmly. And gradually, pressure mounted: to get results, to change my way of riding and things like that. And it didn't work anymore. You want to do more training because it's a different method - the trainer of the squad was corresponding with me. There were loads of reasons; afterwards I found a trainer who worked for me and I rediscovered the pleasure.
This article originally appeared in the March 7 2013 issue of Cycling Weekly magazine, available digitally via Apple Newstand (app store or iTunes), www.zinio.com and Kindle Fire.
Related links
Tour de France 2012: Rolland wins stage 11
Tour de France 2011: King Rolland crowned on the Alpe
Thank you for reading 10 articles this month* Join now for unlimited access
Enjoy your first month for just £1 / $1 / €1
*Read 5 free articles per month without a subscription
Join now for unlimited access
Try first month for just £1 / $1 / €1
Founded in 1891, Cycling Weekly and its team of expert journalists brings cyclists in-depth reviews, extensive coverage of both professional and domestic racing, as well as fitness advice and 'brew a cuppa and put your feet up' features. Cycling Weekly serves its audience across a range of platforms, from good old-fashioned print to online journalism, and video.