Police to meet cycling group to discuss law change for cycling on pavements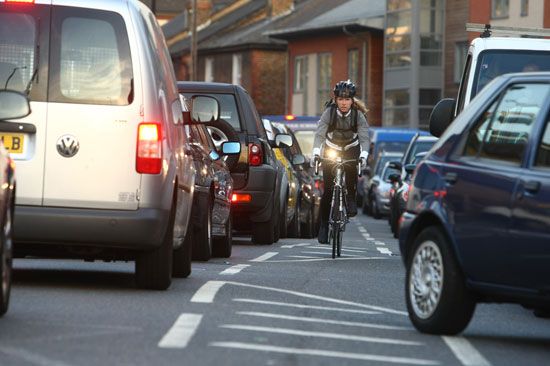 Police must change tack to allow responsible pavement cycling, argues the direct action campaign group Stop Killing Cyclists.
Although cycling on the pavement is against the law, guidance to police reissued this week by cycling minister Robert Goodwill states careful cycling on pavements due to fear of traffic should be allowed.
Stop Killing Cyclists feels this guidance is being "ignored" by the Metropolitan police, who last night agreed to meet the group to discuss pavement cycling and roads policing in London.
Stop Killing Cyclists co-founder, Donnachadh McCarthy, said: "We are pleased following yesterday's media blitz about the sensible re-issued ministerial guidance on pavement cycling that the Met finally have agreed to meet Stop Killing Cyclists.
He added, however: "Their response appears to indicate that they are still intent on ignoring the guidance and fining responsible cyclists at lethal junctions like Vauxhall Gyratory. This is not acceptable.
"Forcing cyclists to chose between being in the path of lethal, blindly driven HGVs or empty pavements is endangering lives.
"It is time to end the persecution of victims."
Meanwhile CTC's Chris Peck said in London figures show that risk to pedestrians from cyclists is far lower than from motor vehicles. He also highlighted the importance of police - and PCSO - training on when it's appropriate to penalise cyclists.
He said: "Where cyclists are using the footway, that should be an indication that the road environment needs to be fixed - with separated, on-carriageway cycle lanes preferably - to make it safe to cycle on."
A Metropolitan Police spokesperson said: "We are aware that some cyclists use pavements in particular areas because they believe this to be safer, however, cycling on the pavements can pose a threat to pedestrians and also to cyclists if they are subsequently re-entering a busy road at a point not designated for this.
"Issuing fixed penalty notices for this offence has been part of an overall programme to encourage mutual respect and consideration among different road user groups through law enforcement.
The original Home Office guidance from the then Home Office Minister, stated: "The introduction of the fixed penalty is not aimed at responsible cyclists who sometimes feel obliged to use the pavement out of fear of the traffic, and who show consideration to other pavement users.
"Chief police officers, who are responsible for enforcement, acknowledge that many cyclists, particularly children and young people, are afraid to cycle on the road, sensitivity and careful use of police discretion is required."
In his letter to McCarthy, dated 9 January, cycling minister Robert Goodwill said: "I agree that the police should be using discretion in enforcing this law and would support Paul Boetang's original guidance."