Peter Sagan's magnetic sunglasses just launched – here's how they work
The 100% Speedcraft Air has magnets that can be controlled to change the airflow through the nose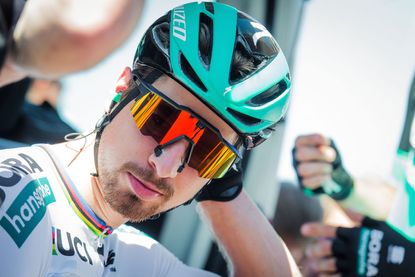 We previously reported that Peter Sagan had been riding in a new pair of 100% Speedcraft glasses which used magnets to help improve his breathing. Now, 100% has officially released the sunnies, so here's a brief explainer on how they work.
The general gist is that the magnets help pull the nasal passages apart, but in reality the glasses are even more technologically advanced than we first thought.
The magnets (or nasal dilators) can be seen on extended pieces of plastic underneath the frame, and they attach to the rider's skin using sticky patches, 20 of which are included with the glasses upon purchase, and have a "unique adhesive that bonds to the skins and resists sweat". There's also a magnetic applicator tool to help stick them on your nose.
As if magnets stuck on your nose wasn't enough, they can actually be controlled via the glasses themselves. 100% explained that the "nasal dilators" can be adjusted by rotating the small dial in the centre of the lens which controls the magnetic arms, adjusting the nasal dilation throughout the ride.
According to 100%, the nasal dilation is increased on demand to assist with the regulation of nose breathing, ensuring the "correct ration of gasses is entering your lungs in the proper sequence".
The circular magnets themselves come from AC Breathing systems, who work in athletics, motocross and snow sports.
The Speedcraft Air glasses also include increased airflow space between the face and glasses frame as well as 2mm-thick, six-base cylindrically cut lenses and rubber coated frame and lens edges for both comfort and decreased fogging.
Watch: How to dress like a cyclist
http://www.youtube.com/watch?v=nPS0ti3D13c
The lenses have 100% UV protection, that includes UVA, UVB and UVC plus a hydroleophobic exterior surface coating which should help repel dirt and water.
Peter Sagan was first spotted using them at the the People's Choice Classic which he won as well as at the Tour Down Under in which he took victory in stage four after an emphatic climbing finish.
Last week he rode to victory at Paris-Roubaix, although it's unclear whether nose magnets gave him the edge over Silvan Dilliers or not.
Sagan has been sponsored by 100% for a couple of years now, and is often seen standing atop podiums adorned with 100% motocross goggles.
Thank you for reading 20 articles this month* Join now for unlimited access
Enjoy your first month for just £1 / $1 / €1
*Read 5 free articles per month without a subscription
Join now for unlimited access
Try first month for just £1 / $1 / €1