Best of British: Six stunning British built bikes at the London Bike Show
We scoured the London Bike show to find what the British brands had to offer in the way of bikes and frames, here is what we found...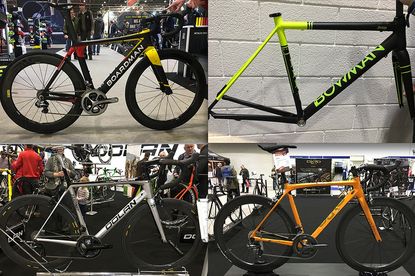 It isn't the case that we buy into British brands for the patriotism of being, well British. It's because the Brits know how to produce a ruddy good bike. At the London Bike Show we searched out the best of British to show you what is on offer here in the UK.
>>> Revealed: Bike of the year 2017
Signature Gold STC Di2 Caliper
Orro was launched by UK distributor i-ride back in 2014 offering just two complete bikes and two frame sets. Since then they've grown and look to have a bike for every discipline with this the Gold STC Signature that is dubbed Orro's ultimate Gran Fondo bike. Orro promises this strikes a great balance between lightness, stiffness and compliance.
It certainly stood out nicely in this sunburn orange and black colourway at the London Bike Show. Finished with deep section wheels from Token and Shimano Ultegra Di2 it'll set you back a reasonable £3599.99. Contact: www.orrobikes.com
Boardman Air Signature
With a recent partnership deal of three years with British team One Pro Cycling, Boardman bikes keep on producing a large range of bike for racers and enthusiasts a like.
Its Boardman Air 9.8 will be the main race bike for One Pro, as it is for the likes of the Brownlee brothers. The Boardman Air Signature is pictured here. It features the integrated carbon fork, Shimano Dura-Ace Di2, Enve SES 6.7 carbon clincher wheels and Enve finishing kit for £5,999.99.
Contact: www.boardmanbikes.com
Bowman PALACE:R
Bowman has reinvigorated aluminium as a material to still believe in when it comes to race bikes. Its Palace has had an update which refines its much loved frameset. Bowman pays homage to much of what the South East cycling scene has to offer.
Palace is named after the famous racing circuit, with Layhams and Pilgrims frames named after thoroughfare routes for cyclists living down south.
Bowman offers personal colourways with minimum orders of eight, clubs or friends can enjoy riding in unity. Framesets: frame, fork and seat collar will set you back a mere £695. Contact: www.bowman-cycles.com
Dolan Tuono SL
Dolan says that the Tuono SL is a super stiff frame with racing geometry that makes it a perfect all round racer.
Available as frameset only as well as completely built options with Shimano Dura-Ace or Ultegra, the seven different sized range should have something to offer you. Internal cabling keeps it clean too. The picture really doesn't give the shiny silver paint job justice!
The special edition Tuono with Shimano Dura-Ace R9150 Di2 and deep section Mavic wheels will set you back £4,769.99, but you can get the frame only for £719.99 direct from Dolan's website. Contact: www.dolan-bikes.com
Trillian Zeta steel
New brand Trillion is building its steel frames in the English Midlands and had its Zeta steel frame is on display at the London Bike show. The display bike was built up with Shimano 105, Mavic Ksyrium disc wheels and Fizik finishing kit, but Trillion says it plans electronic builds too.
The finish and frame joints on the show bike looked very clean. Designed and manufactured in the West Midlands, uses Reynold's 631 steel and is disc equipped. It'll cost £1500 for frame and fork or £2800 complete.
Orange prototype
Bike brand Orange, based in Halifax, is more known for its off-road machines than anything else but what's to stop it from producing its own carbon road bike?
We'll nothing and the company has with its prototype road bike which it hopes to make available to purchase this summer... keep an eye out for the Shimano Di2 ready and disc-equipped machine. Contact: www.orangebikes.co.uk
Thank you for reading 20 articles this month* Join now for unlimited access
Enjoy your first month for just £1 / $1 / €1
*Read 5 free articles per month without a subscription
Join now for unlimited access
Try first month for just £1 / $1 / €1